How to Get From Frankfurt Airport to Downtown - Possible Transportations
Frankfurt Airport has two terminals with 60,000,000 passengers, equipped with 481 check-in counters and 147 boarding gates.
Free "Sky Line" rail shuttles connect the terminals every 2 to 3 minutes, 24 hours a day. You can also take buses that shuttle between the two terminals every 10 minutes from 5:30 a.m. to 11:45 p.m.
How do I get from Frankfurt Airport to the City Center?
Located thirteen kilometers from Frankfurt, Frankfurt is Main (Old Town) Airport is the main airport in Germany and the third in Europe. However, this is not a vacation spot!
Whether you are planning to spend several days in Frankfurt or it is just a transit point to discover another German city, you would like to know how to get to the Frankfurt city center quickly and easily.
★ You've probably never heard, 15 Free Things at Airports
How do I get from Frankfurt Airport to Frankfurt Downtown?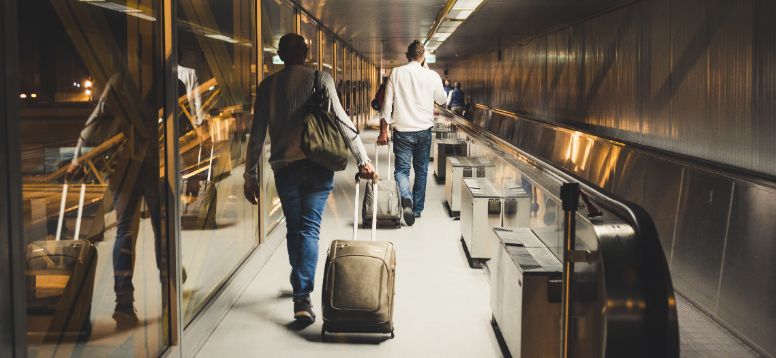 To make your transfer between Frankfurt airport and the center, you have at your disposal the traditional means of transport: bus, taxi, train, and private shuttles.
As the busiest airport in Europe, Frankfurt Airport offers several means of transport to and from the airport.
Buses are a cheaper alternative to taxis, but the Frankfurt Airport bus networks do not extend from the central area of ​Frankfurt airport to the city center.
The final preferred means of transport from the airport is Frankfurt's famous rail network, regardless of destination.
How to get from Frankfurt Airport to Frankfurt city center by bus?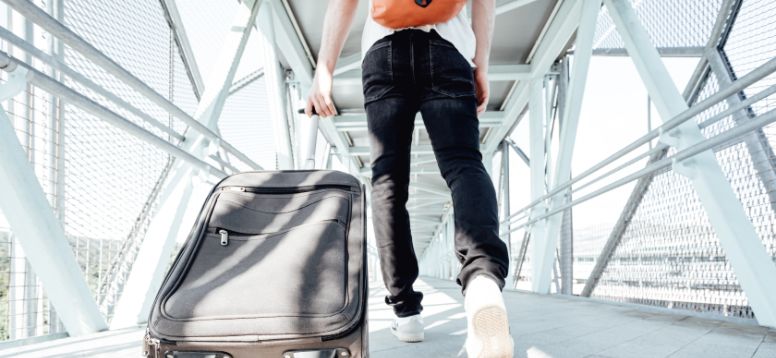 The bus is undoubtedly the cheapest solution for your transfer between Frankfurt airport and the center.
Many lines ensure the connection. Line 61 will take you to Frankfurt-Südbahnhof station, while line 62 will drop you off in the Schwanheim district.
To get to the center, you can also take lines 77, 72, and 58 during the day and lines 81 and 7 at night.
Tickets can be purchased on the bus. There is also no need to compost them. However, if the bus is the cheapest means of transfer, it is not the most comfortable option.
It also has the disadvantage of not serving all the districts of Frankfurt.
Therefore, make sure that the bus leaves you near your Frankfurt airport hotel or that you may have a long walk to reach your accommodation.
If the latter is particularly remote, it is better to make your transfer by taxi or shuttle.
★ Duration: about 20 minutes
★ Prices: €4.35 per adult
★ Hours: 24/7, every 20 minutes, less frequent at night
Private Transfer From Frankfurt Airport to Downtown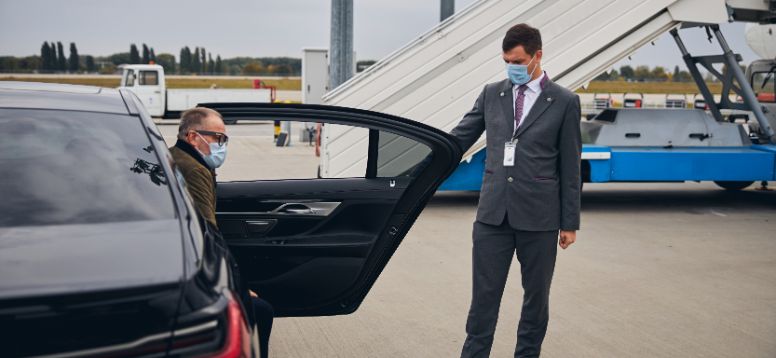 Going to the airport with private transfers will always be the safest and most comfortable option.
What You Need to Know About Airport Transfer Services?
It will be good for you to have a comfortable transfer journey in Frankfurt with stress-free, fast and friendly drivers.
You can start by choosing a private airport transfer from the airport to explore the city with the largest economy in Europe and experience unique moments.
With the privilege of free cancellation up to the last 48 hours, you can choose luxury or budget-friendly taxis at affordable prices.
Click here to book a private airport transfer From Frankfurt Airport to Downtown in just three steps with AirportTransfer.com.
How to get from Frankfurt Airport to Frankfurt city center by train?
The rail transport network is highly developed in Frankfurt. RMV lines S8, S9, 21, 55, and 75 to reach the city center.
The S8 S-Bahn and S9 S-Bahn lines allow you to go directly to Frankfurt Central Station if you need to continue your journey to another city in Germany.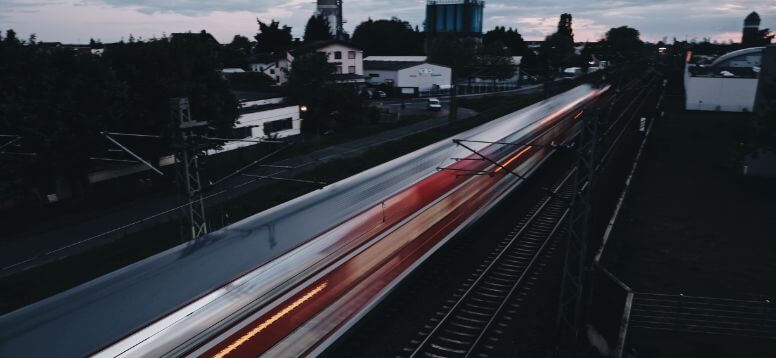 Train tickets can be purchased on-site, at the ticket office, or by RMV ticket machines. The platforms are located at terminal 1, level 0. Remember to stamp your ticket!
Disadvantages of Public Transport in Airport Transfers
The train is truly the ideal way to transfer between Frankfurt Airport and the city center, as it combines speed and comfort.
The wagons are equipped with air conditioning and wifi and offer enough space for passengers' Frankfurt Airport luggage storage.
The train is also inexpensive and available almost 24 hours a day. However, like the bus, its disadvantage is that it does not allow you to access all parts of Frankfurt.
So, if your hotel is a bit remote or you have oversized luggage, it may be better to choose another transfer option.
★ Duration: 15 minutes for the central station / 40 minutes for the center
★ Prices: €4.65 per adult / €2.80 per child from 6 to 14 years old/free for children under six years old
★ Hours: 24/7 for S8 / 5 a.m. to 1 a.m. for S9 / every 5 to 15 minutes
How to get from Frankfurt Airport to Frankfurt city center by taxi?
For more comfort, choose the taxi from Frankfurt airport to the city center.
To be sure to turn to an official taxi, look for a white or cream-colored vehicle with a yellow and black panel located on the car's roof.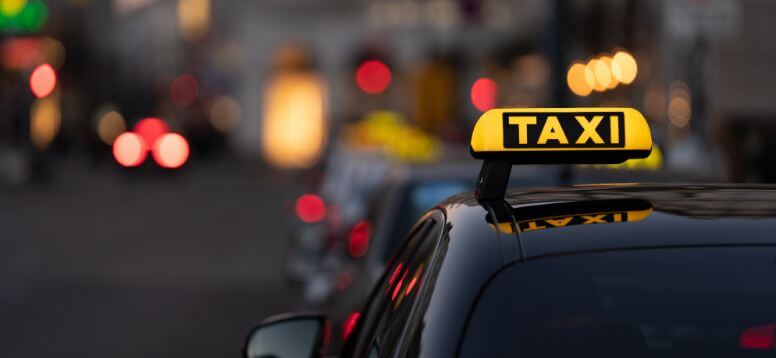 It ensures that the driver has a taxi license. In addition, German taxi fares are regulated. If the traffic, amount of luggage, or vehicle can vary the prices, you do not have to negotiate and should not have any unpleasant surprises.
Night trips cost about €5 more than a day trip. If the taxi is not the fastest or the cheapest way to make a transfer between Frankfurt airport and the city center, it is, on the other hand, the most comfortable.
Whether in terms of safety, available space, calm, or cleanliness, you will get your money's worth!
Read more, Uber vs Taxi for Airport Passengers
★ Duration: 20 to 30 minutes
★ Prices: between €25 and €35
★ Hours: 24/7
How much does it cost from Frankfurt Airport to the city Center?
RMV lines S8, S9, 21, 55, and 75 are all connections to Frankfurt airport to Frankfurt city center; the journey takes 15 minutes, and the ticket costs €4.65.
Each has its advantages and disadvantages. It all depends on your priorities.
Find out how the different ways to make your transfer to the center of Frankfurt.
⭐ Top Travel Destinations for Seniors
Where to stay in Frankfurt, the fifth-largest city in Germany?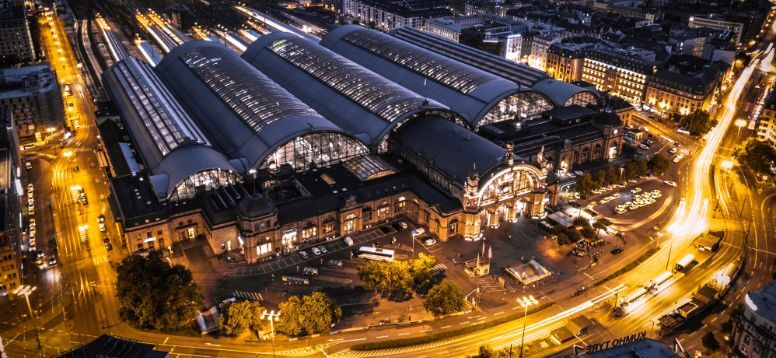 Finding accommodation in Frankfurt can be pretty expensive. Considered one of the most live-able cities globally, Frankfurt Main is also one of the most expensive.
A major international financial center, it is home to many banking institutions such as the European Central Bank, the Federal Bank of Germany, and the Frankfurt Stock Exchange.
If you've never been to Frankfurt, consider staying at Zentrum-Alstadt on your first trip. The neighborhood has a lot to offer travelers discovering the city.
The Zentrum-Alstadt (Old Town) is located in the city center of Frankfurt, allowing you to reach other major tourist destinations easily.
The whole district is well connected to the rest of the city by public transport. It showcases Frankfurt's old buildings dating back to medieval times.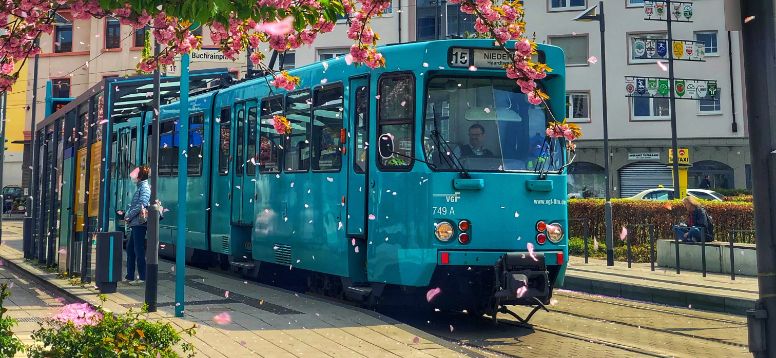 If you wonder "How far is Frankfurt Airport from Frankfurt Downtown?", the distance of Frankfurt Downtown from the airport is 11.8 km.
Due to Frankfurt's massive bombardments during World War II, the medieval buildings were largely rebuilt.
Culture vultures can explore the incredible buildings of the district, enjoying the charm and wonder of this extraordinary architecture.
Nevertheless, thanks to the many historic monuments and grand museums that litter the city's ground, Frankfurt has an intense cultural life and is a hot old town.
The most popular are Nordend, Bornheim, the city center, Frankfurt Airport to the old town, Westend, Bockenheim, and Sachsenhausen, and each has its atmosphere.
Here is a selection of hotels where to sleep in Frankfurt.
Sofitel Frankfurt Opera
Distance to Frankfurt Airport: 15 km
The Sofitel Frankfurt Opera is in Innenstadt, on the edge of Bockenheimer Anlage, a beautiful public park with walking paths and a large pond.
It's an ideal location for luxury shopping; it's just a few blocks from Goethestraße, the street home to Frankfurt's most exclusive stores, including Versace, Chanel, and Louis Vuitton.
This five-star hotel makes its guests a top priority, with services such as in-room breakfast, a heated pool, and a full range of spa services.
The cost of a one-night stay at the hotel is €306.
The Grandhotel Hessischer Hof
Distance to Frankfurt Airport: 13 km
Located in the lower West End, near the Senckenberg Natural History Museum, the Grandhotel Hessischer Hof is within walking distance of the city center and relatively close to the U-Bahn station.
This five-star hotel features modern yet classic decor with elegant public spaces and great attention to detail.
Rooms are spacious and include walk-in closets, fully stocked mini-fridges, complimentary drinks, and fresh fruit daily.
Deluxe suites include private terraces and entire dining areas, while standard rooms have work desks and sitting areas. One night's stay in this hotel costs €240.
⭐ Tips for Booking a Good Hotel Online - 2022 Guideline
When to go to Frankfurt: The Best Season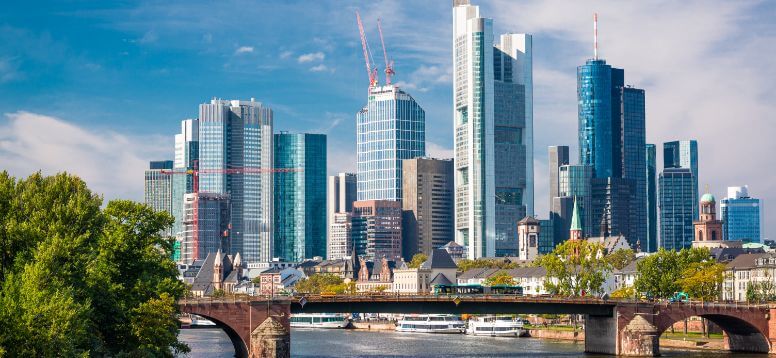 The best months, both for the climate and economically, are April and September: tourist participation is not as high as June, July, and August, and you can visit the city more easily.
⭐ 35 Things to Do in Amsterdam Tourist Attractions
In addition to finding lower prices unaffected by tourism, these are also the two months that average less precipitation throughout the year and have pleasant temperatures.
If you don't mind the cold and want to save even more, February and March can also be two months to consider.
You might be interested
Browse Airports for Airport Transfers