Book a Private Airport Transfer | Tirana International Airport
Apart from the public transportation option to reach the city center from Tirana Airport, it is possible to reach you by professional drivers and comfortable vehicles who will pick you up from your hotel and drop you off at the airport on time or drop you off from your hotel to TIA.
Tirana Airport to Durres
Tirana Airport to Shkoder
Tirana Airport to Vlore
or for all other popular Tirana Airport routes, get detailed fare and vehicle information below!
What you need to do is very simple: book your Tirana Airport transfer now in just 3 simple steps on AirportTransfer.com. Moreover, if there is any change, use your 100% refund right. AT provides free cancellation for all Albania Airport transfers up to the last 48 hours.
As a non-Albanian-speaking tourist in Tirana, experience your private airport transfer with your professional English-speaking, experienced, polite and helpful driver. Don't worry about the weight of your luggage, or panic about any extra charges.
Pay your Tirana International Airport transfer taxi reservation securely online at fixed prices, do not worry about the cost during your journey! Sedan, Minivan, SUV, Limo or Bus… Which of these vehicles would you like to receive private transfer service with on your trip to Tirana?
Don't think twice and list the best cars and prices to get from Tirana Airport to the city center right now!
You can also review the route, vehicle and price information below for all popular destinations around Tirana Airport! Tirana Airport transfers are waiting for you at AirportTransfer.com for a fast, reliable and comfortable journey!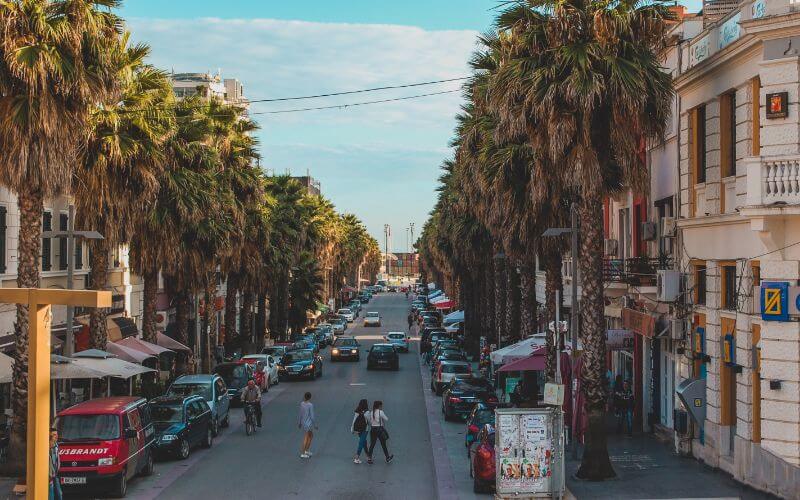 Public Transportation to and from Tirana Airport
Tirana Airport offers active services only as buses in terms of transportation options. Apart from this, of course, there are also Tirana Airport taxi options.
Tirana Airport is connected to the SH2 Durres - Tirana access road, 19 kilometers away by the SH60 motorway. It is possible to travel by taxi from Tirana Airport to the city center via this road. How much is a taxi from Tirana to the airport? Tirana taxi price, or Tiataxi price, are often served in Albania's local currency, and airport city center taxi fares vary depending on distance.
Apart from this, Tirana Airport also has several different companies that provide car rental services. The journey time by public transport from Tirana International Airport to the city center will take approximately 35 minutes.
Travelling by Bus from and to Tirana Airport
Tirana Airport buses are located outside the arrivals terminal and depart every hour from 06:00 to 02:00. The journey takes more than 30 minutes. LU-NA shpk provides services from TIA to Tirana or from the city center to the airport. Tirana Airport bus tickets are different from each other. Bus fares vary for each route and distance. You can learn this from the driver. Also, bus prices in Tirana are paid in Albanian Lek, so you will have to use the local currency when you arrive in the country.
Tirana - Rinas (Airport) bus You can use the Rinas Express bus, which operates from 06:00 to 24:00. It departs hourly and has a daily departure.
10:00 am from Tirana airport to Durres or vice versa; 12:00; 14:00; 15:30; Buses depart at 17:00.
There is a shuttle service from Hermes Airport shpk, TIA to Vlore and vice versa. Vlore - Rinas: 05:00, 07:30, 11:00, 12:30, 14:00, 17:00 and Rinas - Vlora: 10:00, 11:30, 13:30, 14:30, 16: You can choose the bus departure times as 30, 22:00.