Ciampino Airport to City Centre Transfers
There is no metro line from Ciampino Airport to the Rome (city centre) so that you can get to the city centre by bus, train and taxi.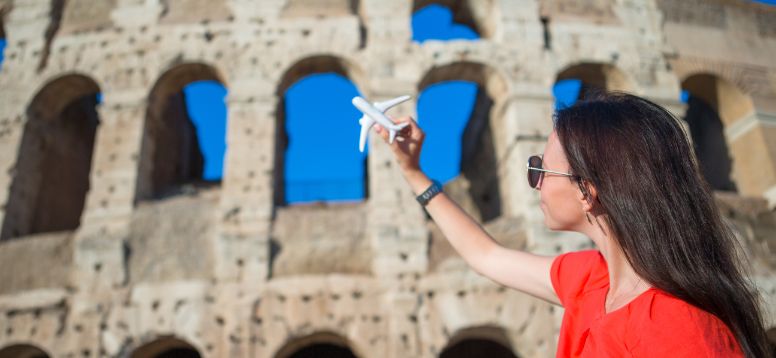 Public Bus Options: Ciampino Airport Passengers
The Rome Atac Bus departs every half hour and is the cheapest transportation from Ciampino Airport to the Ciampino train station.
The cost of the journey is 1.5€.
Terravision and Sit Bus offer a bus ride that allows you to reach the centre with a one-way ticket that costs 4 €.
Rome Airport Bus ticket costs 7.90 €.
Terravision buses are free for children under 4 years old.
The journey to the city centre varies between 30 and 60 minutes, depending on the traffic.
Click for more detailed information about the bus stops and timetable.
Another Option is Train: Ciampino Airport to Centrale
After going from Ciampino Airport to Ciampino Train Station, you can take the train to the city centre, which costs € 1.50.
The journey takes 60 minutes, and trains operate between 5:25 am and 11:19 pm.
Click for more detailed information about the train routes and stops.
Take a Taxi from Ciampino Airport to City Centre
It takes about 30-35 minutes to get from the airport to Rome's city centre.
Sometimes, local taxi drivers don't permission lots of luggage.
The average airport taxi fare from Ciampino Airport to Rome city centre is 44 €.
Ciampino Airport Private Transfer 100% Refund
The city of Rome, a fantastic holiday destination for both domestic and foreign tourists and preferred by married couples for their honeymoon, has many beauties! The city has fascinating museums, historical sites, hotels, shops and attractions.
READ MORE: Rome's Best Hotels to Stay - Great Location & Prices
Where will you go first after leaving the airport? To the city centre of Rome? To Vatican City? Or to the train station? Wherever you want to go, you can make your private airport transfer with AirportTransfer.com's experienced and contracted local drivers.
With our door-to-door private airport transfer, we can pick and drop you off anywhere you want.
You can make your reservation right now to enjoy fast and reliable transportation in hygienic and comfortable vehicles.
Your payment is under the guarantee of a %100 refund and free cancellation in 48 hours.
☎️ For all your questions and suggestions, you can write to us on Whatsapp or call us; our 24/7 customer representatives will always be ready to help you.