Private Transfers Federico Fellini Airport
You can get from Rimini Airport to city center with airport transfers. Private airport transfer makes your journey hassle-free, fast and safe! AirportTransfer.com serves you with the best airport transfer with our local English- speaking drivers. You can book now easily and cancel your reservation free 48 hours before your trip! You can start the transfer from Rimini airport or the pick-up location to Federico Fellini International Airport. At airporttransfer.com, it doesn't matter how many people you are.
The price is constituted by location and according to extra services you may need. You can choose a Standard Sedan, Executive Sedan (Limousine), Standard Crossover, Executive Minivan, Standard People Carrier, Executive People Carrier, Bus, and more. Compare the prices and book now; there are no hidden fees! AirportTransfer.com has the best transfer services, and you can get a %100 refund. Choose private airport transfers from Rimini airport to arrive at your location punctually!
Federico Fellini Airport Public Transportations
There are two public transportation options to or from Federico Fellini International Airport. You can take a bus or train.
Bus Lines
From Federico Fellini International Airport to the city center, you must take the bus line number 9. Buses depart every 30 minutes, and the trip to Rimini city takes approximately 20 minutes. The ticket price is about 1 euro per person. You can go to other destinations by public transport at the train station in Rimini. The most popular routes outside Rimini to other destinations are Rimini to Bologna Airport, Rimini to Pisa, Rimini to Florence, Rimini to San Giovanni Rotondo, Rimini to Catanzaro, and Rimini to Lecce.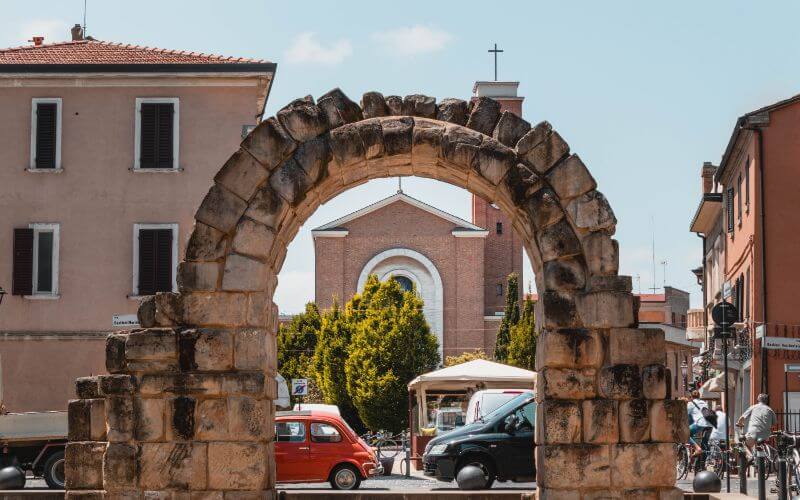 Train Option
If you want a direct train line like Federico Fellini Airport train station, there is no actual train station. There is a train connecting Miramare railway station, located about one km from the Federico Fellini International Airport and Rimini railway station in the city. For using trains to and from Rimini Airport (RMI), you should first go to Miramare train station.
If you want a direct train line like Federico Fellini Airport train station, there is no actual train station. Rimini Airport train station is a short distance from Federico Fellini International Airport. Trains from Rimini Station travel to various destinations and holiday resort towns in Emilia-Romagna, including Ancona to the south, Ferrara, Padua, and Pesaro, and Bologna and Ravenna to the north.
Take a Taxi at Rimini Airport
Airport taxi service is available at RMI Airport but is not recommended. You should take the licensed taxi companies; otherwise, you may get scammed about the fares. Also, taxis apply night tariff after 10 pm.