Public Transfer Palermo Airport PMO
Train
To get from Palermo Airport to the city center, you can use the train station as the airport's railway facility, Punta Raisi Train Station. Punta Raisi - Airport line connects Palermo Airport to Palermo Central train station. Trains run every 30 minutes until 10 pm on weekdays.
Public Bus
The ticket price of public transportation by bus and train in Palermo are almost the same. There is a bus station outside the Palermo Airport terminal building. Here you can take the Palermo Airport bus to the city center. These airport shuttle buses by Prestia e Comande offer connections to and from Palermo, Catania, Messina and the rest of Sicily.
Buses providing transportation between the airport and the city center depart every 30 minutes.
The last bus from Falcone-Borsellino Airport leaves at 12:30 am.
The first bus departing from the city center is at 04:00. It will be much better if you buy the bus ticket online in advance.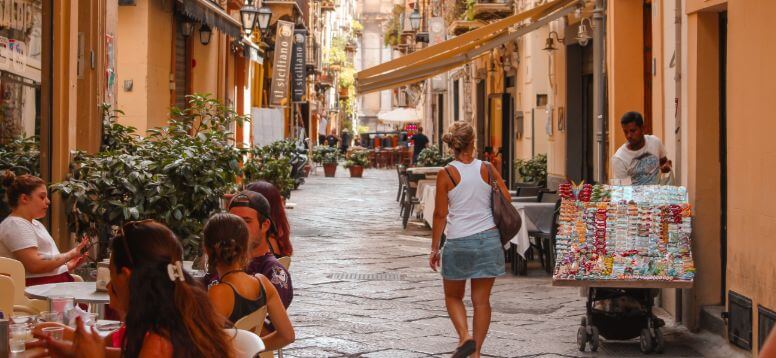 It is also possible to go to Trapani by Segesta Autolinee buses or to go to the airport from Trapani. However, there are only a few different departures per day. Travel time is more than 1 hour. You can buy tickets from the bus driver.
Palermo Airport car rental companies serve inside the terminal to passengers who would like to hire private cars. There are also taxi transfer services and taxi sharing options at the airport that can be used for Palermo Airport to the hotel transfers.
Palermo International Airport Private Transfer
Do not waste time on public transport or airport taxis to go from Palermo Airport to Cefalu, the city centre, to another airport or to different parts of the city. PMO is too far from the city center so you have to spend a lot of time on the bus or train, and money to taxi drivers to get to hotels from Palermo Airport. Instead, you can get a fast and reliable airport transfer service.
airporttransfer.com is a global marketplace working with Italy's top road transport providers. You can get comfortable transportation to your destination with the best vehicle options and polite local drivers who will be waiting for you at the arrival hall.
⭐ By the way: Door-to-Door Airport Transfers in Italy
You can complete your reservation process in just a few simple steps and take advantage of our secure online payment system. Moreover, you can do all your transactions with a 100% refund. During the reservation, you can choose the most suitable vehicle for you (Limo, economy, minivan and luxury), or you can specify the additional services you want to receive in the notes section. These additional services may be options such as extra luggage, red carpet, pet friendly, bicycle rack and elderly assistance.
For all your questions about your pre-booked transfer, you can contact our customer representatives 24/7 ☎️ on Whatsapp via telephone numbers in the lower right corner.
You can get the best transfer service for your Italy trip, compare prices and travel in comfortable vehicles with hygienic measures. Start your adventure without wasting time, take advantage of our affordable transfer services!