Antalya Airport Transfers - Private Service
You can use several transportation methods to transfer to Antalya Airport from your starting location. Are you looking for the best Antalya airport taxi? or Are you looking for a 24/7 transfer at Antalya airport? AirportTransfer.com provides private taxis at Antalya Airport for end-to-end transfers.
Antalya is a summer destination that attracts tourists from all over the world. Especially between May and September, you can find wonderful hotels and resorts in the coastal areas of the city, which is the number 1 summer holiday destination for foreigners.
Take a private taxi from Antalya airport to the city center. Private transfer Antalya Airport is easier than you think. Transfer from Antalya International Airport to your hotel or any other point (private airport transfer Antalya Kemer) easily without any stress.
Make a comfortable journey with the providers of the best airport transfers, including the privilege of airporttransfer.com. You are entitled to 100% refund on all reservations.
With experienced and helpful local drivers, you can book immediately in just a few steps to have a pleasant journey with a wonderful welcome at the airport. Antalya Airport taxi prices depend on road distance, the number of passengers, and car types. You can book a private transfer from Antalya Airport to the Side hassle-free on airporttransfer.com.
You can travel in hygienic vehicles that have taken coronavirus precautions to the city, and also you can transfer from Antalya Airport to city centre safely and quickly.
You can make your reservation with a secure payment method, and write the additional services you want in the Notes section. Book an Antalya airport transfer to the hotel on airporttransfer.com. Here is the option where you will find the best price for private transfer to Antalya airport!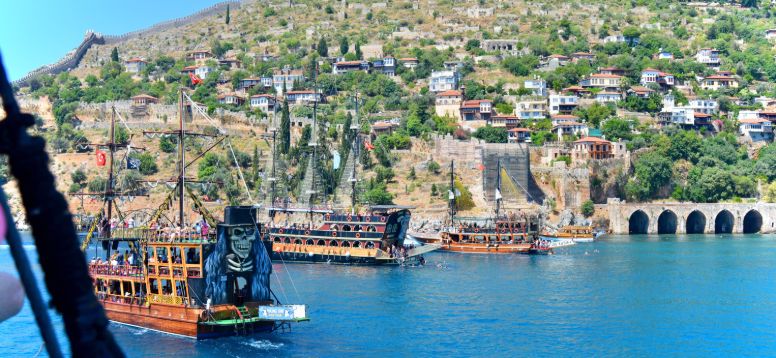 Public Transports Antalya International Airport
Looking for the reliable and safe airport transfer Antalya? Antalya Airport, which is approximately 20 minutes away from the city center, is located in the northeast of the city. You can use city bus lines or trams to go from the airport to the city center/bus station or from the city center to the airport.
You can access the departure and travel times of public transportation vehicles serving as an airport shuttle service from the "Antalyakart" mobile application. Some airline companies may offer shuttle services at Antalya Airport. Passengers can get more information from their airline company.
In addition, you can reach Antalya Airport, the city center, Antalya Intercity Bus Terminal and Fatih routes by serving in the direction of Airport - Meydan - Fatih with Antray (tram). Apart from public transportation, the airport taxi service is known as a private airport transfer method.
Taxis will be ready to make your Antalya Airport transfer outside of the terminal. Travelers are highly recommended to remember the insecure payment methods and inconsistent prices of the taxis, and between the jigs and the reels, it is quite hard to find a cab in the peak season.