Public Transport to Bratislava Airport
BTS Bratislava Airport is located in the eastern part of the capital Bratislava. It has a direct connection to the D1 motorway. Those who will come to the airport with their private vehicles can easily reach the airport in 20 minutes by following the signs that read "Letisko". Parking is free for 15 min. at the P1 parking lot.
Bratislava Airport transfer options are public transport via airport shuttle buses and trains, airport taxi services and private airport transfer service.
By bus
Bus 61 connects Bratislava Airport to the city center via the Main Train Station. The ticket costing €1.20 is valid for one hour. Bus number 96 continues via Petrzalka and Prokofievova. In addition, there is the N61 line that operates at night.
Click for the timetable of bus 61.
Click for the timetable of bus number 96.
Click for the timetable of the N61 bus.
By rail
Bus 61 connects to Bratislava Main Train Station. From here you can access the national railway. It provides transfer from Bratislava to many cities including Prague, Banska, Budapest, Vienna, and Poprad. For more information, go to the Slovak Railways website. You can take a private taxi from Vienna to Bratislava airport via airporttransfer.com. Arranging a private taxi from Bratislava airport is safe and a timesaver.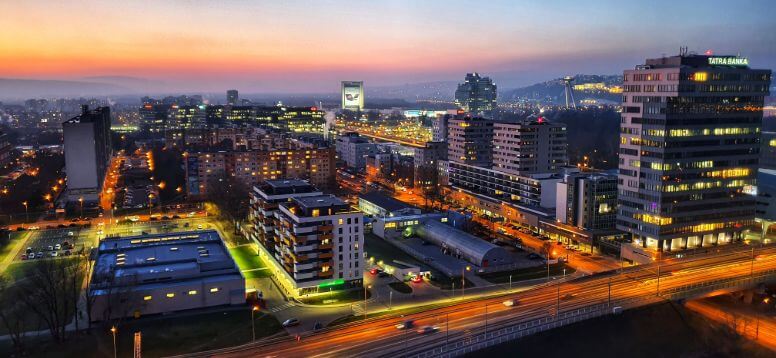 Bratislava Airport Private Transfer
By making your Bratislava Airport transfer with airporttransfer.com, you can start your visit to the fascinating city centre of Slovakia in the most comfortable way. You will be greeted when you arrive at the airport by experienced English-speaking local drivers, and you will reach your destination by the shortest route. No delay, no hassle of public transport, no waiting! Going from Bratislava Petrzalka to Bratislava airport takes approximately 15 minutes with airporttransfer.com. Save time and enjoy Bratislava with fastest private transfer!
While making your Bratislava Airport transfer, you can compare prices among the most reliable ground transportation providers and search according to the services that will meet your needs. If you are planning a ski holiday, requesting a roof rack is highly recommended. Or you can request a booster seat for your child.
Planning a big family trip? Then the minivan is for you! As soon as you buy your flight ticket, book your airport transfer with a 100% refund guarantee, don't worry about the rest. airporttransfer.com's English speaking and contracted drivers will offer you free waiting time.
☎️ Thus, you will be able to make your airport check-out procedures without haste. In case of any issues, our customer representatives will be on Whatsapp 24/7.