Summertime is the perfect time to plan a trip to the Greek Islands! The culture, food, and history are calling your name. And what's not to love about those gorgeous Mediterranean beaches? If you're thinking about taking a trip to Greece in 2022, here are some tips to help you plan the perfect vacation. From when to go and where to stay, to what routes to take and what sites to see.
⭐ Sit back, relax, and let us do all the work for you – all you have left to do is to take a look at our best Greek Islands list and book a ticket!
Most Beautiful Greek Islands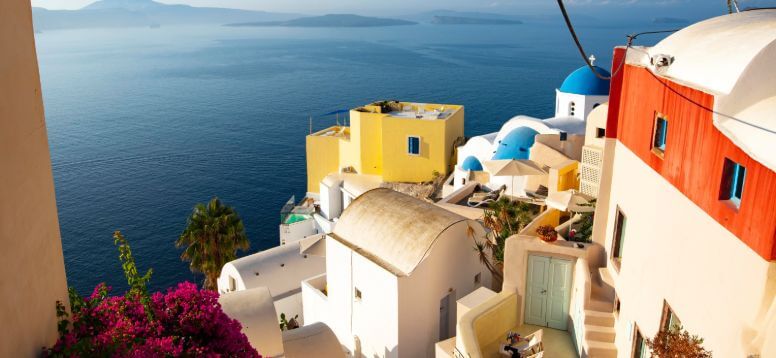 Have you ever dreamed of visiting Greece? With its stunningly clear waters, beautiful beaches, and friendly people, it's no wonder that the Greek Islands is one of the most popular travel destinations. But with so many islands to choose from, it can be hard to know where to start. If you're looking for the best Greek Islands experience, here are some of the most beautiful Greek Islands to visit. Trust us; you won't be disappointed!
Santorini
Chios
Kefalonia
Mykonos
Kos
Lefkada
Zakynthos
Skiathos
Santorini: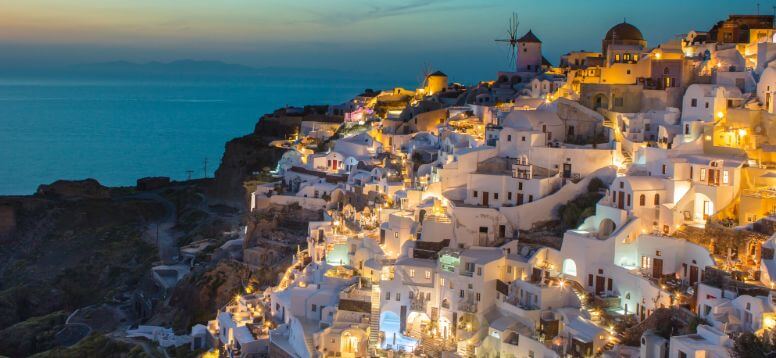 Santorini is one of the Greek Islands in the southern Aegean Sea, about 200 km (120 mi) from Athens. Santorini's nickname is "The Pearl of the Aegean." It might be the answer to the question of "Which is the prettiest and quietest Greek island?" The Island is famous for its cubist villages of Oia and Fira, which run down the volcanic cliffs of the island in streaks of brilliant white and specks of Greek blue.
🏨 Art Maisons Luxury Santorini Hotels Aspaki & Oia Castle is a luxury hotel on the Greek island of Santorini. It is perched on the edge of a cliff overlooking the Aegean Sea and offers stunning panoramic views of the caldera and volcano. The hotel features an infinity pool, luxurious accommodation, and world-class service.
✈️ There are a few ways to get to Santorini. You can fly into the airport, which is located in Fira, the capital of Santorini. You can also take a ferry from Athens or another island in the Cyclades.
Chios: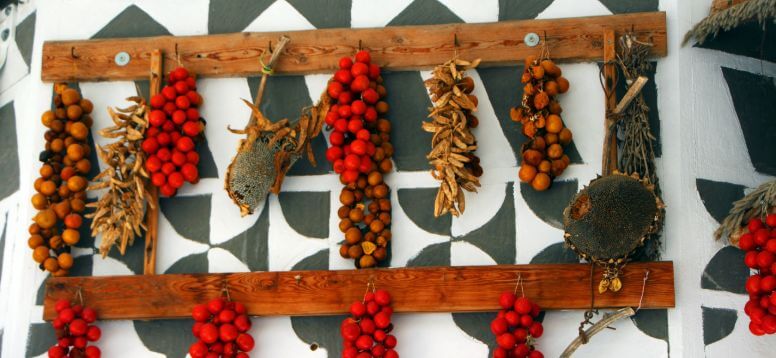 Chios is a tourist attraction because it is one of the most beautiful Greek Islands. With its dramatic cliffs, crystal-clear waters, and white-wash villages, Chios is a destination that has something to offer everyone.
In addition to its natural beauty, Chios also boasts a rich history and culture. There are numerous ancient churches and monasteries to explore, as well as charming villages where you can experience traditional Greek life. And don't forget the delicious food! Chios is known for its Mastiha liqueur and tasty mezes (appetizers). So whatever your interests maybe, you're sure to find something special on Chios.
🏨 As a hotel recommendation, I recommend Chios Rooms. It is a small, family-owned, and operated hotel in the heart of the historic center of Chios town. It offers traditional accommodation in a quiet and picturesque setting, Within walking distance of all the sights and attractions of this fascinating medieval town. The friendly and helpful staff will be happy to provide advice on what to see and do during your stay on Chios.
✈️ There are a few ways to go to Chios. You can take a ferry from Piraeus, the port of Athens. Ferries from Piraeus usually go to the ports of Mytilini on Lesvos and Chips. There is also a frequent ferry connection between Thessaloniki and Chios. Finally, there is an airport on the island with connections to Athens, Thessaloniki, Izmir, and Istanbul.
🏝. Similar things: Which Island Is Better: Rhodes vs Crete?
Kefalonia: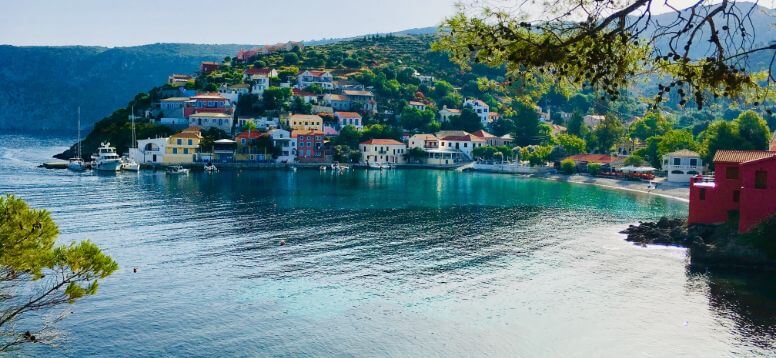 Kefalonia is the largest Island among the Ionian Islands. It is known for its stunning beaches, lovely villages, and impressive mountains. Kefalonia is also home to the famous Myrtos Beach, which has been named one of the most beautiful beaches in the world. The island is home to several castles and other historical sites, which can be explored on foot or by car.
🏨 Our hotel recommendation for Kefalonia is Aggelos Hotel Kefalonia. The village of Argostoli, the island's capital and home to Hotel Aggelos Kefalonia, is located on the northwest coast. It's a small, elegant hotel with the same level of class as Kefalonia's ancient architecture. The facilities include several luxurious, cost-effective, clean, and comfy rooms. The hotel is in the center of Argostoli and serves as a great starting point for exploring the city.
✈️ There are a few ways to go to Kefalonia. You can take a ferry from the mainland, or you can fly to the airport on the island.
Mykonos: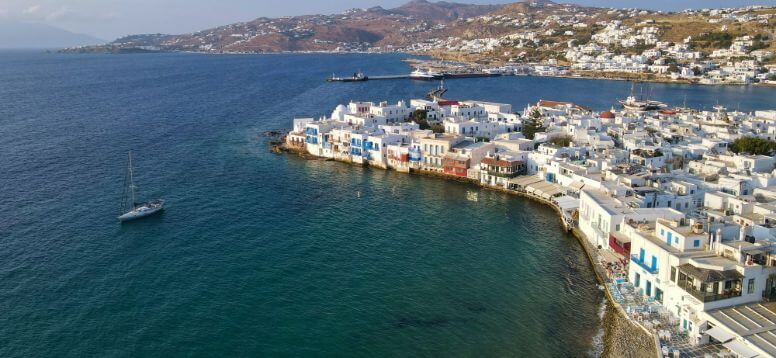 Mykonos is one of the most-known Greek Islands. The island's stunningly beautiful beaches, dramatic, white-washed architecture, and vibrant nightlife have made it one of the most popular vacation spots in Europe. Some of the most popular attractions on Mykonos include its picturesque villages, sandy beaches, and exciting nightlife.
By the way: Best Nightlife in the World - ​​All Continents
The best beach in Mykonos is definitely Platys Gialos. It's a long, sandy beach with crystal-clear waters and great views of the surrounding islands. It's also one of the busiest beaches on the island, so it's perfect for people who want to mix some relaxation with some good old-fashioned people watching!
🏨 The Grecotel Mykonos Blu, our recommendation for a hotel in Mykonos, has been completely updated and redecorated in cheerful white and soothing blue tones with new suites. This luxury resort has been created in the ancient Greek architectural style and furnished by renowned interior decorators from across the world.
✈️ There are a few ways to get to Mykonos. You can fly into the airport, which is located on the island. Or you can take a ferry from Athens or another nearby island.
Kos: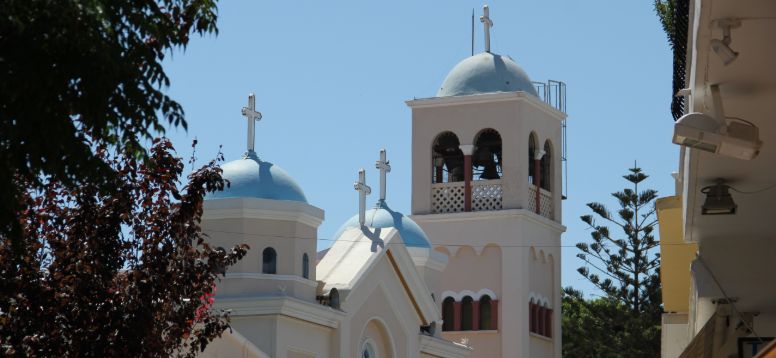 Kos is among the best historical and touristy Greek Islands located in the Dodecanese Islands area, in the Aegean Sea. It is one of the most popular Greek destinations, both for Greeks and foreigners. Kos Town, located on the north-east side of the island, is characterized as a lively place with many interesting sights to offer visitors. These include its medieval castle, which sits on top of a hill overlooking the town and its port, as well as its large market where locals and tourists come to do their shopping.
The town is also home to numerous restaurants, cafes, bars, and nightclubs that cater to all tastes. Additionally, Kos boasts some of the best beaches in Greece, which can be found on its south and west coasts.
🏨 The best beach in Kos is Kefalos Beach. It is located on the southeastern coast of the island and has crystal-clear waters, soft sand, and a number of beach bars and restaurants. Visitors can also enjoy water sports such as windsurfing and sailing. My suggestion for your holiday is Michelangelo Resort & Spa, a five-star hotel on Kos that has one of the greatest views in Greece and an amazing infinity pool!
✈️ Kos is an island in Greece that can be reached by flying into the airport located on the island. There are also ferry services that will take you to Kos from other locations in Greece.
⭐ Do you want to read this? Best Beaches in the World - From Maldives to the Mykonos
Lefkada: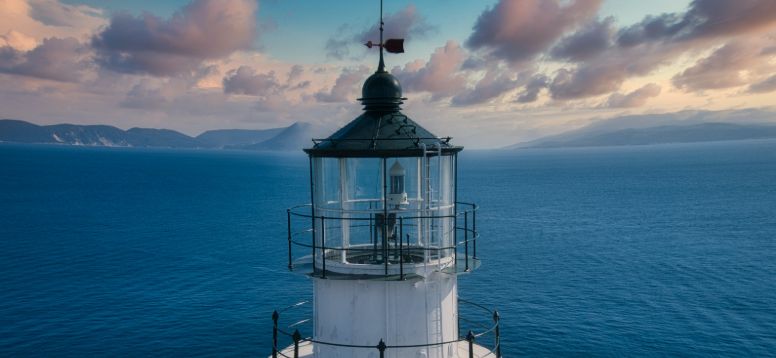 Lefkada is a beautiful one among the Ionian Islands, and it's one of the most popular tourist destinations in Greece. The scenery is breathtaking, with crystal-clear waters, white-sand beaches, and rocky cliffs. There are also a number of interesting archaeological sites on Lefkada, such as the ancient city of Paleokastritsa and the medieval castle of Santa Maura. In addition, the island is home to some lovely villages where you can enjoy traditional Greek cuisine and wine.
🏨 The perfect hotel for you is Crystal Water, which presently has a total of 146 luxury apartments and double rooms. Each one has a distinct design, features exquisite decoration, and is made with the best quality materials by an expert team. Suites are located in such a way that they provide either a panoramic view of the Ionian and the green mountains of Lefkada or a garden/pool perspective. Some have their own swimming pool for some quiet moments of reflection.
✈️ There are a few ways to go to Lefkada. You can fly into Preveza Airport and take a taxi or bus to the town of Lefkada. You can also take a ferry from the port of Igoumenitsa in mainland Greece. There are several ferries per day, and the trip takes about an hour.
Zakynthos: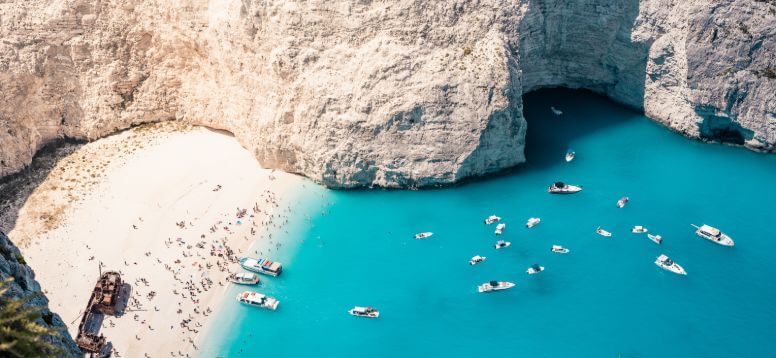 Zakynthos is a popular tourist destination for a reason. There's something for everyone on this stunning island. If you're looking for a relaxing beach vacation, Zakynthos is home to some of the most beautiful sandy beaches in Europe. The clear turquoise waters make for perfect swimming and snorkeling, and there are plenty of sun loungers and parasailing opportunities if you want to soak up some rays.
If you're looking to get active, there are plenty of hiking trails to explore, as well as cycling routes winding through the picturesque countryside. And don't forget about zip-lining and cliff jumping – two of the more adrenaline-pumping activities on offer!
🏨 Look no farther than Olea All-Suite Hotel if you're searching for a luxury hotel on Zakynthos. Given the proximity to Dionysios Solomos Square (2.1 miles), visitors of Olea All-Suite Hotel will have no trouble seeing one of the island's most notable sights. Mythos Tsilivi's restaurants are also accessible within a short walk from the hotel, including Mythos Slimani (0.6 miles), Obelix (0.5 miles), and Asian Feast (0.7 miles).
✈️ There are a few ways to get to Zakynthos. You can fly to the airport on the island, or you can take a ferry from mainland Greece. There are also some cruise ships that stop in Zakynthos for a day or two.
Skiathos: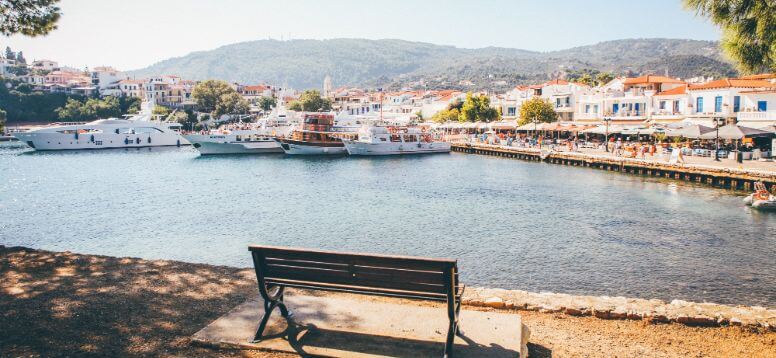 Skiathos is a beautiful, green island located in the Aegean Sea. Some of the most popular tourist attractions on the island include Kastro, Lalaria Beach, and Koukounaries Beach.
Kastro is a medieval fortress that sits atop a hill overlooking the town of Skiathos. Lalaria Beach is known for its dramatic cliffs and crystal-clear waters, while Koukounaries Beach is one of the most popular beaches on the island and is home to numerous restaurants and bars.
Another thing that comes to mind is the amazing hikes that are available on the island. There are several different trails to choose from, and they offer hikers breathtaking views of the Aegean Sea and neighboring islands. Skiathos also offer plenty of opportunities for water sports enthusiasts. You can enjoy windsurfing, scuba diving, and snorkeling.
🏨 The Hotel Grande Bretagne, with views of the magnificent Acropolis and Parthenon, regal Constitution Square and Parliament, lush Lycabettus Hill, or the original Olympic Stadium, provides unrivaled vistas of Athens' legendary past. The luxurious rooms, each with its own private balcony, overlook the courtyard or a breathtaking vista of Acropolis antiquities. The exquisite interiors pay homage to Greek culture with intricate moldings and classic décor.
✈️ Skiathos is a popular tourist destination in Greece. It can be reached by plane or boat. There are several ferry companies that operate routes to Skiathos from Athens and Thessaloniki. The Skiathos Airport is located just 2 km from the town of Skiathos.
Popular Questions:
Q: Which is the nicest Greek Island to visit?
There are many beautiful Greek Islands to visit, but if you're looking for the nicest one, I would have to say Mykonos. It has crystal-clear waters, lovely white sand beaches, and stunning architecture. Plus, it's a great place to party!
Q: How do I choose which Greek Island to visit?
It can be difficult to choose which Greek island to visit, as they all have their own unique charms. Here are a few things to consider when making your decision:
What type of atmosphere do you prefer? Are you looking for a lively party atmosphere, or a more relaxing and subdued setting?
How much do you want to explore? Some islands are small enough that you can walk around the entire thing in a day or two, while others are larger and require renting a car or taking public transportation.
What are your interests? Do you want to visit ancient ruins, go windsurfing, enjoy lovely beaches, or eat delicious food?
You might be interested
Browse Airports for Airport Transfers