Regarding travel, the theme of sustainability has gained more importance, and we have listed 15 sustainable hotels worldwide for you. Let's talk about sustainability a little more. Living sustainably enhances our standard of living, protects our ecology, and protects natural resources for future generations.
As a society, we benefit from air and water quality by using more renewable energy sources in the long term—sustainable practices aid in changing the culture for the better. Following a sustainable lifestyle will lessen your carbon footprint and the amount of waste discharged into the environment, enhancing its safety. From reducing our carbon emissions to not using single-use plastic materials, there are many things that we can do to be environmentally friendly human beings.
If we think bigger, everything can be sustainable, from companies to hotels. Recently, sustainable hotels and sustainable hotel design have gained importance. The use of eco-friendly building materials, fresh produce gardens, the construction of water recycling facilities, and the elimination of amenities in rooms such as plastic water bottles, toothbrushes, and shampoos are now major concerns for hotels worldwide.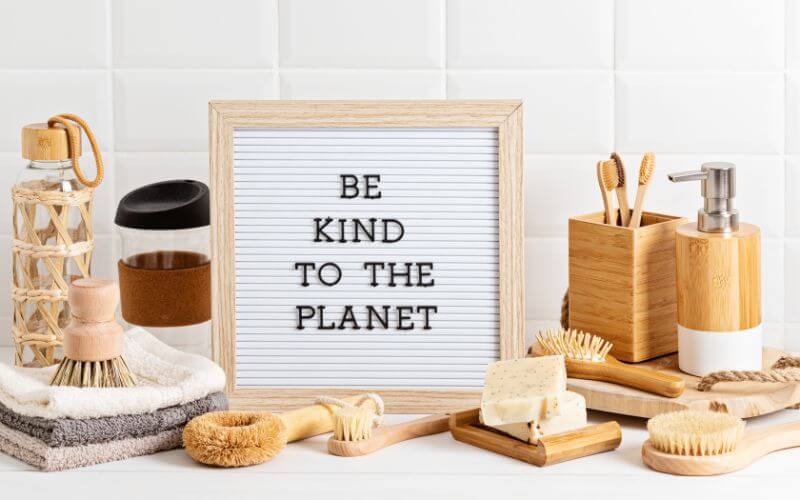 What makes a hotel an eco-hotel?
By using sustainable practices in maintenance, services, and supply chains, an eco-friendly hotel strives to minimize its negative environmental effects. Energy efficiency and water use, aiming for a zero-waste policy, and utilizing environmentally friendly items are a few examples of possible measures.
How can hotels be more sustainable?
Contrary to what is believed, designing an eco-friendly hotel does not require much effort. Saving energy has many advantages for hotels, as it helps control and lower operational costs while minimizing emissions. Decorative items can all be purchased locally to decrease the carbon footprint as well as to recognize producers from local communities who use eco-friendly and sustainable techniques.
Hotels consume a shocking amount of drinking water, a necessary but increasingly scarce resource. Green hotels may significantly reduce long-term expenses while improving their value in visitors' eyes by adding things such as low-flow toilets and showers, water recycling and filtering systems. An eco-hotel also can lessen its environmental effect by using natural products, recyclable and reusable materials, non-toxic and water-friendly cleaning products, a solar panel, and is dedicated to waste management. Everything in the hotel should follow the standards for eco-friendly products, including insulation, furniture, linens, shampoos, and body lotions.
8 Best Oceanfront Hotels in the World
Why do we need sustainable hotels?
We have discussed the importance of sustainability, but why should hotels be sustainable? Sustainability results in saving money by reducing waste and spending. In different areas, from food and beverage to travel and tourism, sustainability should be a common theme that everyone should be aware of.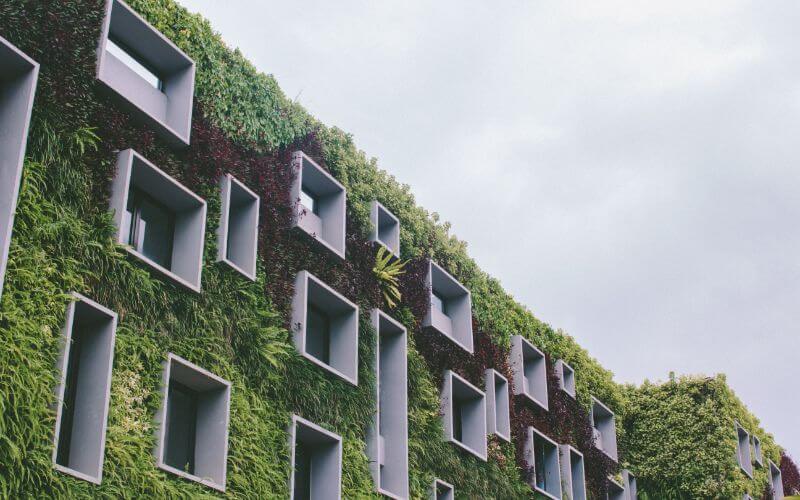 What is the most sustainable hotel in the world?
There are many eco-hotels in different countries. The range differs from sustainable boutique hotels to sustainable luxury hotels. Keep reading for 15 sustainable hotels worldwide among the most sustainable hotel chains!
1- Camp Glenorchy, New Zealand
This is the first zero-energy eco-hotel in New Zealand. In addition to utilizing environmentally friendly features such as a solar-powered garden, smart lighting, solar panels, and a water management system, the facility uses 50% less electricity and water than other green resorts. Camp Glenorchy's stunning natural settings between the two mountains add to the area's attraction for environment lovers.
Average cost per night: $435
2- Pikaia Lodge, Ecuador
While being the most expensive one among the 15 best sustainable hotels around the world, the carbon-neutral building of the hotel uses renewable energy sources. For its construction, recyclable, environmentally friendly building materials such as bathroom tiles were made from lava stone taken from local sites. Most of the furnishings and accessories were constructed from Ecuadorian plants grown sustainably. Additionally, the establishment solely uses biodegradable cleaning supplies, and solar panels are used to warm the hotel water.
Average cost per night: $3227
3- Heckfield Place, England
The hotel's centrepieces are a completely organic garden, and a home farm with crops and farm-to-fork produce influencing their daily menus. Anything not used in the kitchen is returned to the land and put into the soil. This policy extends to their suppliers, who are asked to send mostly plastic-free deliveries. You can't find any plastic, even in the guest rooms.
Average cost per night: $514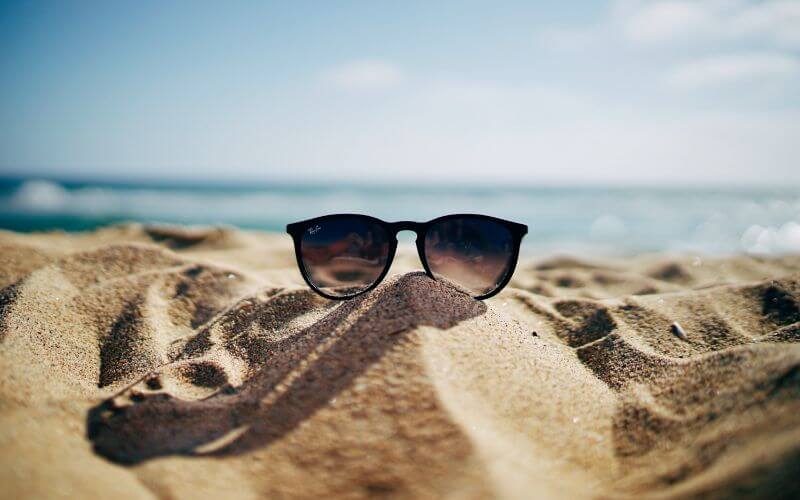 4- The Baltic Treehouse, Canada
In the treehouse, the oven and hot water are all fueled by propane, and the treehouse is solar-powered. The main living area is heated by a fireplace made of Norwegian cast iron, while the bathroom is heated under the floor by solar energy. With a wood-fired cedar hot tub and an additional outdoor shower, the resort offers the ideal setting for enjoying the health advantages of forest bathing. 12 Best Summer Destinations in Canada…
Average cost per night: $440
5- Arro Dunes, USA
Arro Dunes is a fantastic illustration of how to furnish and style home with the environment in mind, fusing natural materials with minimalism and a Japanese aesthetic.
Tadelakt, a type of plaster that has historically been used in Moroccan construction, was used to build the kitchen and bathroom. It is naturally resistant to mould and mildew, made of natural ingredients, and free of organic chemicals. Limewash, a natural, non-toxic substitute for conventional household paints, was used to paint the entire house.
Average cost per night: $300
6- The Rockaway Hotel, USA
Most locals stop by for breakfast, a snack, to say hello, or to get a coffee throughout the day. Visitors arriving for short- or long-term visits are prepared to lounge by the pool with a book, have a drink at the rooftop bar, join the locals for regular fitness sessions, and not stroll the nearby promenade. The Rockaway Hotel adds something fresh to the neighbourhood by taking from and giving to the local community.
Average cost per night: $300
7- Azumi Setoda, Japan
Doors led into a cozy lobby with wood and a sea-blue plaster wall. The owner's former teahouse is now a chill retreat called Azumaya, with glass walls that look out over a walled garden with exotic plants. With golden cypress and paper screens, low white mattresses, and hinoki bathtubs, the 22 guest rooms are the ultimate place to relax. Meanwhile, Azumi is entrenched in the community, evident in its activities, such as lemon picking and meditations at Zen temples.
6 Best Ecotourism Destinations in Europe
Average cost per night: $640
8- Es Racó D'artà, Spain
Since practically everything at Esteva is biodegradable, locally produced, and organic, the estate has its biomass plant, solar and geothermal electricity, and ecological water-treatment system. Its vineyard produces fruit and vegetables, honey, olive oil, and wine. On the land, only kombucha and natural infusions are permitted; even commercial fizzy drinks are not permitted.
Average cost per night: $630
9- Gravity Haus Vail, USA
Gravity Haus is an enhanced adventure base camp. The hotel replaced the original Vail Mountain Lodge in the centre of Vail Village, which has a great year-round location steps from the mountain's Golden Peak base area for skiers, snowboarders, hikers, and mountain bikers. The mixed group of members and guests can enjoy wine, sip on the food on charcuterie boards and enjoy Korean fried chicken wings.
Average cost per night: $209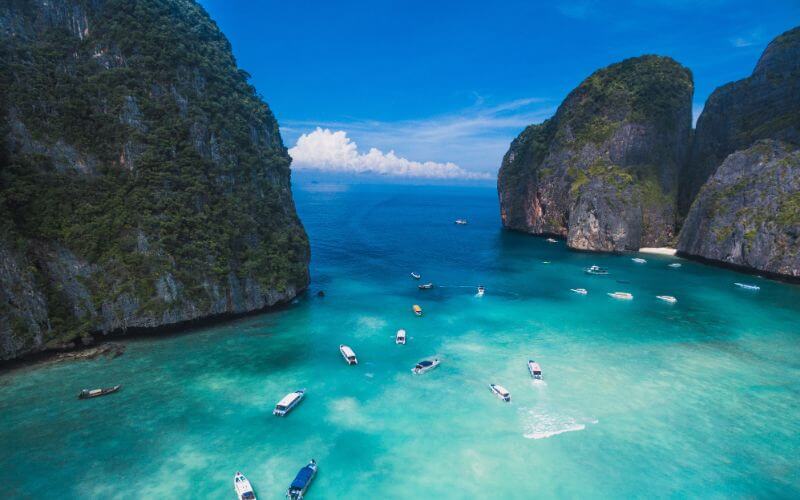 10- The Hideout, Thailand
The Hideout is situated on Koh Yao Noi inside a historic cashew nut farm, just 30 minutes by boat from Phuket. The entire resort has only four open-air treehouse suites, each made from sustainable and locally sourced materials. The island air will keep you cool while you relax by the saltwater infinity pool, eat meals made with fresh local ingredients, and thoroughly unwind.
Average cost per night: $47
11- Pench Tree Lodge, India
This eco-friendly hotel provides authentic glamping experiences that are appealing to nature lovers. Each of the 12 treehouse and cottage resorts in Madhya Pradesh is built from organic resources, such as sal wood, and is only 20 minutes from Pench National Park. You can enjoy swimming in the pool and learning more about the local flora and animals while surrounded by 40 acres of woodland.
Average cost per night: $178
12- The Pig at Combe, UK
The Pig at Combe, located close to the south shore, practices sustainability properly. The home features LED lighting to save energy and various recycled materials, such as furniture. You can relax in rural settings that radiate British charm while pampering in a variety of food made with ingredients grown on-site in one of the three kitchen gardens. The Best 15 Hotels in London…
Average cost per night: $260
13- Aquila Eco Lodges, Australia
Power is produced on the property, and all garbage is managed locally. The resort has a worm-based composting system and a rainwater collection program to recycle nutrients into the environment. Inside, visitors will discover sustainable equipment for lighting, non-toxic paint, flushing compost toilet systems, and other amenities made to be eco-friendly.
Average cost per night: $223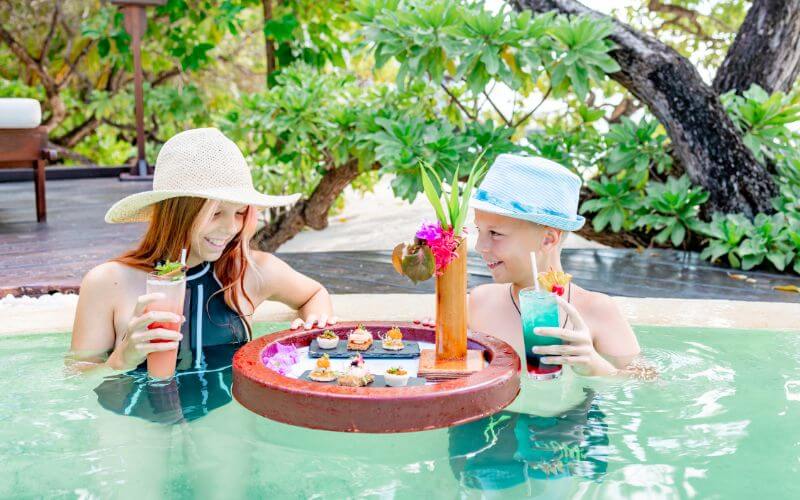 14- Soneva Fushi, Maldives
With its "Garbage-to-Wealth" policy that turns waste into new products, it recycles almost all of its waste locally at its recycling facility. Composting creates nutrient-rich soil for the vegetable gardens from food scraps from the resort's restaurants. The resort's plastic recycling made it the first in the Maldives in 2017.
Average cost per night: $1970
15- Villa Copenhagen, Denmark
The original neo-baroque structure was maintained throughout the restoration, which incorporated a piercing parlour in the lobby and a gentle colour scheme. The glass-ceilinged atrium has become a popular tourist place due to its ability to provide an upscale environment at a relatively affordable price. It is not a brand-new construction but rather the beautiful revival of a long-forgotten landmark.
Copenhagen Tourist Attractions - Must Visit
Average cost per night: $220
You can easily plan and reserve your transfer from us online. We offer you a planning opportunity with clean and comfortable vehicles from our website. Now, the only thing you need to do when planning a trip is choosing between these 15 sustainable hotels worldwide!
You might be interested