Split Airport Transfer - Private Driver
Are you planning to explore Split city and immerse yourself in its rich cultural heritage, delectable cuisine, and leisurely ambiance? If yes, you must ensure that your trip begins on the right note. One of the most critical aspects of planning a vacation is booking reliable and comfortable transportation from the airport to your destination.
AirportTransfer.com provides a convenient solution for booking private taxi transfers from Split airport to the most sought-after destinations along the Croatian coast. At AirportTransfer.com, we offer a range of transfer vehicles, including Minivans, Sedans, Electric cars, MPVs, Limousines, and SUVs.
Additionally, we provide various optional extra services, such as Elderly assistance, luggage handling, VIP greeting, red carpet, roof racks, child seats, bicycle racks, meet & greet service with a timetable, and many more. AirportTransfer.com offers secure online payment, free cancellation within 48 hours, and 24/7 customer support via WhatsApp. Book your private Split airport car transfer today and experience the best of Split and its surroundings!
From the Airport to Your Destination: Why I Choose AirportTransfer.com. At AirportTransfer.com, customer satisfaction is our top priority. We cater to the needs and preferences of our clients, ensuring a smooth and enjoyable journey. We are proud to make our satisfied customers into loyal customers.
The Best Split Airport transfer reviews at airporttransfer.com!
Airport Water Taxi Transfer
Beyond the Split lies abundant natural beauty, including Dalmatia's many islands, waiting to be explored. At AirportTransfer.com, we provide airport water taxi transfer services. We are offering the perfect solution for exploring Dalmatia's many islands.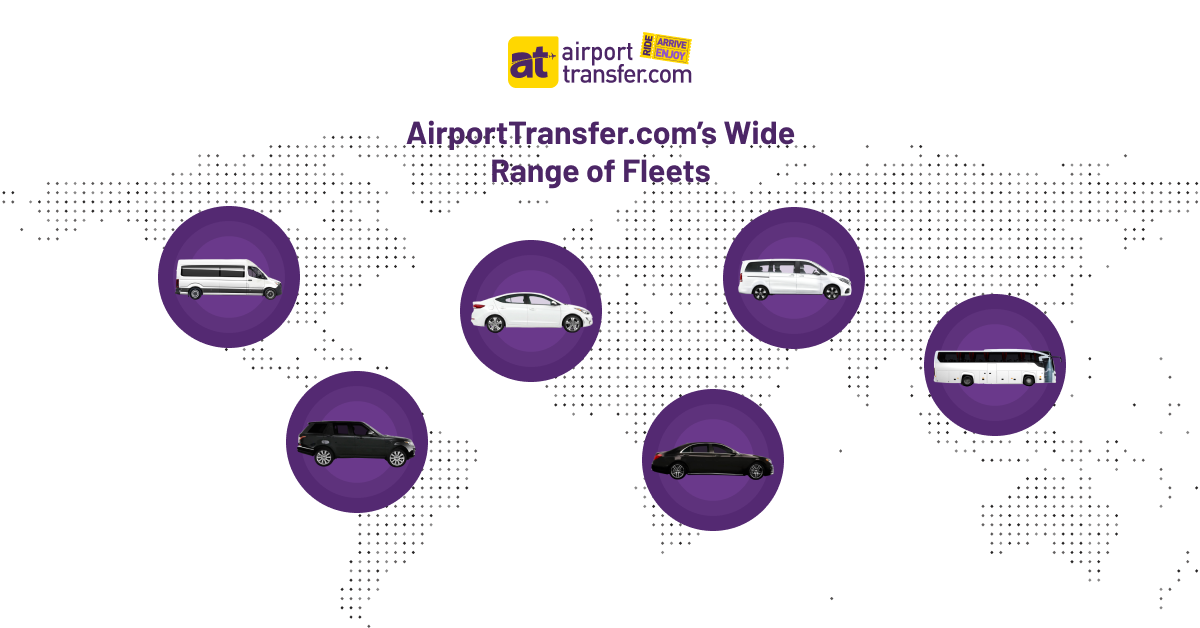 Our service provides transportation from the airport to the city center and a stylish and comfortable way to reach popular destinations such as Brac, Hvar, Korcula, Vis, Lastovo islands, and Dubrovnik.
Public Transportation Split Airport
There are several ways to reach the city center from Split Airport (SPU), also known as Resnik Airport. Travelers can choose between four modes of transportation, including a taxi, bus, shuttle bus, private airport taxi transfers, and airport water taxi transfers.
Airport Shuttle Bus
A shuttle bus is one transportation alternative to reach the city center of Split from the airport. Pleso Prijevoz operates the shuttle bus service, which departs 30 minutes after every flight arrival from the airport.
The shuttle bus takes around 30 minutes to reach the city center of Split, where it stops at the Split Central bus station.
Good to Know:
The shuttle bus service may not be reliable if you have a tight schedule since its availability depends on demand and flight arrivals at the airport.
Unlike shuttle buses, private split airport transfers provide door-to-door transportation, ensuring you arrive at your destination safely and on time.
Split Airport Local Bus
Another option for transportation to and from the airport is to use the local Promet Split bus. Bus number 37 provides local bus service from Split Airport to Split city, with multiple stops. As a suburban public bus, it terminates at Bus Terminal Sukoišan, which is situated about 750 meters to the north of the city center, where Diocletian's Palace is located.
Bus 37 stops at the Sukoisan bus station in Split, not the main bus station. Passengers can take bus 9 or 10 or walk to the city center or train station.
NOTE: If you're planning to catch a ferry or catamaran from Split, it's not advisable to use this bus. Instead, it's recommended to consider a private transfer as an alternative mode of transportation.
Good to Know:
The travel time may be longer during peak hours due to local traffic conditions.
After the scheduled flight arrival, the bus leaves the airport 30 minutes later.
Instead of the terminal building, you board this bus from the main road outside of the airport.
A private transfer allows travelers to avoid large crowds and travel directly to their desired destination without any interruptions or delays.
Split Airport Taxi
Outside the arrival terminal, there are taxi ranks where airport taxis are available during the airport's opening hours of 06:00 am to 10:00 pm. The taxi fare is likely to be expensive for a ride taking around 30 minutes under normal traffic conditions with up to four passengers.
Good to Know:
Taxis provided by various companies may charge different rates.
By booking your private Split airport pickup service ahead of time, you can save time and prevent any potential miscommunications with drivers.