Private Airport Transfer to Skiathos City Center
Perhaps the most convenient and hassle-free driving experience is offered by private airport transfer services, such as AirportTransfer.com AirportTransfer.com provides the most reliable meet & greet service in Skiathos, Greece.
By choosing AirportTransfer.com, you can receive a stress-free holiday travelling experience; hence AirportTransfer.com will consider every detail for you! 😊 For instance, the company offers an online payment method to its customers; by choosing this method, you would not need to consider your payment once you arrive at Skiathos Internal Airport.
AirportTransfer.com offers the most convenient door-to-door transfer in Skiathos, Greece. For instance, you can discover Lalaria Beach or Koukounaries Beach easily without thinking about the schedule of the buses or ferries. That said, it provides service from the airport to the hotel you plan to stay in and the most popular destinations around Skiathos. Such as Moni Evaggelistrias, Museum - Home of Alexandros Papadiamantis, or The Blue House Art Gallery Skiathos.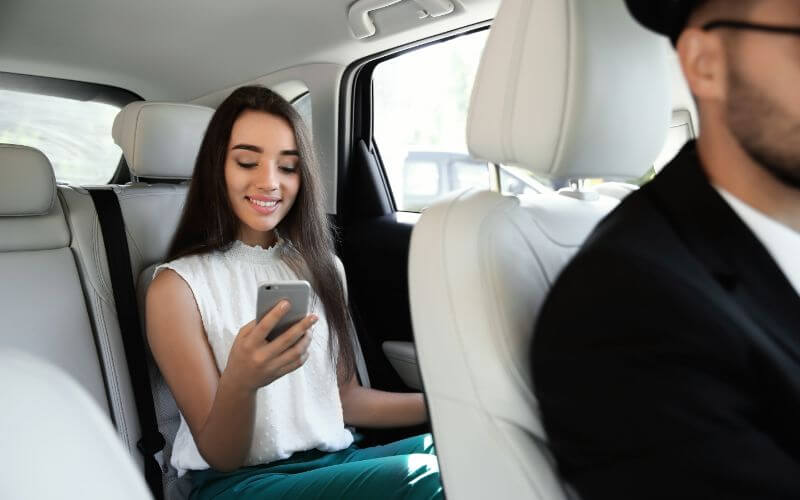 You can easily add a bicycle car rack to your car by doing so.
Likewise, it is also possible to upgrade your vehicle if you plan to do other outdoor activities, such as skiing.
You can ask for a bigger car to bring your ski equipment rack or booster on your journey.
AirportTransfer.com cares about the safety of its passengers too. Therefore, the company can easily put a baby seat if you are going on a holiday with your baby. Moreover, if you would like to travel with an older adult, considering elderly assistance from AirportTransfer.com might come in handy.
By choosing AirportTransfer.com, a hygienic and secure car will be waiting for you at the entrance of Skiathos International Airport.
Moreover, getting a 100% refund is possible if you cannot make up your trip! You must inform the company at least 48 hours before the scheduled time to receive the free 48-hour cancellation service.
AirportTransfer.com provides the best private transfer service globally and in Skiathos as well.
If you have any sort of question regarding the end-to-end transfer, booking process, or payment process, you can reach customer service any time you want! Hence AirportTransfer.com has a 7/24 helpline on WhatsApp; it is pretty easy to talk to customer service. Therefore, if you have any questions in your mind, you can get in contact with the company without thinking twice.
Public Transportation Options for Tourists from/to the Airport
Since Skiathos International Airport is launched on an island, there have been numerous ways to reach the airport from different points. This international airport is only 3 kilometres away from Skiathos town centre. Specifically, the airport is located between 2 different islands, Skiathos island and a smaller island Lazarata.
Public Bus Transfers at Skiathos Airport
There are different available Skiathos Airport transfers to the city centre of Skiathos by bus with daily routes.
The first bus route covers 3 main stops: Skiathos International Airport, downtown Skiathos, and Koukounaries. This bus starts at 06:45 in the morning to 01:15 pm. Even though there are fewer buses between 6 am to 8 am, there are at least 4 departs per hour starting from 09:00 am until 10:00 pm.
The second route covers Koukounaries, Skiathos, and the airport. Therefore, passengers can consider the bus service once they finish their holiday on the island. It is possible to find this bus from 07:25 am to 01:45 pm. Likewise, there are around 2 or 3 departs between 07:00 am and 09:00 am and 10:00 pm to 01:45 pm. However, starting from 10:00 am, 4 buses depart each hour.
The third route includes Port, Kalyvia, and Evangelistria and vice versa; From Port to Evangelistria, tourists can find the bus from 08:00 am to 7:45 pm. Moreover, the bus from Evangelistria to Port works between 08:20 am and 8:00 pm.
The fourth bus route works between Port and Xanemos. While the bus from the Port to Xanemos starts from 10:15 am to 8:15 pm, the bus from Xanemos to the Port is available between 08:45 and 7:30 pm.
The last bus covers many stations between Troulos and Asselinos. Bus number 18 is available from 09:00 am to 19:45 from Asselinos to Troulos. Moreover, passengers can find the bus from Troulos to Asselinos between 08:45 am and 19:30.
It should be noted that there are not so many available buses after midnight. Therefore, passengers who want to arrive at the airport after midnight may need to consider other transportation options.
The ticket from/to the airport costs 3 euros for a single route. More specifically, passengers can use this ticket to the airport, Koukounaries, and Skiathos – Aselinos. The tickets can be purchased in 3 different locations on the island; Port (STOP 0), Akropoli (STOP 4), and Koukounaries (STOP 25). More specifically, bus stop 16 Skiathos includes the airport in its route.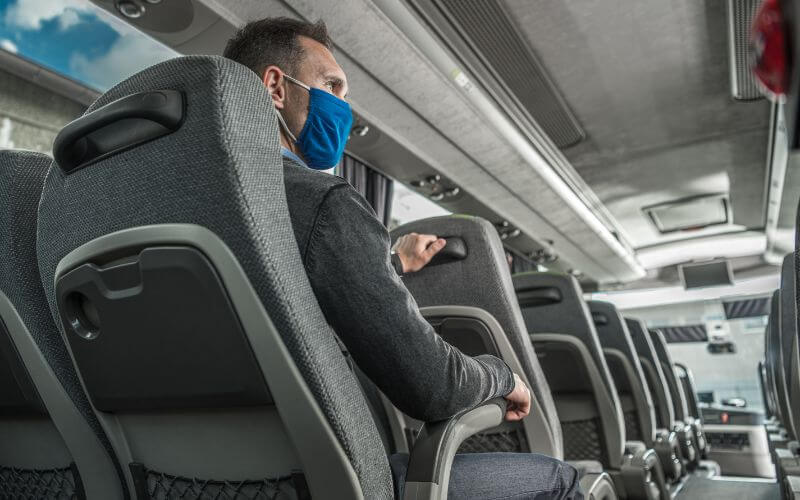 Shuttle Services from/to the Airport
Even though an airport shuttle service is not mentioned on the official website of the airport, many hotels on the island offer a shuttle service to their customers. This kind of shuttle service starts in front of the hotel you stay in, finishing at the entrance of Skiathos International Airport. However, it would help if you talked to your hotel before assuming they offer the service.
Moreover, the shuttle service fare may differ from hotel to hotel. Lastly, it is expected to give a tip to the driver and their assistant. More specifically, the shuttle assistant helps you carry your luggage; it might be appropriate to give 1 euro. When giving a tip to the driver, it changes between 5 euros to 10 euros. The longer drive you have, the more information is expected from you to give.
Ferries from/to the Airport
Arrived passengers could find various destinations from Skiathos Ferry Port. The first ferry company offers seasonal destinations to many places, such as Alonissos, Skopelos, Agios Konstantinos, Glossa, Skopelos, and Volos.
The second ferry company offers the very same route to its passengers. The course starts from the Port of Skiathos, and the ferry goes to many places like Volos, Agios, Glossa, and Skopelos. Likewise, this company provides its service during the holiday season.
The last ferry company does offer regular destinations, unlike the first two ferry companies. Therefore, you can consider the third company if you plan to visit the island other than the holiday season.
It is possible to reach Skopelos, Glossa, Alonissos, and Volos. Moreover, it also offers seasonal sailing to Evia and Mantoudi. Passengers can go from Skiathos airport to the ferry port by taxi or bus.
From Alonissos to Skiathos, it generally takes between 55 minutes and 2 hours, depending on the rotation of the ferry. From Agios Konstantinos to Skiathos, it approximately takes 2-3 hours. From Skiathos to Volos, the ferry route differs from 1 hour 15 minutes to 2 hours 45 minutes.
Moreover, a ferry from Skiathos to Thessaloniki takes around 3 hours and 5 minutes. From Glyfa (Fthiotida), there is only one ferry route which takes 2 hours and 15 minutes to complete its course.
READ MORE: Tips to Visit the Greek Islands - 2022 Hotels & Airports
Airport Taxi Service to Different Locations
There are different airport taxis for arrived passengers. It is possible to find an available taxi from the Baggage Claim Exit to the Taxi Waiting Area.
An average taxi drive from Skiathos Airport to the city centre takes 5 minutes.
A cab from Skiathos Aiport to Skiathos town generally costs around 10 euros.
It is recommended for passengers to inform their taxi driver if they are planning to go from a place farther than the city centre.
Moreover, it is expected to give a tip to the taxi driver once the journey finishes.
Generally, the information is 10% of the total fare.
Even though it is not mentioned on the airport's official website, the food might be different at midnight compared to the daytime.
Car Rental Companies at the Airport
There are approximately 10 car rental companies at Skiathos Airport (JSI). Since each company has its telephone numbers, tourists may need to talk to all of them separately.
According to the latest updates, the car rental companies have 102 different cars in total. Whereas 86 of them are manual, the rest of the cars are automatic vehicles.
Moreover, passengers can upgrade their car seats with extra charges. The most common vehicles are SUVs, minivans, economy, intermediate, and standard. Lastly, it is possible to hire a driver as well.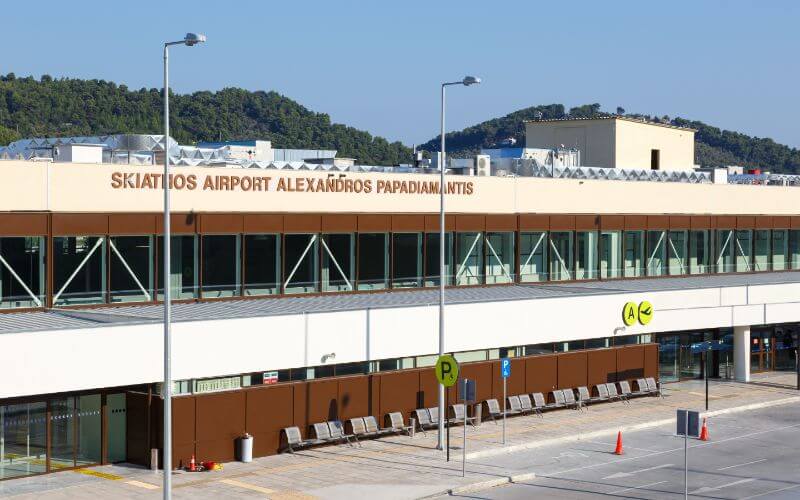 The Most Significant Airline Companies that Offer Flights from/to the Airport
Even though more than 20 different airline companies have destinations from/Skiathos International Airport, some have come forward among the other companies. The biggest airlines are listed below.
READ MORE: Popular Greek Foods: Must eat in Greece
The Most Popular European Cities that Have Flights from/to the Airport
It is possible to find a flight to Skiathos International Airport from various European cities, perhaps more than 50 destinations. The most common ones are listed below.
Athens
Venice
Vienna
Dusseldorf
Oslo
London
Paris
It should be noted that while some airline companies offer flights throughout the year, some only provide seasonal flights. Therefore, tourists can find more flight options during the summer season.
The Services that Passengers Could Find at the Airport
In case of a health emergency, the first aid service and a pharmacy are open at the airport 24/7
1) ATMs are located in both the arrival and departure zones. More specifically, Eurobank and Euronet have ATMs at the airport. Moreover, currency exchange counters are available as well.
2) Free and unlimited Wi-Fi is accessible in different parts of Skiathos International Airport.
3) It is also possible to find charging mobile device centres at the airport. These points can be found in the Schengen departures area 3-4. This service is free for all air passengers.
4) Various restaurants and cafes for food and beverages.
5) Duty-free shops and regular shops
6) Medicals devices and aids are accessible and free for passengers who declare/her needs with an official document. For instance, wheelchairs, emergency kits, walking aids, CRAP devices, and prostheses are free of charge if passengers can provide their physician's letter.
7) Lost and found centre at the airport
8) Lounges are available at the airport, especially for passengers waiting for their departure.
9) Different kinds of transportation options from/ to Skiathos International Airport.