Public Transports Shahjalal International Airport DAC
Shahjalal International Airport was built in the north of Gazipur city of Baghdad and south of Dhaka city. From here, there are several public transportation options available for airport passengers wishing to get to the city center including private transportation like Shahjalal Airport taxi serving airport cab service similar to airport cabs in Mumbai.
Metro Line
You can choose the rail transportation method by going to the train station just across the door of Shahjalal International Airport. The airport line connects Kamalapur station with the airport and travel time along the route is approximately 30 minutes.
⭐ Maybe you are interested: Nearest Things to Do to Beijing Capital Airport
Service Buses
There are 5 different Shahjalal Airport bus lines in Bangladesh serving on the route between Dhaka Hazrat Shahjalal International Airport and the city center including surrounding areas like the distance of Shahjalal Airport to Kalabagan.
Bevco Line:
Route: Abdullahpur - Uttara - Tongi - Dhaka Hazrat Shahjalal International Airport - Khilkhet - Kakoli - Mohakhali - Company Gate - Shukrabad - Kola Bagan - City College / Science Laboratory - Nilkhet
Discovery Line:
Route: Mirpur No2 - Mirpur Section 10 (Gol Chokkor) - Kajipara - Shewrapara - IDB Bhaban - Mohakhali - Banani (Kakoly) - Dhaka Hazrat Shahjalal International Airport
Instant Line:
Route: Azampur - Rajlakshmi - Khilkhet - Dhaka Hazrat Shahjalal International Airport
Ababil Line:
Route: Rampura TV Center - Madhya Badda - Uttar Badda - Shahzad Pur - Natur Bazar - Norda - Bashundhara - Kuril - Khilkhet - Dhaka Hazrat Shahjalal International Airport
11 Bus Lines:
Route: Jasim Uddin Road - Dhaka Hazrat Shahjalal International Airport - Kawla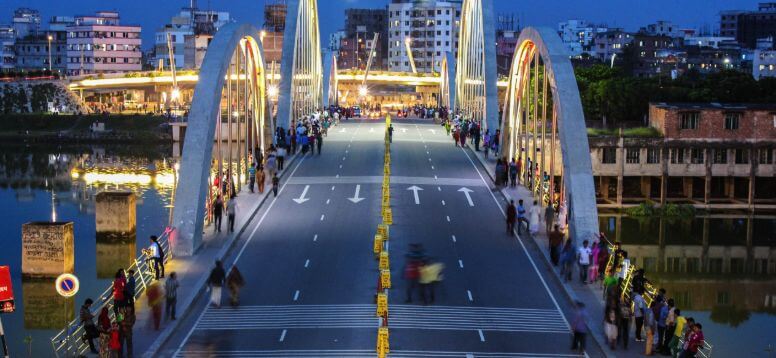 Shahjalal International Airport Private Transfer
How do transfers work at airports? Passengers are welcomed by a professional local driver in the terminal building or car park, depending on the customer-driver communication. Pre-booked airport transfer vehicle is ready at the airport to take the traveler to the desired destination safely and comfortably.
You can book right away for a fast and safe travel experience with airporttranfer.com in Bangladesh. airporttransfer.com is serving global airport transfers around the world.
100% refund
End-to-end transfer service
Hygienically vehicles
Experienced local chauffeur
Safely and reliable travel
Access the most experienced ground transportation vehicles and compare prices for your Shahjalal International Airport transfer. We keep as many options as possible for you to have the best experience. You can choose the latest models of luxury cars, standard sedans, minivans or SUVs when booking a taxi and additional services that specialize your transfer such as child seats, VIP greetings, bicycle racks and roof racks, elderly assistance and much more at fixed prices!
☎️ airporttransfer.com customer care team is ready to assist you 24/7 on Whatsapp!