Traveling is such a great opportunity to discover new places, meet new people and their cultures, try out different cousins, and many more. However, most of the time, solo female travelers might feel not safe when they go to a different place by themselves.
High level of crime rates could be one of the reasons why solo female travelers feel that way.
In this blog, we would like to introduce the best trips for solo female travelers in 2022. Our solo travelers could find the best places to explore by doing so! Hopefully, you will find the blog joyful and efficient simultaneously.
How About Starting with Europe: Which Countries and Cities Are the Best for Solo Women Travelers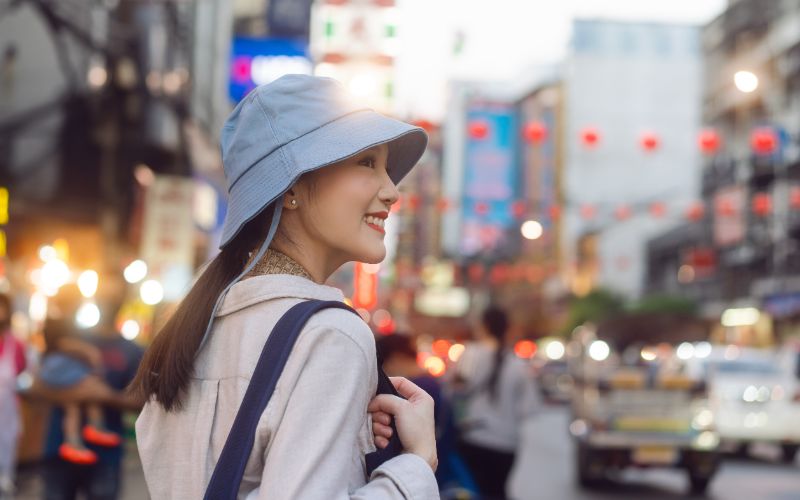 Europe could be the most common destination for solo travelers in the world.
Since it is possible to communicate with almost everyone in English in many European countries, the language barrier would not be a reason to worry in this case.
Of course, Europe consists of many countries, and one country differs from another in many aspects; we would like to give you a list of the countries where only English language proficiency could be enough.
Lisbon, Portugal: A Vivid City That Has Around 300 Sunny Days in A Year!
Although Portugal is a very small country located on the west edge of Europe, it is the center of attention of many tourists, mostly British and German.
Lisbon has wonderful weather even during the winter since this gorgeous city has almost 300 sunny days per year.
We added this sincere city to the list of the best trips for solo female travelers in 2022 due to its low crime rate, Azulejo-decorated buildings, breathtaking landscapes, and, lastly, its super welcoming inhabitants of the city.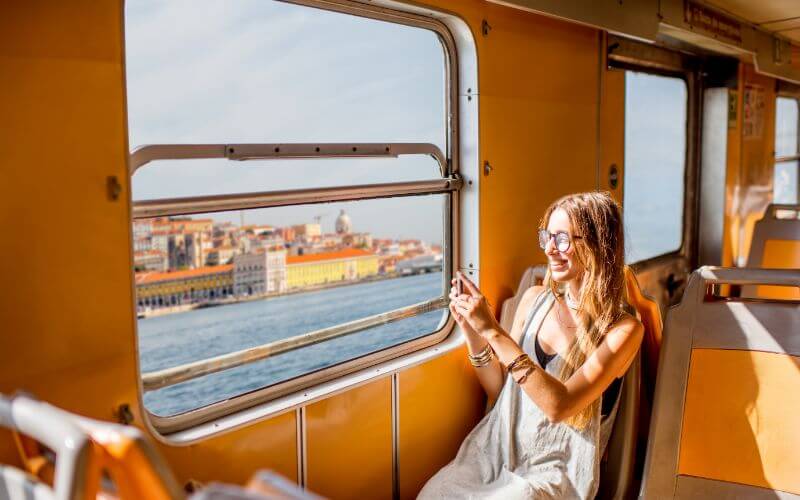 Where to Visit in Lisbon? You Won'tWon't Want to Leave Those Places!
Since Lisbon has been the country's capital for hundreds of years, this city is surrendered by history in each corner. Elevador de Santa Justa is an antique elevator located in the city center. We bet while you are trying to arrive at this historical elevator, you will explore many touristic destinations before arrival!
After you go up to the elevator, the majestic view of the city and the River Tagus will be waiting for you! Another great destination for townscape lovers could be Castelo de São Jorge. This majestic old tower dates back to the 12th century!
From the Castelo de São Jorge, you could watch the old harbor of the city, Ponte 25 de Abril, Praça Dom Pedro IV, Arco da Rua Augusta, National Pantheon, and many more!
Since this castle is extremely close to Alfama, one of the oldest neighborhoods in the town, you can visit Alfama once you leave the castle. Lisbon is one of the best trips for solo female travelers in 2022 because you would explore almost the whole city on foot.
For instance, if you start walking from Arco da Rua Augusta, where you can find the main square in Lisbon, to the east side of the city, you can visit Torre de Belém, Mosteiro dos Jerónimos, and Padrão dos Descobrimentos.
Lisbon and Portugal, in general, could be the most popular solo female traveler destination worldwide.A few travel tips: If you want to meet other travelers in the town, we recommend you stay in safe hostels, such as HUB Lisbon Patio Hostel.
This Hostel has the highest ratings from its previous visitors, thanks to its high cleaning standards, welcoming staff, and sincere atmosphere. Moreover, it is located in the city center, in the neighborhood called Picoas, you can walk and explore the city without needing a car.
What to Eat in Lisbon: The Tastiest Dishes and Desserts!
If you come to Lisbon but never try out the national dessert Pastel de Nata in Pastéis de Belém, you cannot be counted as visiting Lisbon! This well-known dessert goes well with almost everything: an espresso, beer, or even lemonade!
Since all local patisseries do this amazing dessert, you might ask yourself why you should check this patisserie out. This nostalgic place was established in 1837 and followed an ancient recipe from Mosteiro dos Jerónimos.
When it comes to tasty alcoholic beverages, definitely try out Ginjinha! Ginjinha, the sour cherry liqueur, is national alcohol throughout the country. You can enjoy your drink while you watch the sunset in Alfama or at some "Miradouro" the viewpoints in Lisbon.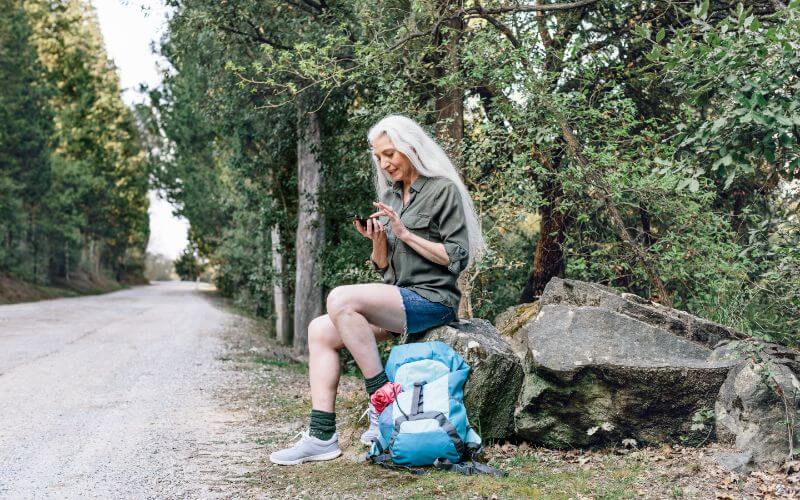 Another Safe Place for Solo Travelers in Europe: Tuscany, Italy
Siena, the humble little town in Tuscany Region, is one of the safest for solo travelers. Even though it's a small town compared to other cities in Italy, there are so many tourist places to visit in the town thanks to its rich history.
It is one of the most common cities featured in the list of the best trips for solo female travelers in 2022 on various websites due to its low crime rates. First, you can start in the Piazza del Campo's main square. This square has been a general host for many historical events and parades for hundreds of years.
Although the cafes and the restaurants have a gorgeous view of the Piazza, the square, we suggest you explore the humble and relatively more secret restaurant in the narrow streets of Siena.
If you are fond of different styles of architecture throughout history, you might find the Cathedral of Santa Maria Assunta quite interesting. This cathedral is a great sample of Gothic-style architecture in Italy; you may even fall in love with the ceiling decoration!
Another perfect place for ceiling decoration lovers could be the Biblioteca Piccolomini. This historical library's walls, arches, and ceiling are all covered up with colorful and tasty artwork.
The other square, perhaps the humble one, is called Piazza Salimbeni. The typical Tuscany region architecture style surrounds this relatively small square.
Explore More Places in the Tuscany Region: What is Next?
Since Tuscany has a picturesque view on the roads, renting a car and looking at the mesmerizing views while you travel from one city to another might be a great idea! As a solo traveler, if you are looking for a safe and tranquil road trip in Italy, a trip from Siena to Firenze is such a brilliant suggestion!
Firenze, or Florence in other words, is a capital city in terms of culture, its rich history of art, music, and different architectural styles of buildings throughout the centuries.
Therefore, it might be a logical plan to take a few days to visit this town. Perhaps, 3-day trips could be enough to see the most important features of Firenze.
One of the reasons why Firenze is included in many lists of the best trips for solo female travelers in 2022 is that almost every inhabitant knows English or trying to talk to you in English even though they are not good at it! The art of history lovers should visit those places belove, the Cathedral of Santa Maria del Fiore and Piazza Duomo.
These 2 historical places are 1 buy get 2! The main square of Firenze not only offers a dazzling view to its visitors but also offers other historical places to explore! Many great Italian historical artists put their work in Florence, such as Ghiberti, Brunelleschi, Donatello, Giotto, and Michelangelo.
If you crave seeing their artwork, you must visit Uffizi Palace and Gallery, Galleria dell' Accademia (aka the Academy Gallery), San Lorenzo, and Michelangelo'sMichelangelo's Medici Tombs.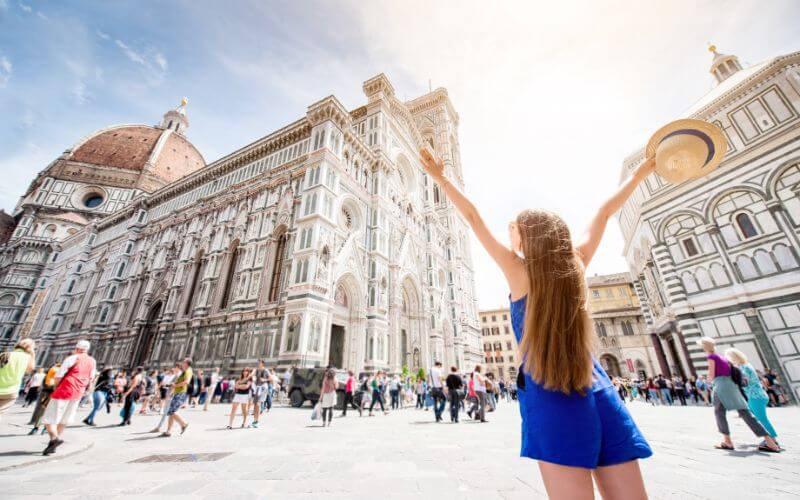 The Tastiest Options to Eat Firenze: You Cannot Miss That Chance!
Italy has a great food culture throughout the country, and perhaps there is no better place than Firenze to explore this dazzling Mediterranean cuisine. Bistecca Alla Fiorentina, in other words, Florentine steak, is one of the most popular main dish options in the city.
Since it is kind of pink on the inside, since it is grilled not that much, many grilled meat lovers might not be fond of this meal. Another yummy food to eat is perhaps the famous gelato! Even though every country has its ice cream, Italy has one of the best ice creams in the world! You can try out different flavors, from vanilla to pistachio.
While you are in Italy, you must eat different types of bruschetta. If you ask us, we suggest you try crostini, the typical bruschetta in Firenze, consisting of Tuscan meat, cheese, or chicken.
Outside of Europe Now: Where Shall We Go?
There are many options for women for safe solo trips outside of continental Europe. For instance, South Africa has become one of the most popular touristic destinations for whether couples or solo travelers around the world. South Africa has so much to offer its visitors, from adventurous activities to meeting with a totally new culture that is not represented outside of this place.
This country should be on the list of the best trips for solo female travelers in 2022, thanks to its super friendly inhabitants and breathtaking untouched nature. If you would not like to listen to your heart and soul for a couple of days, the national park in South Africa is the best option.
Addo Elephant National Park is a wonderful place to connect with nature and animals, and by doing so, connect with yourself as well. Since this park is one of the biggest national parks in this country, the chances of seeing various kinds of animals are quite high!
If you are into seeing gigantic animals in person, there is another attractive option for you that we highly recommend. Hermanus is a humble town in South Africa, but it hosts thousands of tourists thanks to its whale population. Perhaps you cannot swim with these wonderful creatures.
Nevertheless, you may get a chance to see them in person! Our last suggestion goes for the trekking lovers; the famous Blyde River Canyon has a picturesque view that you could find dazzling! Since this Canyon is the biggest green in the world, there is so much to discover there, from waterfalls to its unique geography.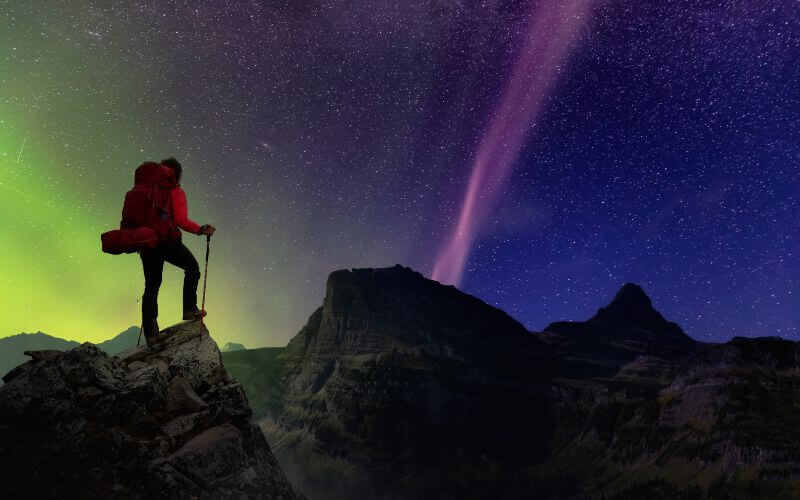 "It Is Like The Movies!!": How About Seeing The Northern Lights In Person?
Perhaps northern lights are one of the most common features in movies for many decades in cinema history.
There are so many wonderful choices to watch the northern lights in the world that you might find it overwhelming to choose a place.
But do not worry, because we recommend the safest country in the world to see the northern lights.
The most common countries known for their northern lights are Canada, Greenland, Norway, Finland, and Sweden.
They can be considered the safest countries for solo and non-solo travelers if you are into this geographical miracle.
Canada is such a perfect country to see the lights in terms of no language barrier since almost every citizen knows English pretty well.
Moreover, after you arrive in Canada, you can spoil yourself with the most luxurious SPA hotels! If you want to experience something quite special, we recommend North Pole Igloos Hotel.
In this place, you could see the northern light a hundred percent sure and enjoy the unforgettable atmosphere simultaneously.
Finland is another popular holiday destination for women to travel.
Finland is known for its more affordable accommodations to see the northern lights.
So if you were looking for something suitable for your budget, Finland might be exactly for you!
You could stay in 7 Fells Hostel is originally designed to see the northern lights, so the chances of missing it are quite low!
In this blog, we wanted to summarize the best trips for solo female travelers in 2022.
Hopefully, you found it joyful and efficient at the same time. Have a wonderful trip!
You might be interested