Located in southern Turkey, on the shores of the Aegean Sea, the city of Bodrum is the dream destination for a holiday in the sun.
Constellated with immaculate houses, crossed by picturesque streets and topped by hills adorned with their famous windmills, this charming seaside resort has it all.
Appreciated by both trendy Turkish youth and foreign tourists, it offers a breathtaking face at the arrival of the summer season.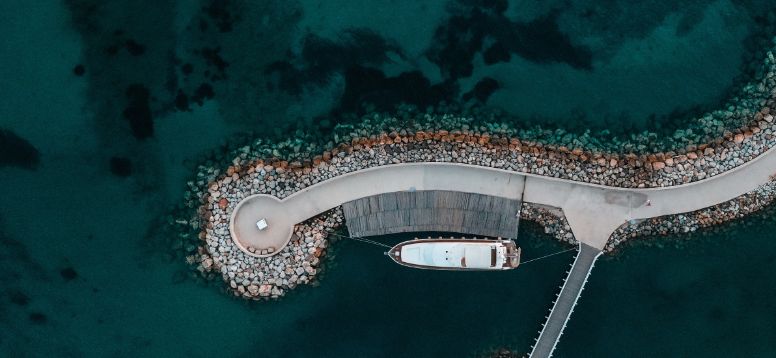 Renowned for its fabulous nightlife, the one nicknamed the "Turkish Saint-Tropez" will undoubtedly appeal to inveterate partygoers.
But, much more than its crazy clubs, lowest prices and its myriad of bars, Bodrum has many other assets that will delight everyone.
Whether you want to laze on an idyllic beach resort, discover a rich heritage or roam countless flowery alleys full of little treasures, you will not be disappointed.
1- Kaya Palazzo Resort & Residences Le Chic Bodrum
• Minimum price per night: 370 Euro
• Google score: 4,5
• Distance from city centre: 5 km
Located at the water's edge, a few meters from Gumbet beach, the Kaya Palazzo Resort & Residences Le Chic Bodrum is an upscale establishment calling for the ultimate escape.
Bordered by a strip of golden sand and caressed by turquoise water stretching as far as the eye can see, it offers a heavenly setting in which to spend an unforgettable stay.
😋 Things to do in Bodrum - Top Attractions for Tourists
Fall under the spell of its sumptuous rooms and villas on the beach, tirelessly admire the landscape that surrounds you and take the time to be pampered in its peaceful V'italy SPA.
In the evening, after an afternoon spent lounging in the sun, a dinner in one of its restaurants and a last drink in Lounge 40 facing an extraordinary view, you will be delighted to return to the calm of your accommodation and to let yourself be lulled by the gentle sound of the waves.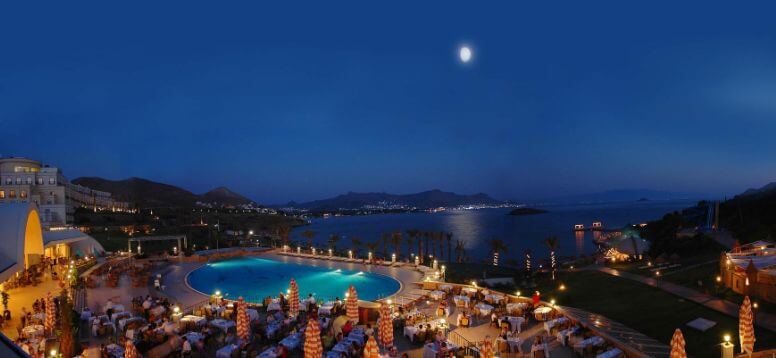 2- Senses Hotel
• Minimum price per night: 90 Euro
• Google score: 4,3
• Distance from city centre: 4
Nestled in the heart of the Bodrum city, among whitewashed buildings and ancient ruins, the Senses Hotel is a concentrate of elegance and tranquility.
Wake up gently in one of its fifty-six magnificent contemporary rooms, facing a view of the sea or the garden, and spend the rest of the morning sunbathing by the swimming pool erected facing the sparkling waters of the Aegean Sea.
Ideal for recharging your batteries, this hotel in Bodrum is also a base of choice for discovering the various wonders of the city.
Immerse yourself in local history, visit must-see sites and enjoy getting lost in bougainvillea-strewn thoroughfares.
At the end of the day, after a walk on the bodrum beach resort at sunset, share a cocktail at the Coco Poolside Bar or treat your taste buds by tasting the delicious dishes of the Sitara restaurant. You will not be disappointed with the trip!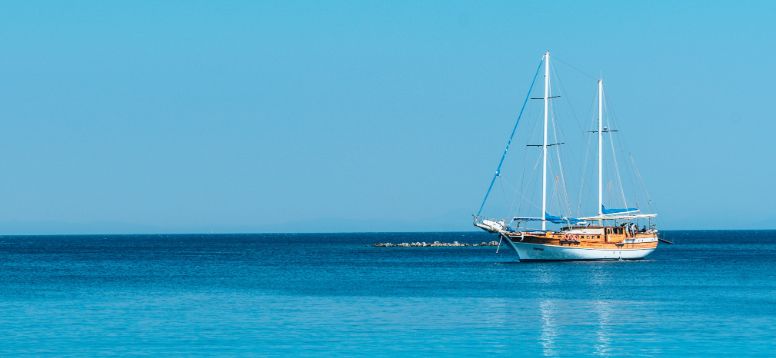 3- The Marmara Bodrum
• Minimum price per night: 220 Euro
• Google score: 4,7
• Distance from city centre: 2 km
Nicely perched on a hill, The Marmara Bodrum is a place full of charm and character opening its doors for moments almost suspended in time.
Combining designer decor with a more authentic essence, it creates a unique atmosphere in which you will dive with pleasure.
🤔 For those curious:Things to do in Istanbul
Relax in luxurious rooms decorated with sublime wooden furniture, read a book on your private terrace or balcony and take a breath of fresh air while strolling in the magnificent gardens of the establishment.
To be sure to amaze you, sit by the pool and tirelessly admire the 180° view of Bodrum Bay and the island of Kos.
In the evening, share delicious moments at the Tuti Restaurant where you can – here too – enjoy a breathtaking panorama.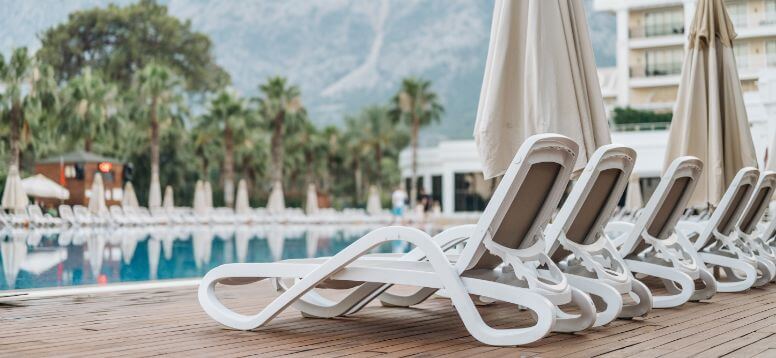 4- Rixos Premium Bodrum
• Minimum price per night: 1800 Euro
• Google score: 4,7
• Distance from city centre: 12 km
Premium by name, rixos premium bodrum premium by nature, this place has a treble of fine dining restaurants and a pristine private beach.
We don't skimp on style at Rixos Premium Bodrum. From the trio of a la carte dishes to the pristine private beach, this resort pulls out all the stops for glamorous getaways.
It may be fancy, but this place is also very suitable for families. The little ones enjoy a splash pool, slides, and a kids' club that's packed with all kinds, including mini-discos and movie nights.
5- Doria Hotel Bodrum
• Minimum price per night: 40 Euro
• Google score: 4,4
• Distance from city centre: 5 km
Doria Hotel Bodrum is a 5-star hotel, located 1.2 km from Bitez Beach and 3.4 km from St. Peter's Castle.
Design Doria Hotel Bodrum invites guests to stay in one of 92 stylish rooms and make use of a sun terrace, sauna and solarium.
📝 Tips for Booking a Good Hotel Online
The hotel is 4 km from the center of Bodrum, in a beach area of the city. This hotel is a 13-minute walk from the private beach.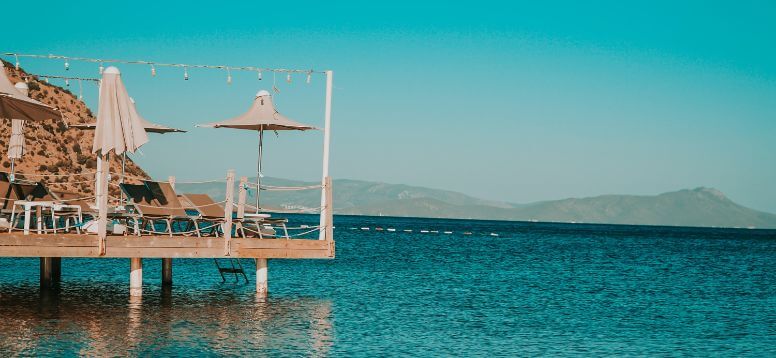 6- Hillstone Bodrum Hotel& SPA
• Minimum price per night: 500 Euro
• Google score: 4,4
• Distance from city centre: 3 km
The 96-room Hillstone Bodrum Hotel& SPA (Grand Yazici Bodrum) is a sophisticated luxury boutique with sleek, contemporary decor nestled high above Bodrum and Torba Bay.
The highlight of this design-conscious property is its beautiful infinity pool, with panoramic city and sea views and wonderful cabanas and lounge chairs.
The spa is another top selling point, with indoor and outdoor pools, signature massages, and a well-equipped fitness center.
Rooms have parquet floors, a small balcony, free wifi and an attractive bathroom. Standard Rooms, however, lack coffee makers.
The location is a 10-minute drive from downtown and the beach may not be convenient for some, but the hotel offers free shuttle service to its beachfront sister property, Grand Yazici Torba.
Unlike many other properties in the area, the Grand Yazici Bodrum isn't an all- inclusive hotel, but there are optional full-board rates.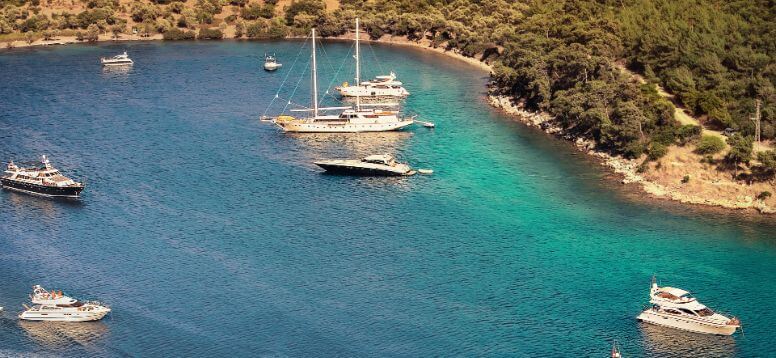 7- Kempinski Hotel Barbaros Bay
• Minimum price per night: 320 Euro
• Google score: 4,5
• Distance from city centre: 15 km
This luxury beachfront hotel is scenically located on a hill with gorgeous sea views, but is a 30-minute drive from Bodrum City.
📌 How to save money while travelling?
A stunning infinity pool offers stunning views of the bay, and there's a lovely indoor pool in the on-site spa.
The hotel's private beach is one of its best areas, and conveniently divided into a quiet adults only section and a family-friendly area.
There are varied dining options, but they're pricey and some are only open seasonally -- like many of the hotel's other features, including the kids' club and the beach.
All 173 rooms feature sleek, contemporary decor and have private balconies with great views.
It's one of the better options in the area that isn't all- inclusive resorts, and unlike the Grand Yazici Bodrum and The Marmara Bodrum, it's right on the beach.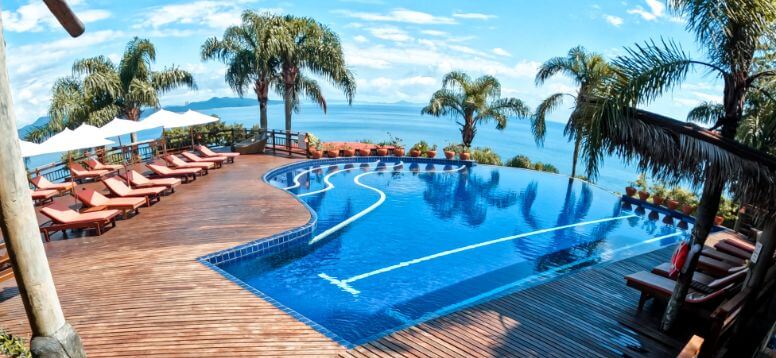 8- Royal Asarlik Beach Hotel
• Minimum price per night: 70 Euro
• Google score: 3,8
• Distance from city centre: 4 km
Royal Asarlik Beach Hotel Bodrum is located on the beachfront, approximately 0.8 km from Gumbet Beach and offers airport transfer service, 24-hour security and housekeeping service.
Highlights of this property include an a la carte restaurant, snack bar and in-room high-speed Internet access.
The historical fortification "French Tower" is less than 2.8 km away. The accommodation is located 30 minutes walk from the center of Bodrum.
Royal Asarlik Beach Hotel is a short drive from Bodrum Marina.
9- Hapimag Sea Garden Hotel
• Minimum price per night: 210 Euro
• Google score: 4,4
• Distance from city centre: 18 km
A luxury, self-contained beachfront resort surrounded by a maritime pine forest, the 285-room Hapimag Resort Sea Garden does everything possible to ensure guests never leave the property, with its extensive list of activities, tours, and on-site Entertainment.
There's even a replica of a Bodrum City street, complete with restaurants, shops, bars and a spice bazaar.
There are also several swimming pools, as well as an indoor pool and a spa with an obligatory Turkish bath.
There's a dive center on the beach, and although the waterline is rocky here, the turquoise waves are gorgeous.
The remote location and beautiful natural scenery are the main draws for many.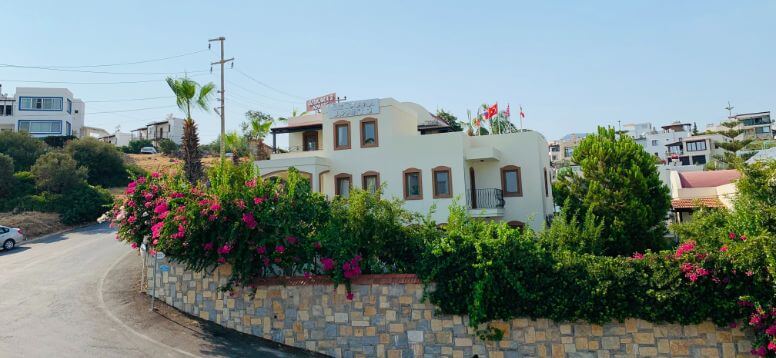 10- Macakizi Hotel Bodrum
• Minimum price per night: 600 Euro
• Google score: 4,2
• Distance from city centre: 22 km
Set on a hillside amid olive groves and bougainvillea, the trendy, luxurious Macakizi Hotel Bodrum is a favorite spot for jet-setters and Turkish and international celebrities.
Its beach club is one of the most famous nightlife spots in Bodrum, while the restaurant is known for its exceptional Mediterranean cuisine and serene views.
The spa offers high-end services, with outdoor massage cabins overlooking the Aegean Sea, though the small outdoor pool is a bit underwhelming.
Its 74 simple but elegant rooms have upscale amenities, large windows opening onto balconies or terraces, and lovely bathrooms with rainfall showers.
A quiet family atmosphere it isn't, but those interested in people watching, sunbathing, and partying will be hard pressed to find a better spot.
11- Hotel Baia Bodrum
• Minimum price per night: 190 Euro
• Google score: 4,4
• Distance from city centre: 25 km
The 228-room Baia Bodrum Hotel is a chic luxury property, located on a beautiful sandy beach in quiet Gundogan.
Minimalist all-white decor and large terraces with panoramic sea views give this all-inclusive a relaxing vibe, while a small water park, pool daily activities, and free non-motorized water sports draw couples and families alike.
📌 Best Beaches in the World - From Mykonos to the Maldives
Rooms are hip and stylish, with flat-screen TVs, minibars, and free Wi-Fi -- but some standard rooms lack balconies.
Food gets excellent reviews for variety and quality, and the spa offers a wide range of massages, plus an indoor pool and hydrotherapy area.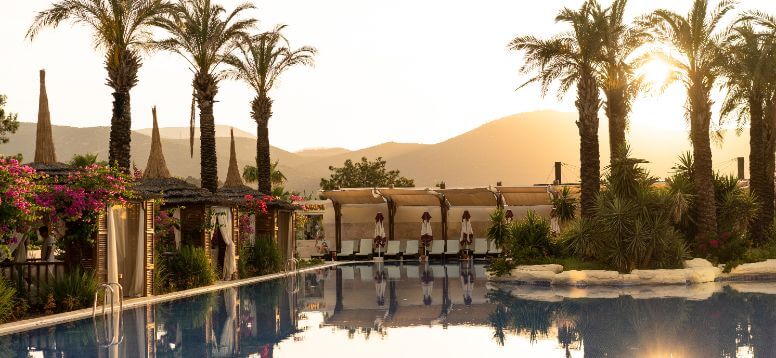 12- Sianji Wellbeing Resort
• Minimum price per night: 930 Euro
• Google score: 4,4
• Distance from city centre: 21 km
The 117-room Sianji Wellbeing Resort is a luxury beachfront resort dedicated to wellness, offering various detox programs and a wellness center with a spa, fitness center, and a wealth of classes such as yoga, meditation and mind and body healing.
Pretty green grounds are inspired by the Hanging Gardens of Babylon, and are located near the beach, about an eight-minute drive from Turgutreis.
Health-conscious dining options include a gourmet raw food restaurant and a restaurant catering to an alkaline diet -- plus guests can opt for buffet meals or Mediterranean dishes.
The complex has indoor and outdoor swimming pools, and direct access to a private beach.
Luxury suites, villas, and penthouses feature sleek, contemporary decor and marble bathrooms, many with whirlpool tubs and sea-view balconies.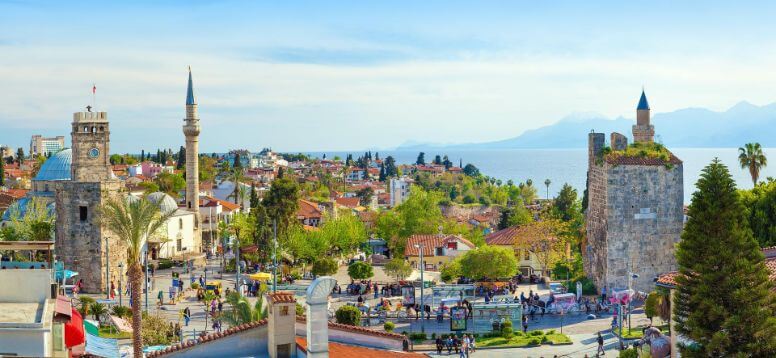 13- Xanadu Island
• Minimum price per night: 270 Euro
• Google score: 4,7
• Distance from city centre: 23 km
The 222-room luxury xanadu island Hotel is an all-inclusive resort for families on a private peninsula, surrounded on three sides by the Aegean Sea.
The modern hotel has lush, expansive grounds and offers plenty of activities, dining, and drinking options, and multiple outdoor pools, as well as a private beach.
🎉 Best European Honeymoon Destinations with Hotels
Attractive suites and villas have fabulous Aegean views from patios and balconies, plus stylish bathrooms.
Kids are treated to a kid-size buffet, fun kids club, and kiddy pool, while a variety of treatments are available at the spa for adults.
The location is remote, making it best suited for guests who want to stay put.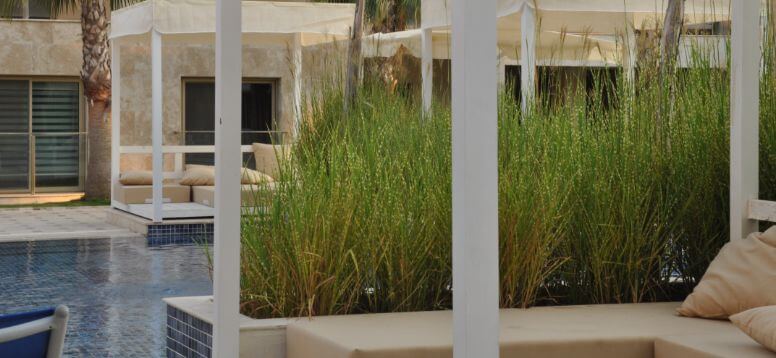 14- Ramada Resort by Wyndham Bodrum
• Minimum price per night: 140 Euro
• Google score: 4,5
• Distance from city centre: 5 km
The 129-room Ramada Resort Bodrum is a luxury hotel with a quiet atmosphere and a strong Mediterranean vibe.
Located on a hill in Bitez, it capitalizes on its beautiful surroundings, with the serene exterior that includes a large swimming pool with panoramic views, and several dining options with spacious terraces.
Along with tennis and squash courts, the hotel has a fully equipped fitness center with spin and Pilates studios, and a beautiful resort spa with an indoor pool, massage treatments, and a sauna.
Although somewhat generic in style, rooms are clean and light, with large windows -- most offering panoramic valley and sea views -- and great amenities such as free Wi-Fi, TVs LCD screen, coffee maker and minibar.
The hotel offers free shuttle service to a private beach club, but the location a 10-minute drive from downtown may not be convenient for some.
You might be interested