Even though economy class tickets are more convenient for many air passengers, many passengers still would like to find cheap business class flights to Europe.
In today's blog, we want to briefly explain how you can find very affordable business flights and which airline companies offer such a thing. Hopefully, you will find this article before your holiday to get the most out of your trip! Have a great holiday in advance.
First: What is a Business Class Flight?
Many air passengers may wonder about the difference between an economy-class ticket and a business-class flight. Once you get a business class ticket, the different service starts on the ground. It briefly means you will have better service starting from the departure airport.
The Main Advantages of Being a Business Class Passenger
There are many benefits you can receive once you become a business class passenger on the ground and during the flight. To be more specific, business flight passengers are eligible to wait at other check-in counters at the departure airport. Most of the time, it means fewer passengers and more time you could save by waiting less.
Moreover, some airports do offer priority lanes at security checks for business class passengers. Even though it is not a standard service that you can find everywhere so far, it also means saving time at the departure airport. Furthermore, business class flight owners have access to the airport lounge.
Your Benefits During the Flight
When you book your flights as an economy class air passenger, your seat will not differ regardless of the duration of the flight. However, the centers will vary depending on the flight duration. If you book cheap business class flights to Europe, you will probably receive an angle-flat or full-flat seat, giving you a little privacy during the journey.
Moreover, a business class cabin has more toilets compared to economy class cabins. The other better service for business class passengers is related to dining. The meal service for the economy and business class varies significantly if the flight is a medium or long-haul flight.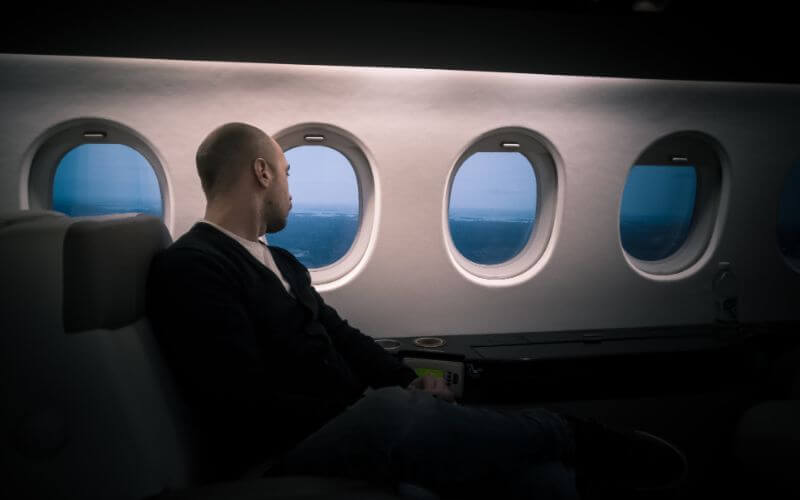 The Upsides You Could Receive After the Journey
Many airline companies, such as Turkish Airlines and British Airways, have a different systems in that the points and miles differ regarding the status of the passengers' accounts.
More specifically, once you complete your journey with British Airways, you will receive more miles than economy-class flight tickets. In the long run, if you fly business class regularly, you will have more miles to use.
RELATED BLOG POST: Your Essential Pre-Flight Travel Checklist
"I Want to Find a Cheap Business Class to Europe! What Are the Alternatives?"
After reading about the numerous advantages you could get by choosing a business class flight, you may like to know how to find cheap business class flights to Europe.
As mentioned earlier, many international airline companies that have destinations in Europe do offer business class service to their passengers.
In this manner, American Airlines and Air Canada are the most popular companies, other than British Airlines and Turkish Airlines. Let's dive into each airline company and its special offers!
One of the Most Common Airline Companies in the World: is Turkish Airlines
Turkish Airlines is an excellent choice for air passengers visiting Europe from Turkey, Africa, the Middle East, and Middle Asia. Since Turkey is located between continental Europe and the other continents listed above, arriving in Europe from Istanbul is convenient. Moreover, this airline could be the best way to fly business class to Europe. It is possible to find a flight for almost 44 European countries by choosing Turkish Airlines.
If you are planning to come to Europe from a long distance with a business class ticket, you may ask yourself, "Is Traveling in Business Class worth it?". Since Turkish airlines offer better dining service, larger seats, and cabins, we would say choosing them for long-distance flights is worth it. Also, Turkish Airlines offer business class award tickets and more miles after the flight, which economy class passengers are not eligible for.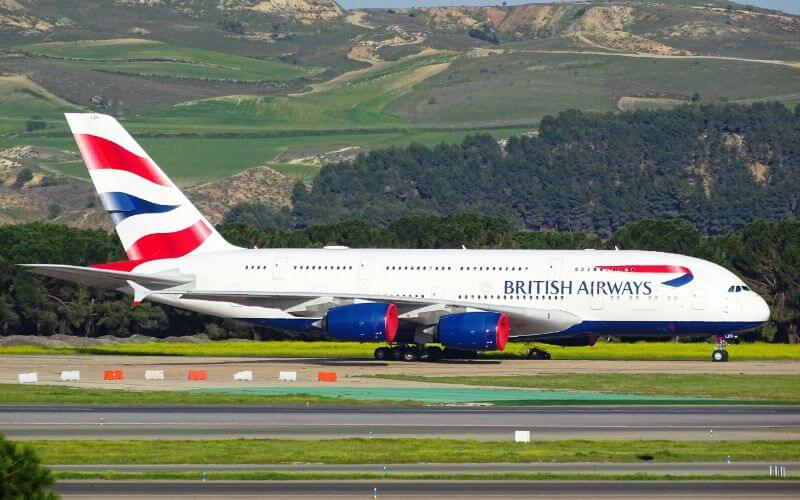 How About Other Choices: British Airways for its First-Class Flights
As an American air passenger who would like to explore Europe, you might be curious to know the answer to the question, what is the cheapest city in Europe to fly into? Even though many things should be taken into consideration, Lisbon is one of the most affordable Western Europe cities.
Not only does this destination offer cheap international business class flights from the USA or Canada, but the city also offers very economical food and accommodation service! If you are fond of discovering a different European city, you can consider Barcelona, Spain.
This city is known for its cheapest first-class flights to Europe as well. Since Turkish Airlines only offer business-class tickets to Europe, we recommend you choose British Airways Avios for first-class tickets.
RELATED BLOG POST: Best Way to Find First-Class Airline Tickets
The Best Business Class Tickets to Europe for Canadian Travelers
Air Canada is one of the most convenient airline companies from Canada to continental Europe. Even though this airline offers various business-class destinations, the most popular Europe business-class flights go to Athens, Nice, and Lisbon. More specifically, if you would like to explore Greece, you can find flights from Canada to Athens, the east coast of the country, Mykonos, Santorini, Paros, and Crete.
It means even though you started your journey in Mykonos and wondered about many cities, you can head back to your home from the last town you visited, such as Crete. Moreover, Air Canada also provides multi-city business class flights in other European cities. Therefore, you can take advantage of this multi-city service whether you are in Italy, Spain, or Portugal.
This Airline Goes to the American Passengers Who Want to Visit Europe
Since American Express has various airline partners, such as Air Canada, Aer Lingus, AeroMexico, Delta, Emirates, and Virgin Atlantic, it is one of the most popular airline companies in the USA. By choosing American Express, you can obtain American Express membership rewards.
Thanks to its wide range of airline companies worldwide, you can easily find the best business class in Europe in 2022. For instance, Iberia is the most prominent Spanish airline, with more than 600 flights per day. By choosing Iberia with American Express, you can receive business class awards that you can use later.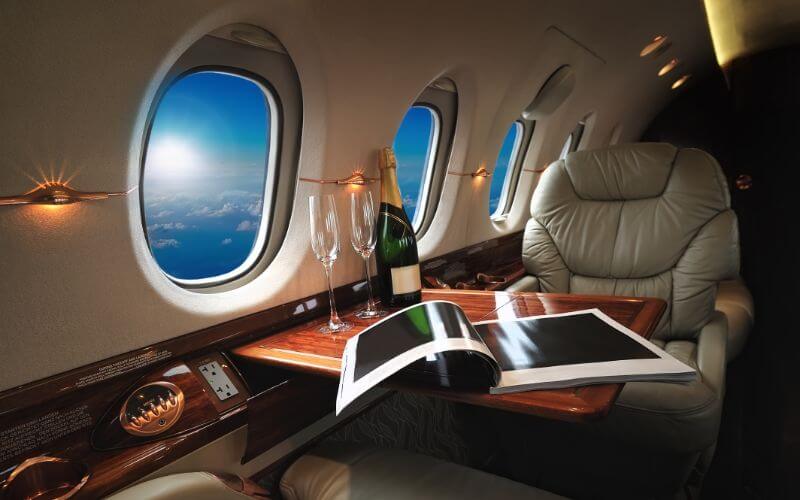 How Are the Prices for Business Class Tickets to Europe Defined?
You might notice that the prices, taxes, and fees are higher for business class flights than economy class tickets.
Some services you would receive, such as more space or even a flatbed, better food and drink service, access to a lounge, and a more convenient immigration and luggage process, could cost more than a regular service for economy class flights.
However, it does not mean you cannot find cheap business-class flights to Europe! There are various ways to find an affordable business-class ticket to Europe.
The Best Ways to Find Affordable Business Class Tickets to Europe
First Tip: Be Careful While Choosing the Company
Although numerous companies offer business-class flights to Europe, some airline companies provide different services. Therefore, before purchasing the ticket, you should consider finding the best business-class flight. In this case, we recommend you search Turkish Airlines, Emirates, Swiss Int'l Airlines, and Luftansa.
You could be curious to know the answer to whether business class seats go on sale, too. Luckily, some airline companies offer discounts from time to time. Therefore, you can subscribe to your favorite airline companies' letters to find out the latest deals. The campaign could be a discount for one ticket or perhaps "buy one get 1", such as 2 for one business class flight in 2022.
Another significant point regarding finding the best airline relies on customer service. You can check out flights approved or otherwise endorsed by previous air passengers. You can be sure about the service you can receive during your flight simply by finding reviewed, approved, or otherwise scored flights from former customers.
Second Tip: Timing Does Matter
Even though everyone knows that last-minute tickets are the most expensive prices a passenger can get, no people need to learn to find discount business airfare to Europe. Great prices start from 4 months before the departure day and end three weeks before that time. Therefore, you should not wait two weeks before the flight. Moreover, you can skip purchasing a ticket when you see it right away.
Third Tip: How About Cheaper Airline Companies
Whereas some airline companies are known for their high-quality service, others are known for their very affordable prices. In this manner, Icelandair, Norwegian Airways, Jetstar Airways, and JetBlue offer cheap business class flights to Europe.
To be more specific, if you wonder to know the answer to, what is the cheapest business class airline, we suggest Norwegian Air since it is known for the best low-cost tickets for long-haul flights.
Fourth Tip: Turning Your Dining and Accommodation Points into Miles
Many big airline companies offer several campaigns to earn extra miles and points. For instance, booking your hotel with Marriot Bonvoy allows you to use your Marriott Bonvoy points for different occasions.
The benefits you can get as a frequent flier vary from receiving a ten percent bonus or transferring your points into miles from other airline companies such as Air Canada Aeroplan, Hawaiian Airlines, and Iberia Plus.
RELATED BLOG POST: How to Secure Business Class Tickets Without Spending Much?
Can I Get a Free Business Class Ticket to Europe?
If you wonder how many miles business class to Europe, it depends on the airline company and the length of the destination. For instance, American Airlines is one of the best companies in terms of its wide range of options to receive miles and use them. By collecting miles by booking a flight from the USA to Europe, you can get around 57,000 miles!
In today's blog, we wanted to explain how you could get cheap business class flights to Europe and which companies offer the best service or prices. Hopefully, this article will be both fun and helpful. I wish you a wonderful holiday in advance!
You might be interested