Private Airport Transfer at Ben Gurion Airport
Stay calm and relaxed by waiting for public transport to visit Israel's famous hotels, streets, Tel Aviv, Jerusalem, Netanya, and national parks from Ben Gurion Airport. It is essential to secure your journey not only during your flight but also afterward, you know…
Airporttransfer.com's English-speaking, local and professional drivers are in Israel for you to make your airport-point transfers with clean, hygienic, and highly comfortable vehicles!
Type your embarkation and disembarkation points, date and time, and several luggage and passengers into the search box and compare prices to find the best one among dozens of vehicle types and models. Then, enter your passenger and travel information correctly and complete your Ben Gurion TLV Airport private transfer reservation in a reliable and online way.
It can reliably make your payments with any credit card, debit card, Paypal, and Transferwise. After your reservation is confirmed, you can contact your driver or the airporttransfer.com customer team (24/7).
If there are any changes to your Israel trip, you can cancel up to 48 hours before your transfer and get a 100% refund.
Although Ben Gurion Airport taxis are the preferred means of transportation for tourists and airport passengers, private airport transfer service is always preferred for Jerusalem and Tel Aviv passengers. Check out the special airport services now for reliable, affordable prices, a wide variety of vehicle types, and fast transportation!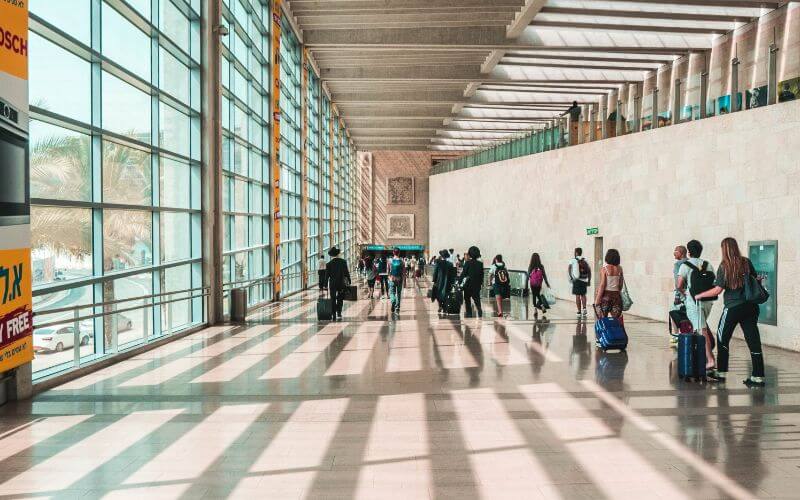 Public Transportation Options at Ben Gurion Airport
Ben Gurion Airport TLV is very close to Highway 1, the Jerusalem-Tel Aviv Highway, and Highway 40. You can use public transport to get to the airport, but there are more recommended methods than this one. In Israel, a single payment card is used for public transport (train, bus, and light rail). Name Rav-Kav. You can access these cards from the information desk at the airport terminal 3 building. A public transport information office also issues Rav-Kav cards in the arrivals hall of Terminal 3. Also, public transport in Israel does not operate on Shabbat and holidays.
Airport Bus Options
Afikim buses, numbered 485 provide direct service to Jerusalem. This bus line departs from Terminal 3 on the 2nd floor and passes through Terminal 1. Other bus companies also depart mainly from Terminal 3 and pass through Terminal 1.
Railway for TLV
Israel Railways is very good and spread over a wide area. Ben Gurion Airport Train Station is located on the lower floor of Terminal 3. Airport passengers can travel from various points of the country using the railway line. From here, there are trains to the northwest, Tel Aviv, Haifa, and other destinations in the north, or Modi'in and Jerusalem in the southeast. Meanwhile, you take a 20-minute train ride to Savidor Central train station and about half an hour to Jerusalem's Yitzhak Navon station.
Take a Taxi
Local taxis are available right before the Ben Gurion Airport arrivals terminal. These taxis serve airport passengers 24/7. Payment of taxi fare is made by meter only.