Public Transfers for Rotterdam The Hague Airport
Airport transfer services from Rotterdam by public transport are quite useful. The E metro line, which runs from Rotterdam Airport to Rotterdam Central Station is one of the options.
From the central station, transfers to Brussels Airport and Eindhoven Airport can be taken. Another option is the airport shuttle line 33 Bus. On the way to the airport from Rotterdam, you need to come to Meijersplein Metro Station via RandstadRail and transfer from train stations to line 33 from the bus stops.
Passengers who want to travel on the Delft-Airport route can use the number 37 bus. This line runs every 20 minutes between The Hague Leyenburg-Delft Central Station-Airport. Airport taxi service is available outside the terminal but book a taxi after considering the hidden costs and unreliable drivers. Also, if you are going to the Netherlands, you should definitely check out this content: Cities to Explore by Bike.
Rotterdam Airport Taxis
If you are looking for a taxi near Rotterdam Airport, you should remember that these local taxi drivers can charge you a lot of money! Rotterdam Airport taxis depart from the arrivals terminal gate. There are taxi airport Rotterdam services 24/7. You can go to the nearby points by taxi at the Hague airport. So are you ready to pay a lot of money for it? After all, you are a foreigner here and do not know how the taximeter works. To secure yourself and your money, book a private transfer, pay fixed prices, and no surprises!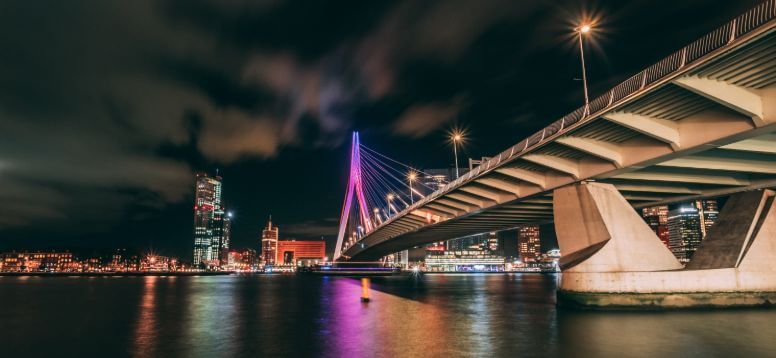 Airport Transfer Rotterdam The Hague
Looking for the best private taxi Rotterdam Airport? You can start your journey in Rotterdam quickly, easily, and comfortably by choosing airporttransfer.com for transportation from Rotterdam Airport to hotel Rotterdam Vroeg Inchecken or any destination. You save time with online booking and money with the advantage of fixed fees.
Transfers from Rotterdam airport to Amsterdam are great with private chauffeurs. Your driver will meet you at the airport naively and helpfully and carefully take your luggage. It will take you safely and comfortably to your destination. Moreover, it does not ask for tips or additional fees.
Do not think that Rotterdam Airport transfers only go to Amsterdam! With AirportTransfer.com, you can travel anywhere around Rotterdam with the best vehicles! Moreover, you do not have to know Dutch. AT drivers can also speak English. If you want a punctual, innovative service for Netherlands Airport transfers, make your reservation with reliable online payment in just a few simple steps and cancel anytime. You can cancel free of charge until the last 48 hours.
airporttransfer.com works with Rotterdam's most experienced and competent private transfer companies. You can meet your driver online before your private airport transfers. It also lets you choose between different types of vehicles and services. Enter your pick-up and drop-off points, make your selection. Your private transfer is ready in just a few steps with the assistance of the customer care team 24-hour a day on Whatsapp.