Pula (PUY) Airport Private Airport Transfers
One of the best transfer options from Pula (PUY) Airport is airporttransfer.com, which gives airport chauffeur service. If you are considering Pula Airport car hire, you should know that the chauffeur service given by airporttransfer.com is the best option.
After a tiring airport and airplane experience, the last thing you can want would be to travel with larger groups through public transportation. With this airport pick-up service, you will get to preserve your privacy and comfort.
Let us say you want to travel from the airport to Pula; with this specific airport car transfer, your journey time would be less than 15 minutes. Also, to any other destination that normally takes 45 minutes by public transportation, you can arrive in 30 minutes with this private car service. Airporttransfer.com has significantly qualified drivers, and they are all professionals. In addition to that, they all can speak English fluently.
The best Pula Airport transfer reviews at AirportTransfer.com!
Speaking English is extremely important, especially in cities where the first language is not English. Because most taxi drivers and bus drivers can not speak English fluently, thanks to airporttransfer.com, communication will be fine for you.
Private airport transfer with airporttransfer.com values your safety concerns, comfort, and privacy since it emphasizes being able to meet your individual needs as a modern traveller in a modern world.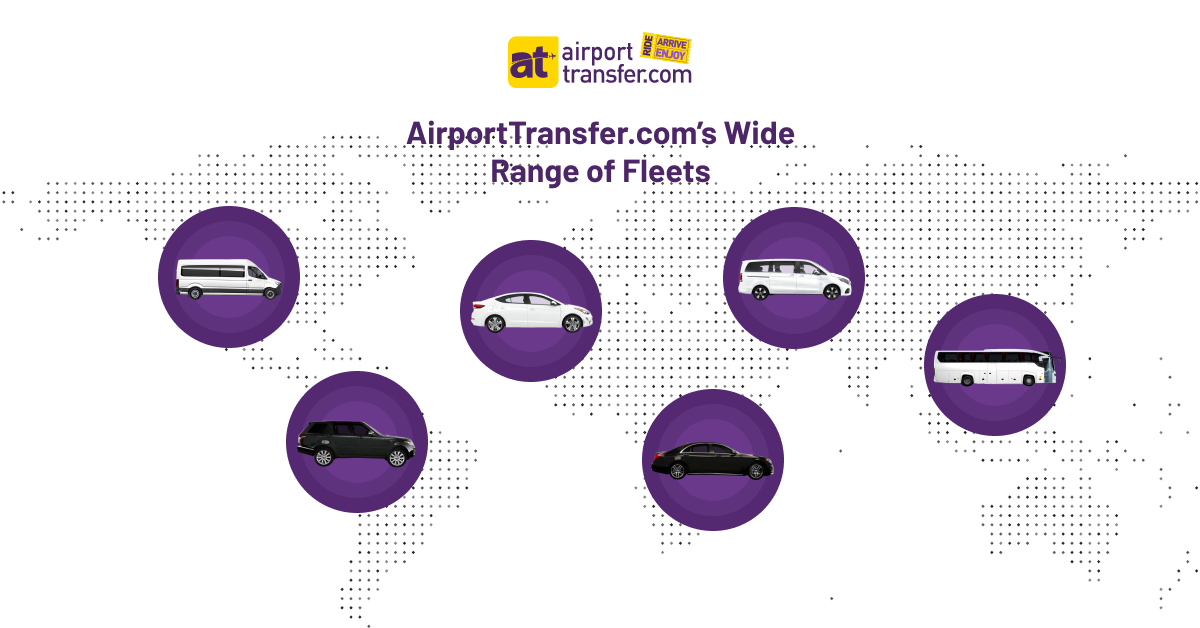 Furthermore, airporttransfer.com chauffeur services are super easy to book. You can book your private transfer from the website with one click, and there is also free cancellation. This way, you will not experience anxiety because your ride will already be waiting for you in front of the airport when you arrive.
You will not have to chase a taxi or find a public transportation method. It is very budget-friendly, too. Considering all these details, you can see that airporttransfer.com is the best solution to your modern traveller's problems. Make sure you consider these details and evaluate them before you make a final decision about your transfer method from Pula (PUY) Airport.
Bus from Pula (PUY) Airport
Another option that can be considered a transfer method is taking the bus. You may be wondering about Pula Airport to Rovinj bus, Pula Airport to Pula Bus Station, or Rovinj to Pula Airport bus. You should know that since the bus is a public transportation method, it will likely be crowded and uncomfortable.
You may not even be able to find an available seat. Be sure to complete these details while evaluating the transfer methods!
Airport Shuttle from Pula Airport
One of the transfer options is the Pula Airport shuttle bus. You should know that airport shuttles have their schedules, and you will be expected to adapt your timing to this schedule. So, your time management may not benefit from this choice.
Rent a Car
You can also rent a car from car rental companies. You should know that renting a car in a different country will not be budget-friendly. Also, after a long and tiring trip, you may want to avoid driving yourself to long distances.
Taxi from Pula (PUY) Airport
Another transfer option is taking a taxi. When you consider taking a taxi, you first wonder about taxi prices. For instance, you may be wondering about the cost of a taxi from Pula Airport to Pula city centre.
You should know that taxi prices are usually very high. They could be more budget-friendly. Also, finding an available taxi when you arrive at Pula (PUY) Airport isn't easy, especially if it is a busy day. Plus, most taxi drivers do not speak English fluently so you may encounter communication problems.