Graz Airport Bus & Shuttle GRZ
You can use the bus or train lines to reach Graz Airport Austria or from the airport to the important places of the city. Graz Airport bus runs between Jakominiplatz - Graz Airport. The airport shuttle bus stop is just outside the passenger terminal for the transfer from Graz Airport.
Graz Hauptbahnhof, Graz Andreas-Hofer-Platz, Graz Puntigam Bahnhof and Graz Airport are accessible by Graz public transport buses.
For the airport public transfer by train, there are connections to Graz Hauptbahnhof, Graz Puntigam Bahnhof and Graz Airport. From the city of Graz Vienna Airport train can be taken.
What is the Vienna Airport code? It's VIE. Graz monthly ticket or short-term ticket, the weekly ticket can be bought from vending machines at the terminals.
Graz Airport rent a car offices inside the terminal and Graz Airport taxi services are alternatives to Graz public transportation. Taking a taxi at Graz Airport is not recommended as it can be expensive.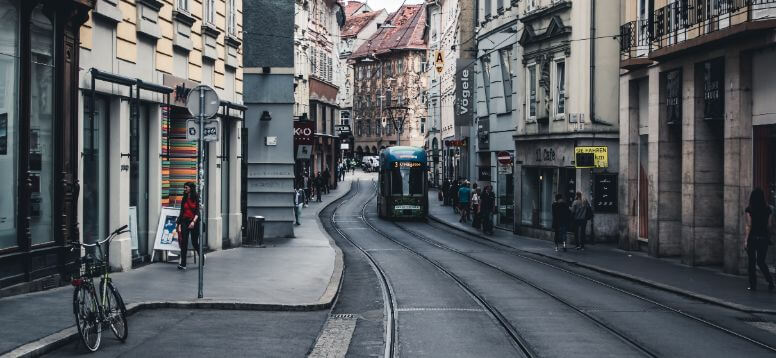 Graz Airport Private Transfer
What is the nearest airport to Graz? It is Graz Airport, only 10 kilometers from the city. Private airport transfer is the best option for quick and easy access to Graz, Carinthia, Styria, and many surrounding cities. With a private transfer, you can reach any destination you want, no matter what time it is. All you have to do is book your transfer online after purchasing your flight ticket. Your driver will be waiting for you at the airport or the pick-up point.
If it's your first time in Graz and you don't speak German, it may be difficult to use limited public transport and arrive at your destination. AirportTransfer.com helps you at this point. It brings together the best ground transportation companies of Austria and Graz on a single platform, allowing you to travel with local English-speaking drivers. In the shortest way and at the cheapest price!
For Graz Airport transfer, we have offers to suit every need:
Minivans for groups, standard sedans for those on a budget, SUVs for heavy loaders, and more...
There are also additional services you can choose from when booking your private transfer.
You can request a roof rack to carry your sports equipment and a child seat for your child.
Additional services may vary depending on the transfer company, so we recommend that you take a look at the services offered during booking online.
All private transfers you make with airporttransfer.com are under a 100% refund. Also, you have free 48 hours cancellations for airport transfer reservations! In this way, you can easily make your exit process.
☎️ Our customer representatives will be on the line 24 hours a day on Whatsapp so that you do not experience any problems.