The Most Common Facilities that Passengers Could Find at Rio de Janeiro Airport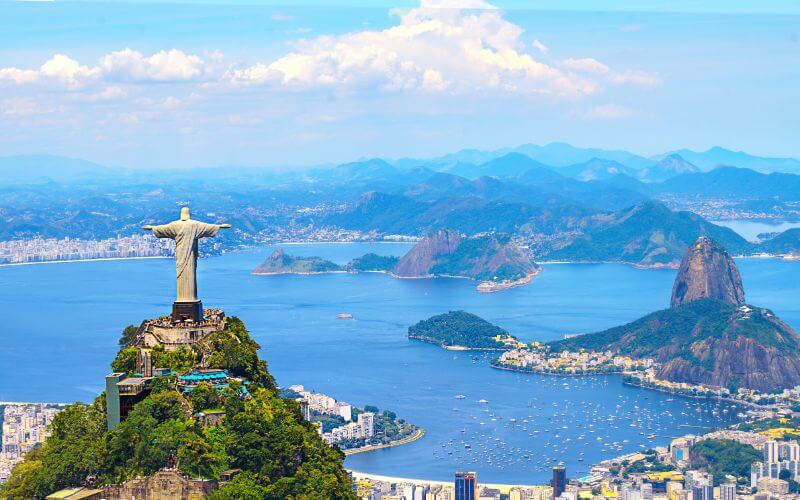 ☛ ATMs and currency exchange centers are available at the airport and various locations.
☛ To get food or beverages, different sorts of restaurants and cafés are available at the airport, both Terminal 1 and Terminal 2.
☛ Medical services and pharmacies can be found at the airport as well. Both of them work throughout the day.
☛ Free and unlimited Wi-Fi access can be used at different points at the airport, from the arrivals hall to the departure zone.
☛ Information desk could be found at International Rio de Janeiro Airport as well.
☛ The help desk helps get more information about public transport facilities or touristic activities, such as tours in Rio de Janeiro.
☛ The luggage protection center is available in Terminal 1 and Terminal 2. Similarly, lockers can be found in the first terminal.
☛ Lost & Found Service is located on the second terminal, third floor.
☛ Wheelchairs, escalators, and elevators can be found in every part of the airport, including both terminals.
☛ Lastly, there are different airport transfer options to arrive at the city center and the other parts of the city.
☛ While the most preferred public transport options are buses, airport shuttle services, and the metro, the most enjoyable driving experience is offered by private airport transfer services, such as AirportTransfer.com. 😊
Public Transportation Options from the Airport
Taking a Bus
A transfer from Rio de Janeiro Airport to the city center is possible by taking a bus. There are six different unique bus options from the airport. Besides them, there are also four additional standard bus services to various places.
Special Buses
Passengers who would like to go to the Santos Dumont Airport may consider taking the bus Premium 2145.
The bus premium 2145 is available from Galeão Airport to Santos Dumont Airport. Moreover, passengers can also take the same bus from Santos Dumont Airport to Galeão Airport. The bus works between 05:40 am to 11:00 pm.
The second special bus is 1001 Viação, number 760. The bus works between Aeroporto do Galeão and Charitas. Bus number 760 is available from 05:40 am to 10:30 pm.
Moreover, bus number 761 goes from Galeão Airport to Charitas as well. However, this bus can be found from 04:00 am to 11:00 pm.
Another route is from Galeão Airport to Alvorada (Via Linha Amarela). Like the previous bus numbers, the route works double ways. Premium 2918 is active from 05:40 am to 11:00 pm.
The fifth special bus is Premium 2101. Similarly, it works between Galeão Airport and Santos Dumont Airport. Also, the bus can be used between 05:30 am to 06:00 pm. Therefore, passengers who arrive at the airport after 06:00 pm may need to consider the other special bus, premium 2145. It should be noted that RJ Santos Dumont is also another popular international airport in Brazil. Since unique bus routes provide transportation between the two airports, some travellers use them for domestic and international flights.
The last special bus is Premium 2018. This bus covers between Galeão Airport to Alvorada. The first bus departs at 05:30 am, and the last bus leaves at 11:00 pm.
Standard Buses
As mentioned above, there are four different standard buses. The first bus, Ideal 925, works between Galeão Airport to Bancários. The second bus, Paranapuan 915, goes to Bonsucesso from the airport.
The third bus Paranapuan 922, works from Galeão Airport to Tubiacanga. Lastly, Paranapuan 924 covers between Galeão Airport and Bananal. The time timetables of the standard buses are not mentioned on the airport's official website. Therefore, it is recommended to get in contact with the information desk at the airport.
Metro from/ to the Airport
It is impossible to arrive at the airport by metro without taking other transportation. More specifically, passengers who would like to use the metro to reach the airport need to the metro station Vicente de Carvalho.
After arriving at this station, they should take the BRT (Bus Rapid Transport), which directly goes to the airport. From Monday to Saturday, the metro is active between 05:00 am to 12:30 pm. During holidays and Sundays, the metro works from 07:00 am to 11:00 pm.
Hiring a Taxi at the Airport
Since there are approximately ten different taxi companies at the airport, arriving tourists can consider hiring a taxi as well. At the same time, some companies are available in Terminal 1. It should bear in mind that taxi drivers may not be fluent English speakers.
Moreover, they charge their passengers more for the same destination if their customers call them at night. Since Rio de Janeiro is the capital of carnivals and festivals, it might be even more challenging to find an available taxi driver during peak times.
Renting a Car at the Airport
Another option for travelling from one place to another is renting a car at International Airport Galeao in Rio de Janeiro. Hence there are different car rental companies at the airport arriving passengers would be able to choose one of them.
It is also possible to check the available cars.
You would be in Brazil by checking the official website of the airport way before your arrival. However, just like finding a taxi during hectic times, it could be challenging to find an available car during the festivals or holiday season.
Private Airport Transfer at International Airport Galeao in Rio de Janeiro
Even though public transportation options offer more affordable tickets for their passengers, they are unavailable 24/7. For instance, if you arrive at the airport after midnight, the chances of finding active public transport are pretty low. Moreover, there is no way to predict that the bus or taxi driver would be a fluent English speaker before starting the journey.
Moreover, even though public transport vehicles go to many popular destinations such as the city center or São Paulo, they can not help you arrive at every place you would like to visit.
If you choose AirportTransfer.com, you can get the best door-to-door transfer experience once you arrive in Rio de Janeiro, Brazil. Once you book your meet & greet service online, you can be sure that a clean car and responsible driver will be ready for your service at the airport entrance.
Not only would you be able to go from the airport to the hotel you will stay in, but also any destinations you would love to explore! 😊 For instance, if you have numerous places on your list to visit, you can arrange your tour in Rio de Janeiro. Moreover, after exploring Rio de Janeiro, you can quickly go to Antonio Carlos Jobim International Airport to head back to your country by AirportTransfer.com.
Unlike public transportation, such as the metro or buses, you would not need to bother yourself by worrying about the timetable of the vehicles. Instead, you can enjoy the fabulous moments of your time in Brazil. If it is your first time in Rio de Janeiro, taking a taxi Rio de Janeiro Airport to Copacabana is possible. However, airporttransfer.com serves you better. It will make you feel unthreatened during your trip.
Hence AirportTransfer.com provides a wide range of additional service options for its customers; you might be dizzy after seeing all of the services! For instance, if you are a pet owner and want to share your experiences in Brazil with your pet friend, you can choose AirportTransfer.com without second thoughts! Hence this private airport company has a pet-friendly atmosphere. You can bring your buddy on your journey!
☛ Hence the company offers the most reliable and secure service in any way.
☛ You can enjoy your trip at ease! For example, if you do not want to think about the payment of the benefit you get once you arrive at the airport.
☛ You can choose the online payment method in advance.
☛ By paying for your favour when you book it, you would never need to think about it again.
☛ Unlike an airport taxi, there are no last-minute surprise additional charges on AirportTransfer.com.
☛ You can be sure about the service you will get and how much you need to pay for that in advance.
☛ Furthermore, AirportTransfer.com offers a %100 refund policy for all customers!
☛ Simply informing the company about the inconvenience you have at least 48 hours before the scheduled time, you can receive a free 48-hour cancellation opportunity.