Public Airport Transportation for Charlotte Douglas Transfers
Charlotte Douglas Airport transportation options are buses, taxi companies such as Green Cab Charlotte NC taxi service, airport shuttle service and private airport transfers.
Passengers who would like to hire a car when they get to the arrivals at Charlotte Airport can visit Charlotte Douglas International Airport car rental counters inside the airport terminals.
Charlotte Douglas Airport Public Bus
Charlotte Area Transit System (CATS) Sprinter provides bus service connecting Charlotte Airport with downtown Charlotte.
The bus, which departs every 20 minutes on weekdays, after midnight and every 30 minutes on weekends, has stops in many places in the city center such as restaurants and shopping centers.
These buses can also be used to reach most hotels in the city center.
They also provide access to routes such as Gateway Village, Trade and Tryon streets, or the LYNX Blue Line.
There is no direct transportation from Charlotte Douglas Airport to Myrtle Beach, yet passengers can transfer from downtown Charlotte to Myrtle Beach by bus or train.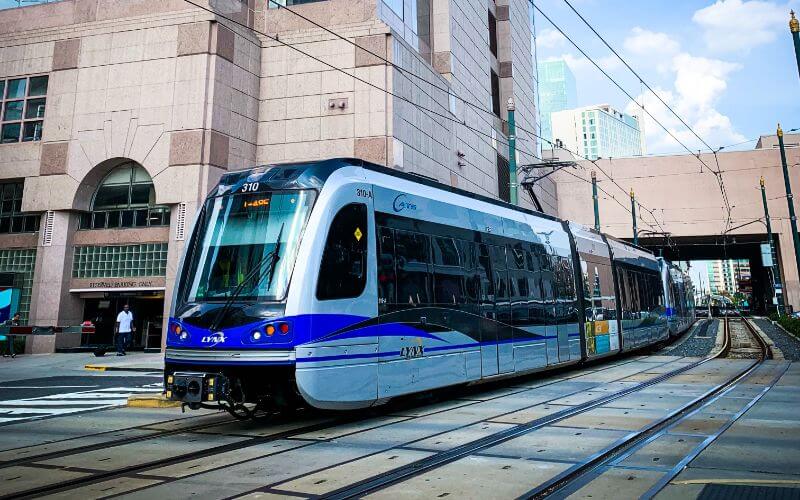 CLT Airport Shuttle Transfers
Some hotel pick-up Charlotte Douglas Airport shuttle vehicles also depart from the airport.
We recommend that you contact your hotel for information about the Charlotte Airport shuttles and transportation services.
Charlotte Douglas Airport Private Transfer Services
✔️ Charlotte Douglas International Airport transfer services do not offer much public transport, despite heavy passenger traffic and crowded throughout the year.
✔️ Travelers who are aware of this situation may prefer to rent a car service at Charlotte Airport for personal driving which can be confusing to ride to or from Charlotte Douglas Airport in traffic if you are a stranger in the city of Charlotte.
✔️ Using a Charlotte Airport taxi is another comfortable yet costly alternative considering the taxi rates. Generally, passengers coming for business trips travel by taking a private airport transfer service.
✔️ airporttransfer.com makes your job easier by gathering the most experienced ground transportation providers of the city of Charlotte on the same platform.
✔️ It brings professional local chauffeurs to you for a fast, comfortable, and safe journey to the Nascar Hall of Fame or any other destination.
✔️ Enter your pick-up and drop-off locations and book now to travel to your destination to or from CLT with a fixed price.
What Should I Do If I'm Delayed?
We are sorry to hear that you have experienced such an inappropriate situation. However, airporttransfer.com produces the best solutions to help you. If you think you are more than 30 minutes late, you can contact us 24/7 on Whatsapp. airporttransfer.com customer support team will contact your local driver to let them know.
Ultimately, you will get a transfer service that suits your transportation and needs.