Public Bus Jeju International Airport
Buses
Airport passengers can reach different parts of the city by using Jeju Airport bus routes. The public transport bus options are Express Bus, General Bus, Jeju Line Bus, Jeju Branch Bus. You can use these buses to go to such parts of the island as Seogwipo, Halla Arboretum, Jeju National University, Yeongjuju, Jeju City Hall, Noh Seong Dong, Sarabong.
Intercity bus services follow the Jeju Airport to Seogwipo Bus Terminal and stop at many bus stops in between. To transport in Korea, you need a T-money card which you can buy from convenience stores at the airport.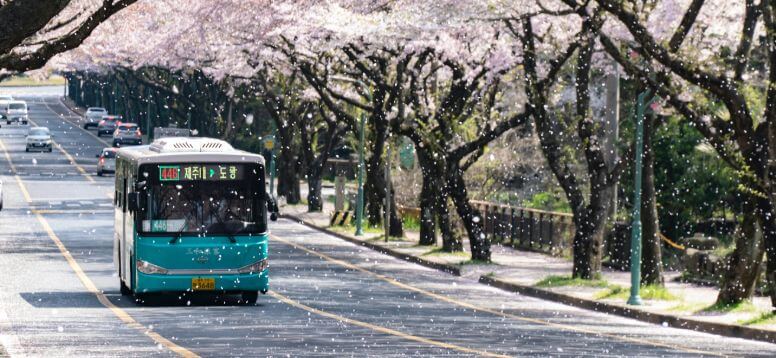 Limousine Bus
Airport shuttle Limousine Bus 600 runs every 20 minutes at the exit of Gate 5. It departs from Jeju Airport to Seogwipo and stops at a few locations.
Jeju Airport car rental counters serve passengers preferring to drive their own vehicle at the terminal building. Additionally, passengers getting to the airport by private cars can use Jeju Airport parking lots. Jeju Airport taxi services are available outside the terminal. Airport taxis are not recommended due to their high cost and insecure travel experience.
⭐ You should review this blog: 15 Free Things at Airports - You've Probably Never Heard
Jeju International Airport Transfer
Jeju Island, which is a great holiday destination for both foreign and domestic tourists, has so many spots to explore! You should know that there are a number of fascinating museums and interesting theme parks on the island, as well as hotels, shops and attractions. Actually, Jeju Airport restaurants are one of them.
So, what will be your first route, have you decided? Maybe from Jeju Airport to Hyeopjae Beach or Manjanggul Cave directly? When you land at Jeju International Airport or when you want to go to Jeju Airport from your hotel, you can make your private airport transfer with the contracted local drivers of airporttransfer.com.
You can make your reservation right now for fast and reliable transportation in hygienic and comfortable vehicles. You can compare prices and vehicles, and share the additional service options you want with the drivers in the notes section.
Make your reservation in just a few steps for a family-friendly airport transfer with courteous and experienced local drivers. Travel with Jeju's best road transport companies with secure online payment and 100% refunds.
☎️ For all your questions and suggestions, you can write to our customer representatives 24/7 on Whatsapp in the lower right corner.