United's hub at Washington Dulles International Airport IAD has one of the best point performance metrics of any airport in the Northeast.
Owned by the Metropolitan Washington Airports Authority, Washington Dulles ensures a comfortable and enjoyable journey.
With more than 50 years of serving the Capital Region, Washington Dulles provides access to downtown Washington, D.C., and extensive connections to more than 80 domestic and 50 international destinations.
It consists of the main Terminal and four halls. As the various halls are not connected to the Main Terminal, you may go through a rolling boarding room.
The immigration officer will then ask a few questions, such as "Are you here as a tourist or for work? » « How long are you staying on American soil? or "Where are you staying?". "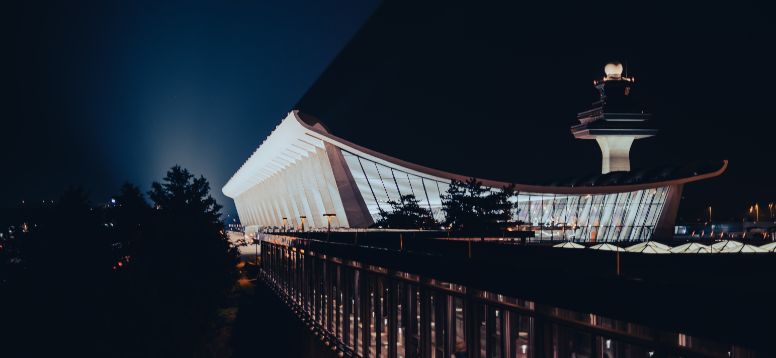 Everyone gets asked these questions; you won't be an exception, so don't panic and always answer honestly!
Washington Dulles international airport is the closest airport to Washington D.C. and in the heart of the nation's capital with newly renovated facilities.
How far is Dulles Airport from Washington?
The distance between Washington Dulles Airport (IAD) and Centerville is 13 km. The distance by road is 17.4 km.
There are several ways to get from Washington Dulles Airport (IAD) to Centerville by 5a bus, subway, taxi, car, or town car.
Dulles Airport has a dedicated access road that makes access to or from the airport efficient by car, taxi, or airport shuttle.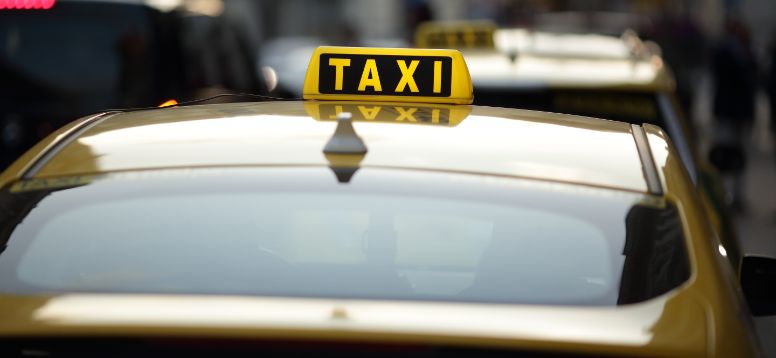 Dulles Airport Local Taxis
On the ground floor of the Main Terminal, taxis from the "Washington flier Taxicabs" company are available 24 hours a day.
Taxi ranks are located outside the main Terminal, and a ride to the DC area will cost around $60-$70.
The cost to get to the Capitol is $54, Manassas $38, Leesburg $33, Middleburg $50, Mount Vernon $77, and the Pentagon $51.
A ride from Dulles to downtown D.C. costs about $55 to $65 plus a tip. All Washington flier taxis are metered and accept credit cards.
Private Transfer to Washington DC with a 100% Refund Guarantee
Don't ruin your trip by waiting at the airport during rush hour for public transport. In just a few steps, you have the chance to choose your private airport taxi for Dulles International Airport transportation.
Moreover, if you want to get airport transfers with airporttransfer.com, you will have the following privileges:
Hygienic and comfortable taxis
Professional local chauffeurs
Extra service opportunities (Meet & Greet, red carpet, bicycle car rack)
100% refund
24/7 customer helpline
Large vehicle types: Ultra-luxury or economy vehicles (as you wish)
☎️ AirportTransfer.com's experienced customer support team is on the line 24/7 on Whatsapp to assist you before, during and after your private transfers!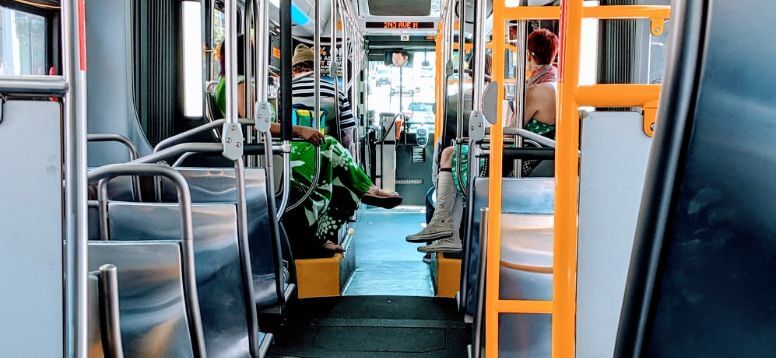 Dulles Airport Bus Services
Washington Flier offers a Silver Line Express bus that drops off at Wiehle Reston East Metrorail station, about 15 minutes away.
The Silver Line Express bus fare is $5 one way for public transportation, and you can purchase tickets inside the airport at Arrivals Gate 4.
A unique bus line, the 5A, connects Dulles airport and the city center (L'Enfant Plaza or Rosslyn station).
Count about forty minutes for the trip, which will cost you $7.50.
Washington Dulles Airport (IAD) to Centerville bus services, operated by Washington Metropolitan Area Transit Authority, depart from Dulles Airport Main Terminal + arrivals door station.
The travel time between Washington Dulles Airport (IAD) and Centerville is approximately 2h 12m for a distance of approximately 56 km. This includes an average layover time of approximately 51 min.
Operated by Megabus, Virginia Breeze, Washington Metropolitan Area Transit Authority, and others, the Washington Dulles Airport (IAD) to Centerville service departs from Washington Dulles Airport. It arrives at Braddock Rd and Old Centerville Rd.
Washington Dulles Airport (IAD) to Centerville bus service, operated by Fairfax Connector, arrive at Stringfellow Rd Park and Ride - Bay C station.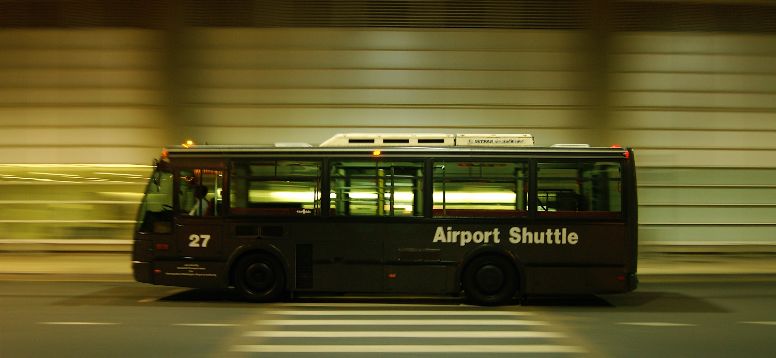 Dulles Airport Shuttle Services to Washington DC
If you ask, "Is there a shuttle from Dulles to Metro?" the answer is that there are shuttle services at Washington Dulles International Airport (IAD).
Does Dulles have a shuttle? And "How much is a shuttle from Dulles to D.C.?"
Shuttles from the "Super Shuttle" company connect the city center for $22 per person.
Go With Us companies will drop you off wherever you want for just over $20 per person.
Other travelers can travel with you and be dropped off as you go. Prices vary according to distance.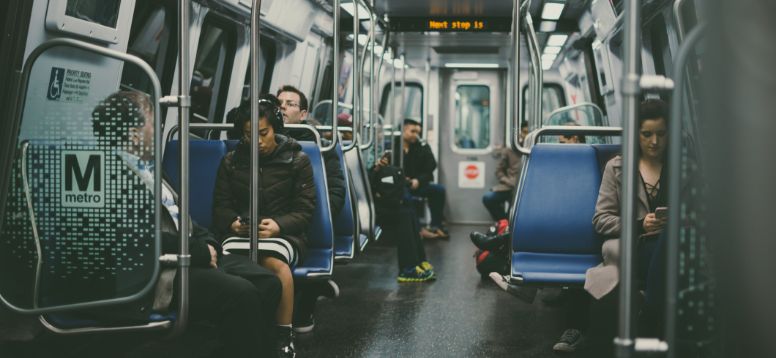 Another Options are: Train and Subway in Washington
On the "Dulles Corridor," an express subway service run by "Metrobus" connects the airport to Washington DC in 20 minutes.
Departures are every half hour.
The train station, the "West Falls Church Station" of "Metrorail," which is near the airport, is served by buses "Washington Flyer Express Bus."
FREQUENTLY ASKED QUESTIONS
• What is the best way to get from Dulles to Washington DC?
In rush hour, the best transportation to Dulles Airport, with direct service from Dulles Airport to the metro station Silver Line, the Silver Line Express Bus provides a convenient and economical connection between Feedback Metro from Dulles to DC Dulles Terminal and the Wiehle Reston East Metrorail station on the Metrorail Silver Line.
• How much does Uber cost from Dulles to Washington DC?
Uber from Dulles to DC, the estimated fare from Dulles to downtown Washington is between $60 and $68.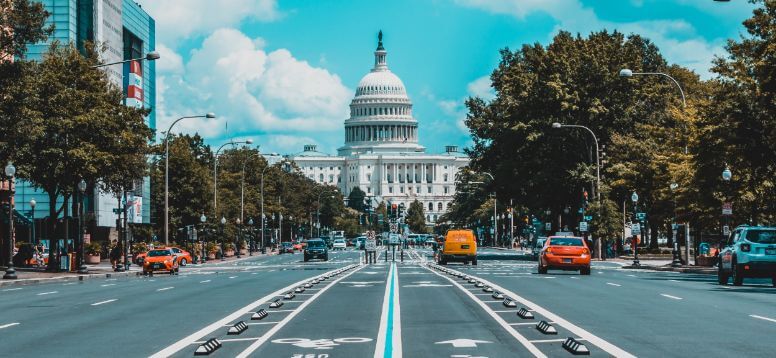 Where to stay in Washington DC?
Washington DC, whose official name is the District of Columbia, extends intramurally over ​​177 km².
If you come to this city for sightseeing and to visit the most important places of interest, finding a hotel or a place to spend a few nights will not be very difficult, especially if you organize yourself a little.
Overall, the best places to stay in the capital of the United States are in the center, around the National Mall, which is none other than the most visited national park in the country and extends from the Lincoln Memorial to the Washington Monument.
It is in part located just north or west of it that you can find the most pleasant neighborhoods for visitors, such as Georgetown and Capitol Hill.
• Expensive Hotel
The Georgetown House Inn is a canal-side inn two minutes from Waterfront Park, on a street home to several popular restaurants.
The location is perfect, the establishment is very modern, and you can find spacious and comfortable double rooms accessible for around €230.
• Cheapest Hotel
Holiday Inn Washington Capitol-National Mall is a 3-star hotel that is steps from the National Air and Space Museum, close to all of Washington's top sites.
It is notably equipped with a restaurant, a bar, and a fitness center.
Its rooms for two are accessible for around €140.
You might be interested