Machester Airport Public Transfer Options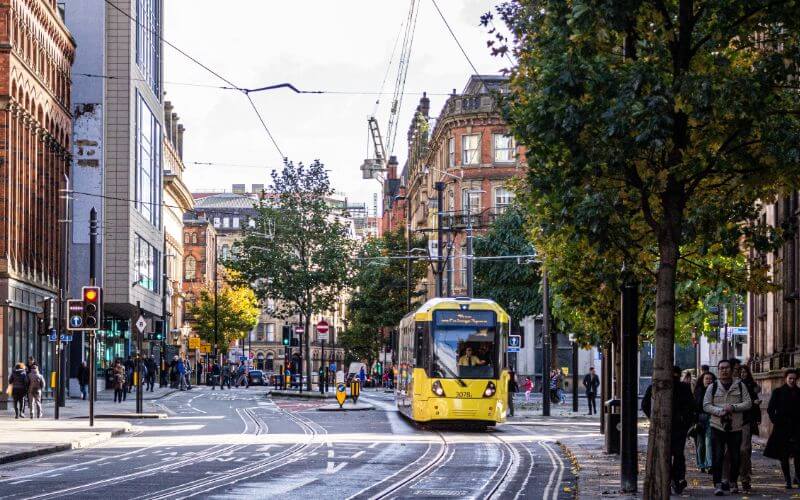 Manchester Airport car rental counters inside the terminal serve passengers who would prefer to hire a private car for their Manchester trip. A network of regional buses runs 24 hours a day for airport pickup Manchester passengers and for those in need of arriving at the Manchester Airport and vice versa from Manchester Airport to the city center.
Similarly, Metrolink buses operated at Manchester Airport Bus Station make the transportation very easy for travelers to go from Manchester Airport to Leeds, to Birmingham, to York, to Newcastle or to one of the destinations from 92 stops. There is a train line from Leeds to Manchester Airport.
Manchester Airport Train Station is right inside the airport. It takes only 5-10 minutes from Manchester Airport to the train station by the walkway. Train tickets can be purchased online or from the ticket machines at the airport. Being at the heart of the airport, the train journey from Manchester Airport to Liverpool is possible.
As public transportation can be a problem for those who have heavy luggage, taking a Manchester Airport taxi can be preferred by some upon arrival. Looking for a cheap taxi Manchester airport? Choosing a taxi is a more individual yet questionable means among other airport transportations as Manchester Airport taxi prices can be costly considering other options. Additionally, finding a fixed price airport taxi to Manchester Airport or cheap taxis is not always possible in the city.
It's difficult to give a precise estimate of taxi prices from Leeds to Manchester Airport without more information, as the cost can vary depending on a number of factors such as the time of day, distance, and traffic conditions.
How to Cope With Travel Stress
12 Things to Consider When Booking Airport Transfer Services
Private Transfers Manchester Airport
You can call our customer service at any time for airport transfers Stoke on Trent area. Wherever you are in the world and wherever you depart from, you can book a private service for Manchester Airport transfers. All you have to do is choose your destination and one of the local drivers that suits your needs. Your Manchester Airport transfer will be confirmed in a short time and you will receive an information mail.
You can personalize your transfer with additional services such as child seats, red carpet, bicycle racks and roof racks, VIP meeting, luggage assistance, meet & greet service and elderly assistance. If you haven't decided on your destination, maybe the list below can help you.
By the way, all the vehicles of airporttransfer.com provide MAN transfer with excellent service quality to suit every budget. Make your online reservation (100% refund and free cancellation up to 48 hour) now to travel safely with comfortable and hygienic taxis from end to end! Contact our customer care team 24/7 on Whatsapp for any questions! In the meantime, we have no doubt that this blog will interest you!