Private Airport Transfer Service at Kuwait International Airport
Passengers looking for a method of transportation to and from KIW Airport are mostly advised to take a private airport transfer service.
You can plan and manage your Kuwait Airport private transfers via Airporttransfer.com. You can reach your hotel or home quickly and reliably with private chauffeured and comfortable VIP taxis that you can book for going to or returning from the airport.
In case of unexpected delays or cancellations, you can call your driver or contact the Whatsapp support team 24/7. Also, did you know that you are entitled to free cancellation and a 100% refund up to the last 48 hours?
Click here to create a reservation right now. Enter pickup and drop-off points, your travel date, and the number of passengers and luggage. Then, examine and compare the many vehicle models and prices you come across, and make your online payment in a very simple way, securely with a credit card, and Paypal!
Your driver's contact information will come to your e-mail address in a very short time, and you can start communicating quickly! AirportTransfer.com provides a hassle-free airport transfer service experience to you, private and important passengers, with more than 600 partners in more than 100 countries, including Kuwait!
Don't think twice!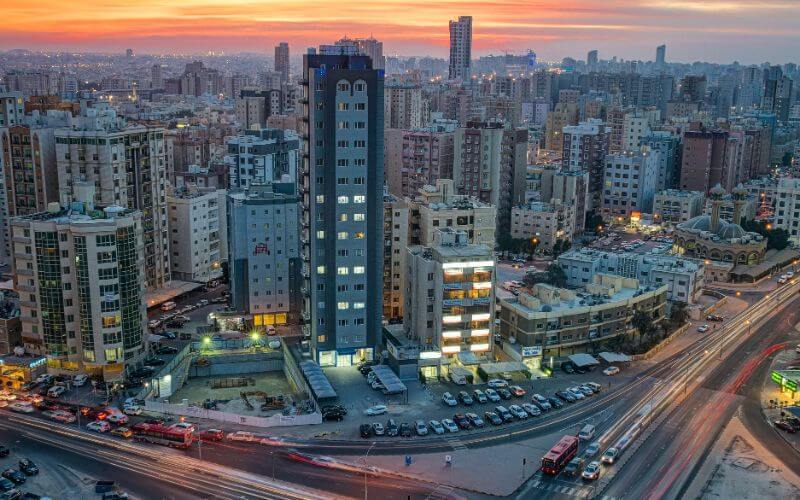 All Public Transportations at Kuwait Airport
You can use public transport from Kuwait Airport to the city centre or different parts of the city. Kuwait generally attracts many tourists from all over the world, so the airport is crowded year-round. You can find many taxis and local buses in front of the airport. In contrast, Kuwait International Airport does not have a metro or train line.
The available means of transportation from Kuwait Airport to the city centre is as follows:
KWI Airport Bus
For those who will use a bus from KWI Airport:
Line 13 Stops: Airport, Khaitan, Airport Road, Shuwaikh residential (Gamal Abdel Nasser Street), Swivel Sheraton and chipset.
Line 99 Stops: Airport, Abbasid, Jileeb Alshuyoukh, Hasawi, Muhammad ibn al-Qasim Road, Street Canada dry, Farwaniya, Khaitan, Civil ID (South Surra) and Subhan.
Line 501 Stops: Airport, Farwaniya, Alomariya, Arabiya, Avenue Mohammed Ibn al-Qasim, Raqa'i.
In general, these lines operate from 04:30 until 23:45.
KWI Taxis
You can reach the city centre in approximately 20-25 minutes with Kuwait Airport taxis. Airport taxi fares are determined according to the night schedule or your luggage. Also, KWI taxi prices may charge a little extra when they realize you're a tourist.
Finally, Kuwait airport taxi drivers need to improve in speaking English. If you want to go to your hotel by airport taxi, memorizing some Arabic words and sentences is useful.