Private Transfers Juneau Airport
Why worry about Juneau taxis or Juneau airport shuttle services when you can travel with peace of mind on a private transfer to the airport? Let airporttransfer.com handle the driving while you relax. At airporttransfer.com, we are committed to providing smooth transportation to and from Juneau Airport. Our goal is to make your travel to and from the airport as easy and convenient as possible. Eliminate the hassle of the taxi line and book a private transfer from the Juneau Airport to your desired destination. Your driver will meet you at the airport, provide luggage assistance, and take you to your destination in Juneau or the surrounding area. Choose a vehicle that fits your party size and enjoy a stress-free journey.
During the reservation process, business travelers and tourists alike can request additional transportation services to meet their needs (such as VIP Meet & Greet, Elderly Assistance, Private Luggage Handling, and Bicycle Car Rack). Specify these services when booking. Why Airporttransfer.com?
Enjoy door-to-door service with no stops and go straight to your destination. Our vehicles are hygienically maintained, and our experienced local drivers provide meet-and-greet service and ensure child safety using car seats.
AirportTransfer.com also offers a Juneau limousine service to and from Juneau Airport. Our limousines are equipped with luxurious amenities and provide a comfortable and stylish way to travel.
There is also a range of vehicle options available, including Sedan, Minivan, SUV, and Liftback, so you can select the best one that best meets your needs. With our experienced drivers and a wide range of vehicle sizes available, we can accommodate groups of all sizes and ensure smooth and enjoyable city tours.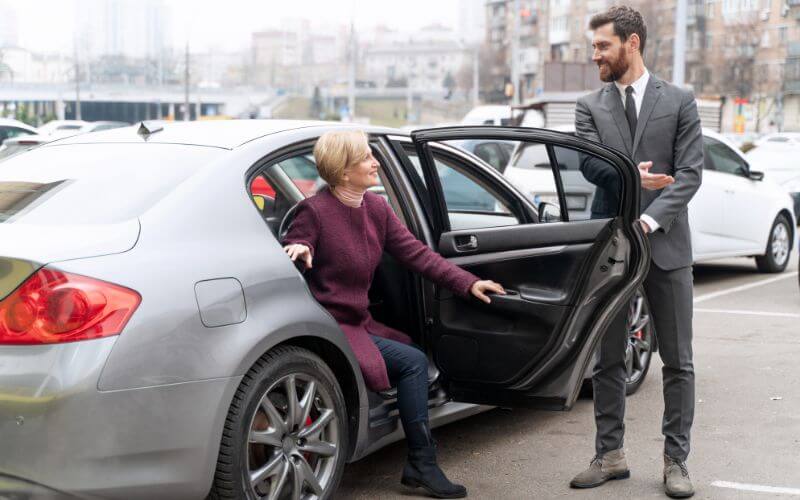 Travel safely with us and take advantage of our 100% refund guarantee. There's no need to wait or worry about delays - our drivers will be waiting for you at the airport. Also, you can cancel up to 48 hours in advance at no cost. We offer global airport transfers to locations around the world. On our website, you can contact us 24/7 with questions or suggestions via Whatsapp.
Public Transportation Juneau Airport
The airport is just a few miles from downtown Juneau, and there are several airport transportation options for getting to and from the airport, including buses, hotel shuttle services, taxis, and private airport transfers.
Bus
To get to downtown Juneau from the airport at the lowest cost, you can take Bus Number 5, operated by Capital Transit. The bus departs from the baggage claim area at the airport and takes about 25 minutes to reach downtown. It runs every hour from 7 am to 7 pm. You can catch the bus at the airport and be downtown in no time! To get from the Juneau Airport to the city center by Bus Number 5, the fare is $2. The bus will stop at Willoughby Avenue and Egan Drive (Centennial Hall) in the city center. You can pay the bus driver in cash when you board the bus.
Taxi
Taxis are available at the airport to take you to the city center. Juneau taxi rates from Juneau Airport to downtown varies and depends on traffic and your final destination.
How to get a taxi in Juneau?
In Juneau, you typically need to call a taxi company to request a ride. Which means you may have to wait for your taxi to arrive.
How much are taxis in Juneau?
It is worth noting that Yellow Taxi fares in Juneau may seem expensive compared to some other cities, but they are generally in line with the cost of living in the area.