Public Transportation - Curaçao International (CUR) Airport
After arriving at Curacao International Airport (CUR), you may wonder about the best public transport options from Curaçao International (CUR) Airport to your destination.
Various transportation methods are available for those traveling to and from Curacao's airport. These include Airport Buses, Car Rentals, Taxis, and Private Airport Transfers.
Bus
The bus is the cheapest way to get to your destination or hotel. However, more convenient travel methods exist, especially if you carry a heavy suitcase.
Moreover, it's worth noting that the bus service does not include hotel or resort drop-offs. Instead, it will take you to one of the two bus stations located in Willemstad. If your lodging is in Punda or Otrobanda, then transportation via bus may be a good option.
To reach Otrobanda, you can take the 4B "Konvooi buses" from the front of the Arrivals Hall, while the 2A/2C "Konvooi" bus can take you to Punda. To travel from one side of the bay to the other, you can use the historic pontoon bridge (Queen Emma Bridge), which can be crossed on foot.
We do not recommend using this travel option for resorts that are located far away.
Good to Know:
The buses do not follow a fixed schedule.
Specific beaches such as Playa Kalki and Grote Knip can be accessed by a bus but require a 15–20-minute walk.
With a private airport taxi transfer, you can be dropped off closer to the beach entrance, saving you time and energy.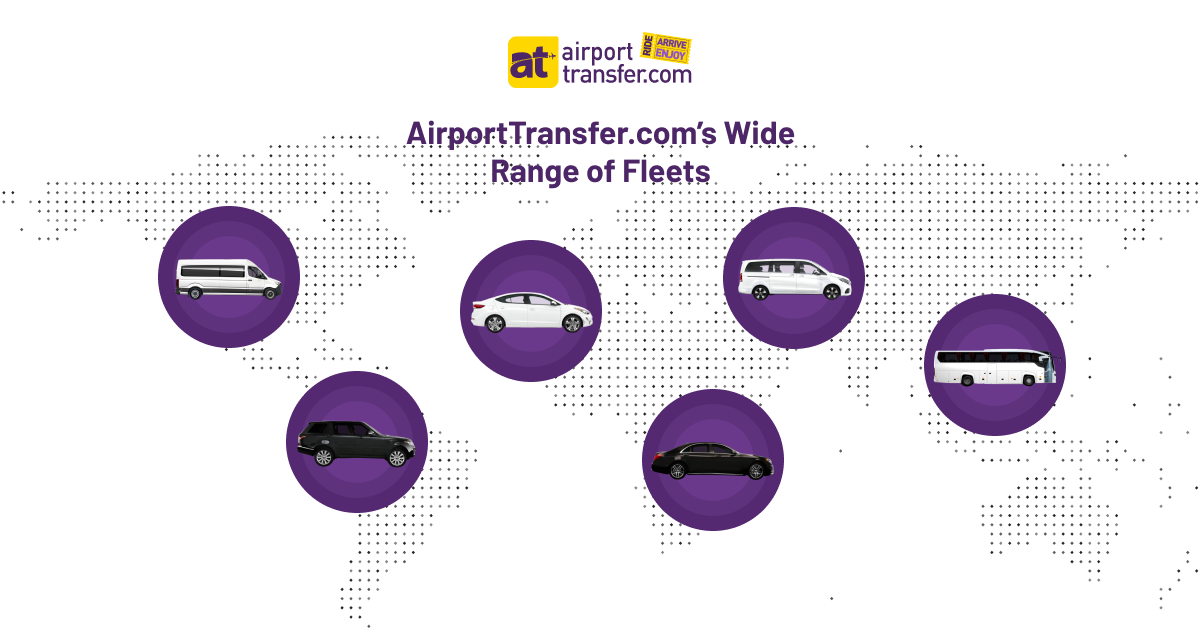 Taxi and Car Rental
While taxis are another option for transportation from the Curaçao Airport CUR to Willemstad, they can be pretty expensive for longer trips and island tours. Taxi services in Curaçao are not metered.
Good to Know:
Fares increase by 25 percent before 6 a.m. and after 11 p.m.
Additionally, it's customary to tip taxi drivers 10 percent of the food.
If you're looking for another option to get to your destination from the airport, you can rent a car.
Good to Know:
Rental companies typically have mileage limits; if you exceed them, the rental agency will charge you a fine.
The car rental companies require the vehicle to be returned to the location it was picked up. Please do so to avoid a penalty fee.
By choosing a private transfer, you can avoid these extra fees and restrictions and arrive comfortably and in style at your destination.
Curaçao (CUR) Airport Transfers - Private Airport Chauffeur Service
The hustle and bustle of Curaçao International (CUR) Airport during peak travel seasons can be overwhelming. It may be a hectic and unpleasant experience because of the long lines of impatient travelers, worn-out airport workers, and the continual flow of people.
So, begin your vacation in Curacao stress-free by arranging your airport car transfer in advance with AirportTransfer.com.
Our experienced drivers will meet you at the airport and ensure a seamless airport chauffeur service to your hotel or accommodation. And unlike taxis, our fares are fixed with no hidden fees or surge pricing, so you can rest assured that you're getting a fair deal.
Depending on your needs, you can choose from various vehicles, including Sedans, Executive Sedans, Minivans, Crossovers, Limousines, and buses.
Plus, you can enjoy peace of mind with a 100% refund, fixed prices, and the flexibility to cancel or change your trip details, such as the day or route, for free up to 48 hours before your scheduled transfer.
Airporttransfer.com provides a stress-free airport pickup service for all passengers, working with experienced and courteous local chauffeurs.
Easily book your transfer online with a secure payment.
Additional service options include pet-friendly transfers, red carpet treatment, car seat and booster options, and elderly assistance.
Family-oriented atmosphere
The best price-performance advantage.
Our local drivers with multiple foreign languages
End-to-end private transfer services.
Plus: You can also experience a unique and hassle-free transfer with AirportTransfer.com's Airport Water Taxis in Curaçao, where you can travel comfortably and style to your destination surrounded by breathtaking ocean views.
If you have questions or want to make a reservation, we can assist you 24/7 via Whatsapp.
AirportTransfer.com - Going the Extra Mile to Earn Customer Loyalty
At AirportTransfer.com, customer satisfaction is the cornerstone of our business. That's why we go the extra mile to ensure that our customers receive the Airport VIP service from when they make a reservation to when they reach their destination.
The Best Curaçao (CUR) Airport transfer reviews at airporttransfer.com!