Curaçao International Airport (CUR) is the primary airport serving the island of Curaçao, located in the southern Caribbean Sea. It is situated on the island's north coast, approximately 7.5 miles from the capital city of Willemstad. Overall, Curaçao International Airport is a modern facility that provides convenient access to one of the Caribbean's most popular tourist destinations.
Curaçao City Centre, also known as Punda, is the historic district of Willemstad, the capital city of Curaçao. The city centre is located on the eastern side of St. Anna Bay, which separates it from the Otrobanda district on the west. The area is famous for its colourful colonial-style buildings, narrow streets, and vibrant atmosphere. Punda is also home to several notable landmarks, including the Queen Emma Bridge, a floating pedestrian bridge connecting Punda with Otrobanda, and the iconic Handelskade waterfront promenade.
How to get from Curacao Airport to the city to explore all these wonderful sights?
Travelling from Curaçao Airport to Willemstad City Centre
Overall, Curaçao City Centre is a must-see destination for anyone visiting the island of Curaçao, offering a unique blend of history, culture, and entertainment. The distance from Curaçao International Airport (CUR) to the city centre of Willemstad, which includes the historic district of Punda, is approximately 12 kilometres. There are several transportation options to get there:
Taxi from Curaçao Airport
Can I get a taxi from Curacao International (CUR) Airport? If you are looking for a taxi from Curacao airport to Willemstad, you should know about some things.Curaçao Airport taxis are readily available at the airport and can take you to your destination in Willemstad. The local taxis can be found just outside the Curacao airport's arrivals hall. Walk to the car before the queue and tell the driver where to go.The journey takes about 15-20 minutes, and the cost ranges from $ 40 to $ 50, depending on the time of day and the number of passengers.
Bus from Curaçao Airport
Curaçao Airport (CUR) does not have a bus service, but some public buses operate on the island of Curaçao, including some that stop at the airport. The public bus service in Curaçao is operated by the Curaçao Public Transportation Company (CTB), which runs a bus network connecting various parts of the island. The CTB bus stop at the airport is just outside the arrival hall, on the lower level of the terminal building.
The buses that stop at the airport include Route 2 and Route 306, both travelling to and from the city centre of Willemstad. Route 2 operates between Piscadera Bay and Otrobanda, while Route 306 runs between Hato and Otrobanda. The fare for a one-way trip on either way is approximately 2-3 ANG (Antillean Florin).
However, it's important to note that public buses in Curaçao can be crowded and may not be the most convenient option if you have a lot of luggage. The buses may not run on a set schedule, and their frequency can vary depending on the time and day of the week. Therefore, if you want a more convenient and reliable option, it may be better to consider a private airport transfer.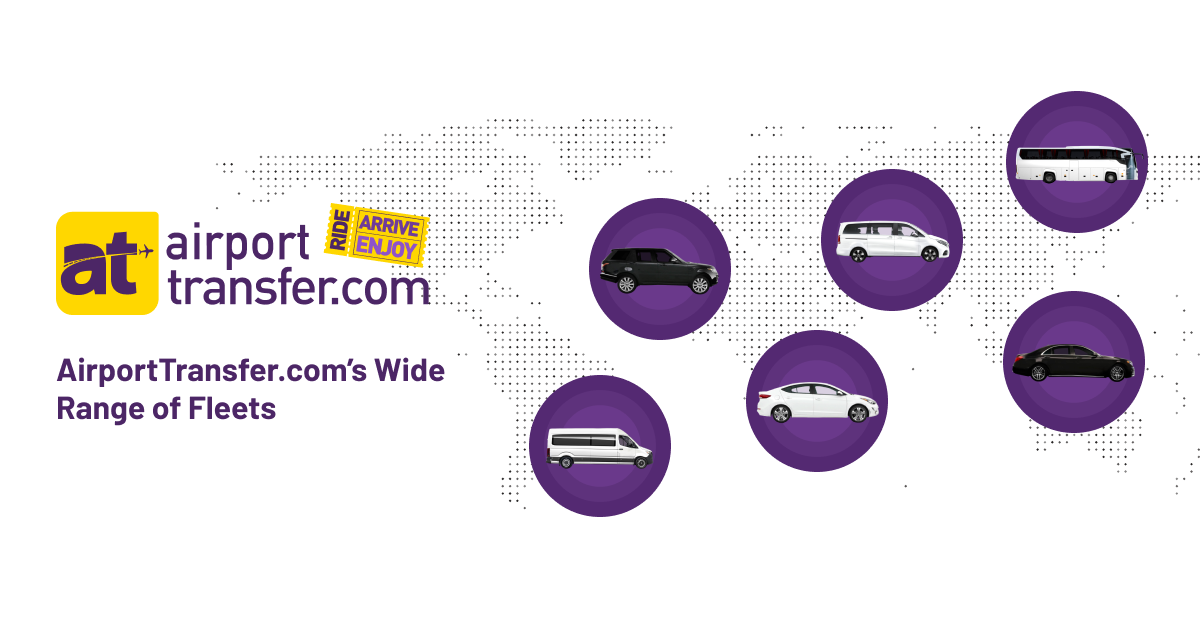 Private Transfer from Curaçao Airport to Willemstad City
Looking for the best private transfer from Curaçao Airport to Willemstad City Centre? There are several options for getting from the airport to Willemstad. For this reason, airporttransfer.com would be the best choice for your Curaçao trip. There are many reasons why you might choose a private airport transfer service over other options for getting from Curaçao Airport to your destination:
AirportTransfer.com is convenient because it picks you up directly from the airport and takes you to your destination. This eliminates the need to worry about finding a taxi or navigating public transportation. At the same time, it offers a higher level of comfort than other options, with spacious vehicles and amenities such as air conditioning and comfortable seating. Please note that AT serves all those needs and allows you to cancel for 48 hours before arrival without penalty. 100% money-back is guaranteed in case you face any supplier-side problems.

As a foreigner in Willemstad, which is large and complex in every sense, getting from the airport to the hotel (or elsewhere) is often stressful and time-consuming. Public vehicles in the city are very advanced, but how logical is it to try to go to the destination with suitcases and google maps? Whether you come for business or sightseeing, you have a private chauffeur who will greet you politely from the airport and take you to your vehicle. AirportTransfer.com's drivers are professional and can speak English with you. Also, you don't have to tip your driver. Prices for all Curacao Airport transfers are fixed at the time of booking. For example, it is impossible to find this advantage in Curaçao airport taxis. Even that should convince you to buy a Curaçao Airport transfer. You can have a pleasant, safe, fast and comfortable journey with your private driver, who will meet you on time. AirportTransfer.com provides a 24/7 airport transfer service, and the customer hotline is always available via Whatsapp.

The best Curaçao Airport transfer reviews are on AirportTransfer.com!
Frequently Asked Questions
You might be interested