Public Transportation Cologne Bonn Airport
Public transport such as buses and trains can be used to reach Cologne Bonn Airport. Passengers traveling by train can easily access the Intercity-Express (ICE) station located at the airport. There are bus and train connections to Cologne, Bonn, and intercity destinations.
By bus
The easiest way to travel by public transport between Cologne city center and Cologne Bonn Airport is to use the S-Bahn commuter train No. 7 to transfer to Bus No. 161 at Porz Markt. Bus stops are T1/A Untergeschoss, T2/D, Busbahnhof, Verwaltung and Luftfrachtzentrum.
Click for details about Cologne Public Transport timetable information.
Bus number SB60 can be used to travel between Bonn city center and the airport. This line operates between Bonn Main Station – Airport. Click for detailed information.
By rail
The train station at Cologne Bonn Airport offers connections with national and international railways.
Major lines connect to the airport, such as the S-Bahn line S19 to Duren, the RE 6 regional train line to Minden, and the RB 27 line between Mönchengladbach and Koblenz.
Click here for more information.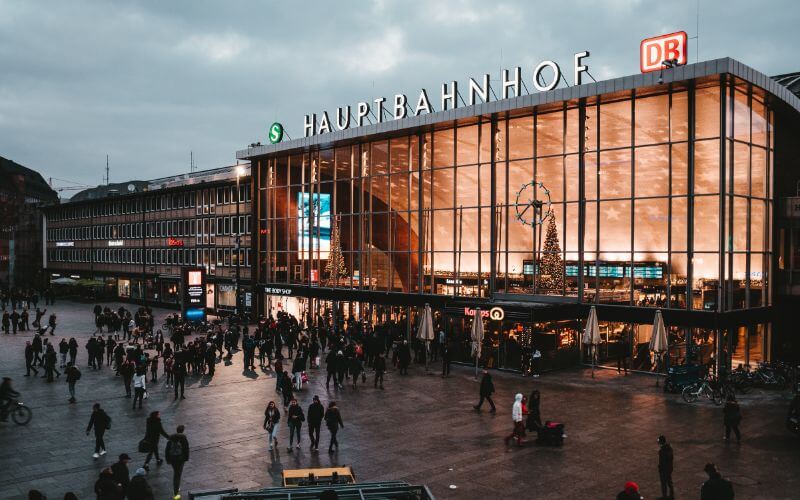 Private Airport Transfer Cologne Bonn
Are you looking for a Cologne airport taxi (private transfer) service? AirportTransfer.com provides the best private transfer taxi at Koln Bonn Airport. Whether you come to Cologne Bonn Airport for a business trip or a holiday, make your visit much smoother with a private transfer. Get hassle-free transportation from your hotel to the airport or from the airport to your hotel.
Although there are public transportation options such as buses and trains in Cologne and Bonn, it is difficult to reach the city center without a transfer.
It is even more difficult if your first time at the airport and your luggage is heavy. The biggest advantage of private transfer is that it saves you from waiting for a taxi or bus at the airport.
Airporttransfer.com gathers the best ground transportation companies of Cologne and Bonn on a single platform. It allows you to compare prices among dozens of transfer offers.
As soon as you buy your flight ticket, book your private transfer online and solve the transportation problem completely! Enjoy the journey with luxury cars, standard sedans, minivans, SUVs, and high-quality brand-new vehicles.
In your Cologne Bonn Airport transfer, you will arrive at your destination in the fastest way with the shortest route, thanks to local drivers.
- Book now with a 100% refund guarantee, fixed-price advantage, and 24/7 customer support!
– We have customer representatives serving 24 hours a day on Whatsapp so that you don't encounter any problems.