The Canary Islands, Spanish territory, form an archipelago in the Atlantic Ocean 150 kilometers west of the African coast. The answer of What's the best Canary Island to go to and which canary island to visit?
The most asked question by holiday lovers is that 7 islands are to be discovered, the two best known of which are Lanzarote and Tenerife.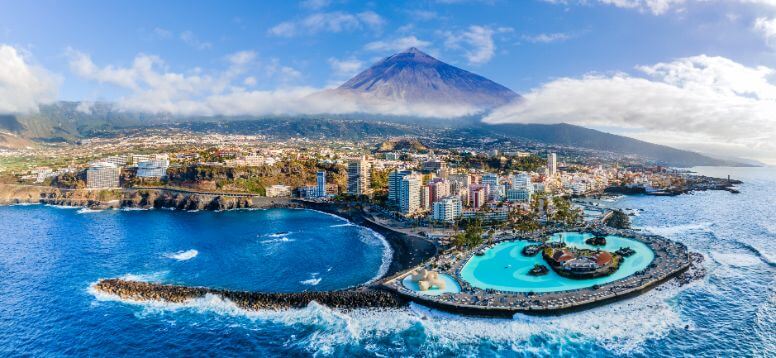 Why go visit and the best time to visit the Canary Islands? Here is a destination not far and not expensive for an extraordinary trip!
The Canary Islands present volcanic landscapes, non tacky resorts, islands, las Palmas garajonay national park jameos del agua mixing lava fields and fine sandy beaches.
This article on the 10 best things to do in the Canary Islands will be your guide to some of the best places to see in the Canary Islands, as we break it down by island: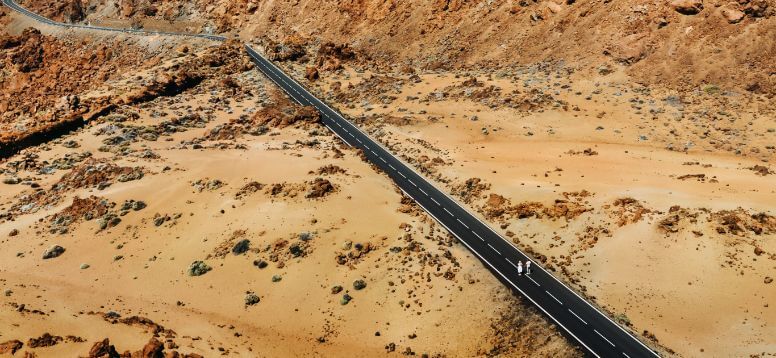 1-Visit Mount Teide National Park
Rising 3,718 meters above sea level, the Mount Teide volcano is the centerpiece of Mount Teide National Park, Canary Islands' largest park and highest peak.
Teide National Park, a UNESCO World Heritage Site, comprises the entire mountain, and a trip inside the huge crater is the highlight of a trip to the Canary Islands.
El Portillo Visitor Center is a good place to start, where an excellent little museum has interactive exhibits showing how volcanoes form and explore the crater environment.
Because it is right in the center of Tenerife and is the highest point in Spain, the scenery here is breathtaking. If you're feeling adventurous, you can join the Quad Safari Tenerife Teide Tour and trek to the foot of Mount Teide. But if you prefer to stay clean and cool, you can take the Tenerife cable car which will take you up to 3,555 meters for more spectacular views.
Stopping points at various sites have signs in English describing the flora and fauna and explaining the landscape, and hiking trails lead to the highlights. Definitely high on your things to do list in Tenerife.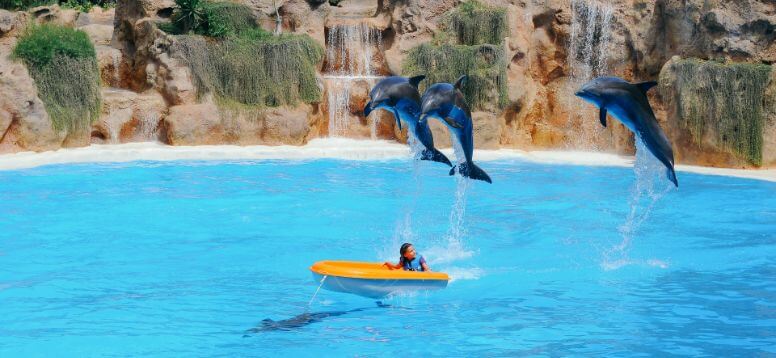 2-Explore Loro Park
Another popular destination when tourists are looking for things to do in the Canary Islands is Loro Park. One of the most popular tourist attractions for families in the Canary Islands is this wildlife park located just outside Puerto de la Cruz.
Combining high standards of conservation with great entertainment, the park has one of the largest collections of parrots in the world, a large dolphinarium and a huge aquarium with an underwater tunnel where you can walk while sharks and other sea creatures swim above.
This popular spot lets you see all kinds of creatures and animals, with over 350 species of parrots and 200 penguins. If that doesn't fascinate you enough, you'll also see unusual zoo animals like anteaters, meerkats, killer whales and even sloths. One of the main attractions in the park is the shark tunnel which allows you to see the sharks swimming around you.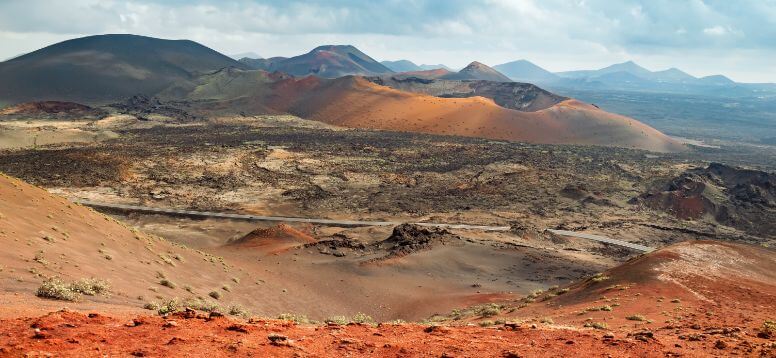 3-Explore Timanfaya National Park
One of the most popular things to do in the Canary Islands is seeing one Lanzarote volcano after another in this popular park. When you visit Timanfaya National Park, you will see spectacular shades and colors of rock formations that you won't see anywhere else.
The most spectacular volcanic landscapes, including a still active volcano, are now protected as the UNESCO World Heritage-listed Timanfaya National Park.
It literally has to be seen to be believed: huge areas of otherworldly terrain covered in swirls of solidified lava, cracked into crevices by more molten lava still moving below.
To see the whole park, go to Islote de Hilario atop a volcanic rock, where park rangers demonstrate the enormous heat right under your feet.
If you want a completely different experience in Lanzarote, you can ride a Timanfaya camel that will take you to a volcano in Lanzarote.
Camels in Lanzarote are a must when visiting the island.
4-The beaches of Tenerife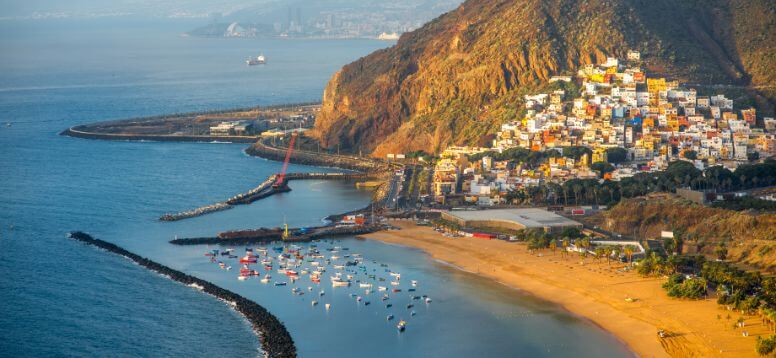 Like those of Gran Canaria, Tenerife's legendary beaches are found along its sunny south coast. Among the most developed, with many vacation homes, hotels, restaurants and sports facilities, are the family-friendly golden sand beaches.
Playa de Las Vistas and the upmarket enclaves around Playa del Duque, on the Costa Adeje to the West.
In the latter, you will find shopping, luxury spas, golf, windsurfing, jet skiing and other activities.
The chain of beaches ends in Puerto de Santiago and Los Gigantes, in a spectacular location under high cliffs. Smaller natural beaches with darker sand dot the entire shoreline east of Los Cristianos to El Medano. Too windy for comfortable sunbathing or swimming, El Medano is a world-class surf beach.
Further west is the beautiful little Playa Santiago and Playa de la Arena, protected by rocky headlands and set beneath lush parkland.
Adeje is an upscale resort town, with shopping, luxury spas, golf, windsurfing, jet skiing, and other activities. Perhaps the best beach for families is Playa de las Teresitas, just outside the capital city of Santa Cruz.
Its gently sloping golden sands imported from North Africa are protected by artificial reefs that make it perfect for children and swimmers, without the intense waves of some other beaches.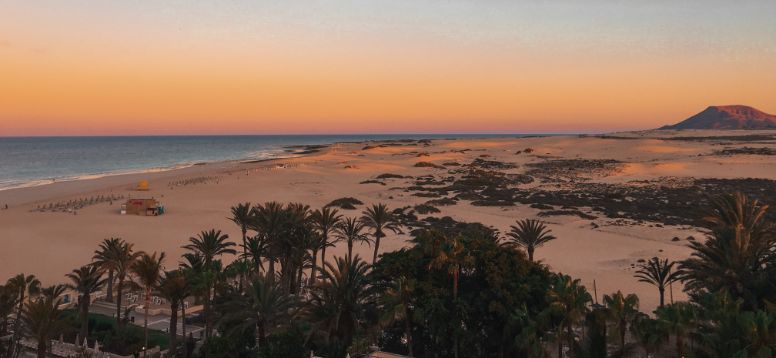 5- The beaches of Fuerteventura
The miles of beaches on the island of Fuerteventura are almost empty, and even most of those with well-developed tourist infrastructure are uncrowded. The beaches in the northeast are often quite windy and the surf on its northern beaches is quite heavy - much to the delight of surfers, who find some of the best waves in Europe here.
Corralejo, a fishing port on the north coast, is a surf hub, with rentals, surf schools, and a strong surf and watersports culture.
Playa el Pozo, which has moderate waves and safe swimming waters, a number of kiosks renting water sports equipment, beach chairs and umbrellas, and there are several other choices along nearly 10 miles of Corralejo sandy beach.
It's Playa Sotavento Leeward Beach that has earned Fuerteventura its reputation as a beach lover's paradise. It runs along the entire southern coast of the Jandia peninsula, at the southern tip of the island. You can choose your paradise from nearly 30 kilometers of golden sand lapped by turquoise waters.
While there are towns and tourist enclaves with all amenities, it's the abundance of uncrowded beach space that draws tourists to these legendary sands.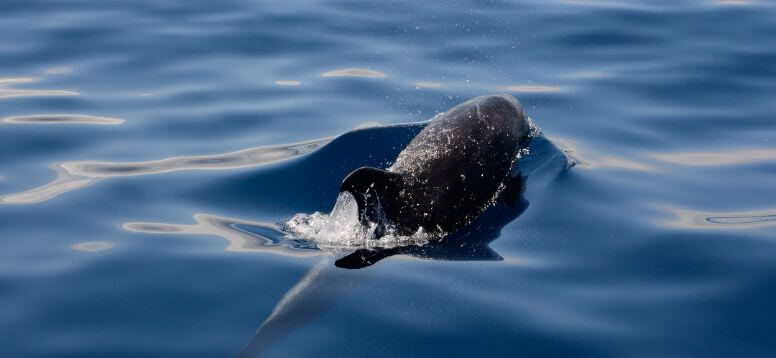 6- Watching Dolphin and Whale in Tenerife
The Atlantic Sea off Tenerife is known for its whales and dolphins, and a whale watching cruise is one of the favorite family activities on the island.
You can spot whales and watch pods of frolicking dolphins – up to five different species – on boat trips from various ports. Many cruises include a stop at a secluded bay to swim or snorkel.
A variety of watercraft are available, from sleek sailboats and catamarans to luxury yachts. On the Tenerife Whale and Dolphin Cruise from Los Cristianos, you'll be accompanied by trained crew members who will help you spot and identify the marine life you see.
You will also have different views of Mount Tiede and the coastline.
For those who like their wildlife experiences to be closer to the water - or in it - there are also excursions for kayakers and divers.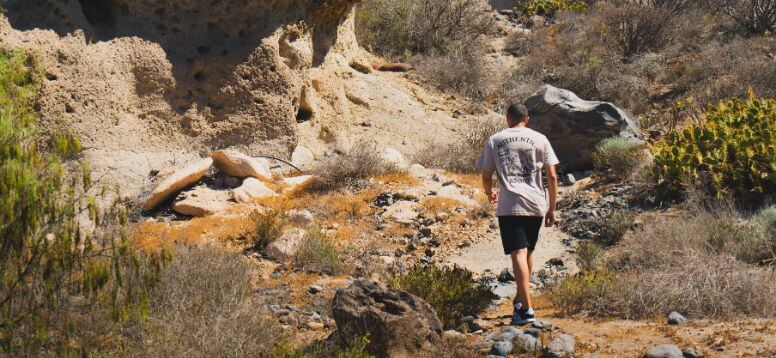 7- Santa Cruz de Tenerife
The capital of Tenerife is a lively and attractive city, marked by some exceptional architectural attractions.
The most important of these is the magnificent Auditorio de Tenerife, an opera house and concert hall overlooking the sea, designed by Spanish architect Santiago Calatrava. The concert hall hosts world-class artists, conductors and orchestras.
Santa Cruz de Tenerife has other cultural highlights, including the excellent collections of the Museum of Fine Arts, where you'll find works by Spanish, Flemish and Canarian painters.
At the fascinating Museum of Nature and Man, you can learn more about the natives of Tenerife, before the arrival of European settlers, and the volcanic history of the islands of Tenerife.
If you ask "What are the Canary Islands famous for?", the answer Santa Cruz is where you'll find Tenerife's best shopping, as well as the Canaries' most famous event, the annual Carnival, marked by lavish parades, shows and extravagant costumes.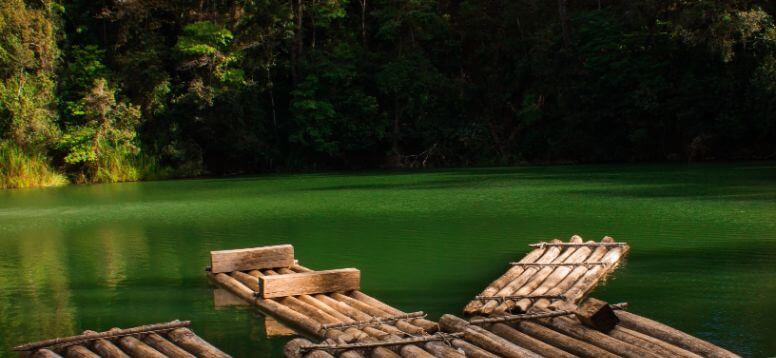 8- San Cristobal de la Laguna, Tenerife
This charming colonial city is designated a UNESCO World Heritage Site due to its exceptional cultural heritage. San Cristobal de la Laguna, locally known simply as La Laguna, is the former capital of all the Canary Islands.
The charming historic town has many architectural gems, such as its elaborate cathedral, Renaissance and neoclassical churches and impressive mansions built by wealthy families in the 17th and 18th centuries.
The town's parish church, the Iglesia de Nuestra La Concepción, was built in 1496 and modified in the 16th and 18th centuries. The sanctuary is simply decorated and has Mudejar coffers.
For a historical overview of the area, head to the Museum of History and Anthropology, housed in the charming Casa de Lecaro, which dates back to 1593.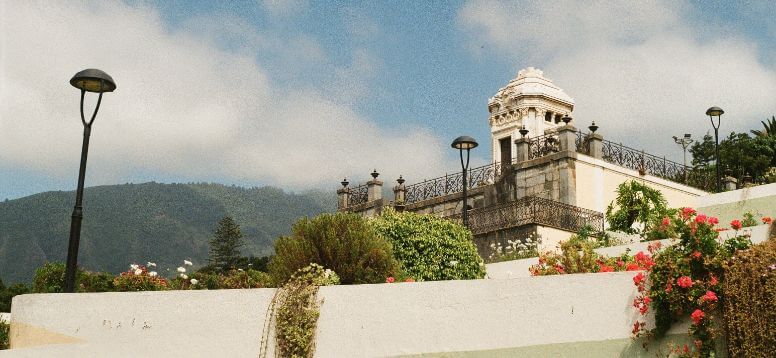 9- La Orotava, Tenerife
In a beautiful valley of banana plantations, this colonial town has been designated a National Historic-Artistic Site. The historic district is filled with gracious old houses, most with ornately carved wooden balconies.
The most notable of these architectural gems is the Casas de los Balcones, built in the 1630s to house a wealthy colonial family. Today it is a museum and gallery of traditional Canarian crafts and sewing. To admire the interior balconies, enter the green patio.
The Iglesia de Nuestra Señora de la Concepción, a 16th-century Baroque church, has two notable bell towers. The beautifully landscaped Hijuela del Botánico teems with over 3,000 colorful tropical flowers and rare plants, surrounded by lawns adorned with decorative pools.
An even larger botanical garden can be found near Puerto de la Cruz, once part of La Orotava, a port known for its fishing it's boats still bring the daily catch to its restaurants.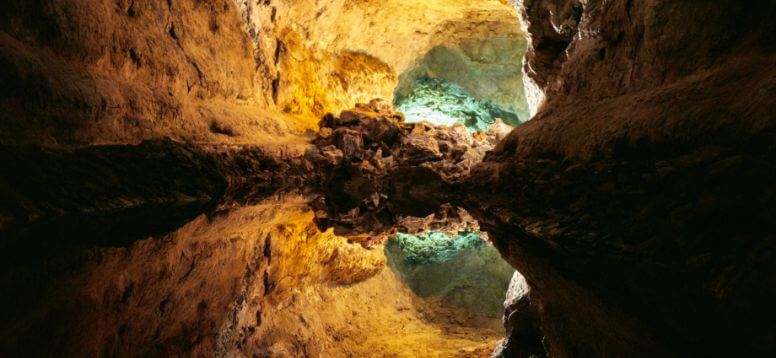 10- Cueva de los Verdes
One of the most popular things to do in Lanzarote is to explore the seven kilometer long volcanic tube that stretches from the La Coruña mountain to the sea. These tubes formed when the surface of a lava flow cooled and hardened during melting, while a river of lava was still flowing below. When underground lava emptied into the ocean, it left the hollow tube deep underground.
The two-kilometer section you can visit inside the cave is in its original state - the only things that have been added are lights and walkways for security. You enter the caves through a jameo - a hole created by the collapse of a thin spot in the roof of the lava tube.
Some of the largest rooms are between 9 and 12 meters. The stone of the walls is red, orange and black, formed by compounds such as iron oxide and calcium carbonate in the stone.
Restaurant Recommendation in the Canary Islands
If you like good food, you should know that Canarian gastronomy is booming: in Tenerife alone, you will find six Michelin stars. And, let's not forget its wide variety of award-winning wines from over 200 wineries.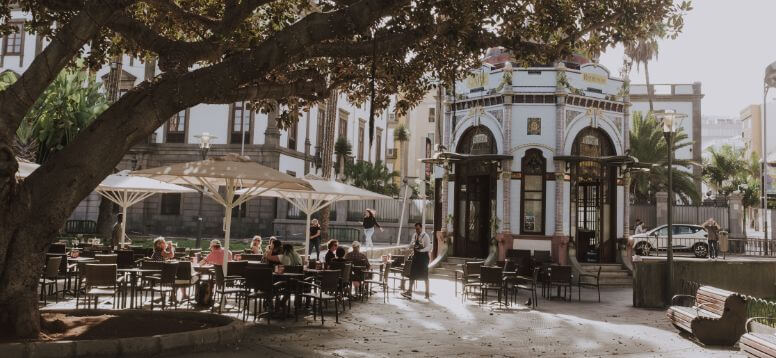 This restaurant is original to say the least. As its name suggests, the Tagoror "cueva" is a cellar, even a cave, inside which you will live an authentic Canarian experience.
This establishment also offers typical Canarian dishes, such as gofio 'escaldado' and papas arrugadas con mojo.
Gofio is surely the most typical food of the archipelago.
It is a kind of flour made from roasted cereals and other ingredients like barley and wheat.
The composition of the gofio escaldado also includes a fish broth.
On the other side, the "papas arrugadas con mojo" are potatoes that are bathed in mojo sauce (red or green), made up of oil, garlic, and peppers, among other things... A real treat!
The unique setting and delicious dishes make this restaurant one of our favorites in Gran Canaria!
Average price: 80 dollars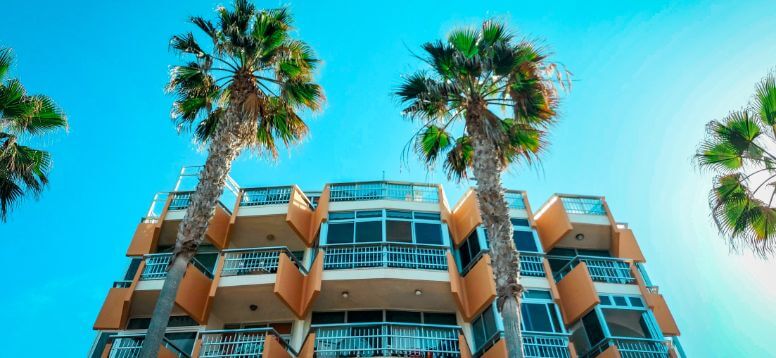 Beach Recommendation in the Canary Islands
In this ranking one could not miss one of the best urban beaches in Europe:
Playa de las Canteras, the lung and the heart of the city and capital of Gran Canaria, Las Palmas de Gran Canaria.
Crystal clear waters in an area almost 3 kilometers long and with life and joy along its truly enviable avenue, from La Puntilla to La Cicer.
Enjoy the most family-friendly and famous beach in the capital of Gran Canaria. Walk along its relaxing and calm shore, crossing one of the best known and emblematic places of the Canary archipelago.
It is a favorite of Canarian families who call this beautiful townhome and one of the best beaches on the island.
You might be interested