Fuerteventura (FUE) Airport - Private Transfers
Fuerteventura is a prime example of Spain's diversity, boasting a unique ecosystem that has earned the island a 'Biosphere Reserve' designation by UNESCO in 2009. Regarding geography, Fuerteventura is the second most important island in the Canary Archipelago after Tenerife.
Fuerteventura's location makes air travel the main access route, with Fuerteventura Airport just 5 km from the island's capital, Puerto del Rosario.
Enjoy a seamless start to your Fuerteventura vacation by booking an airport transfer from Fuerteventura Airport to your hotel or resort through AirportTransfer.com.
Our service provides stress-free transfer solutions to various locations throughout the island, making your journey as smooth and comfortable as possible. Book an airport transfer with us for a convenient, door-to-door service.
Taxis in Fuerteventura are metered, but it's important to watch out for extra charges, such as those for airport pick-ups and late-night surcharges. To avoid hidden surprises, consider pre-booking your airport transfer service and comparing options based on your priorities.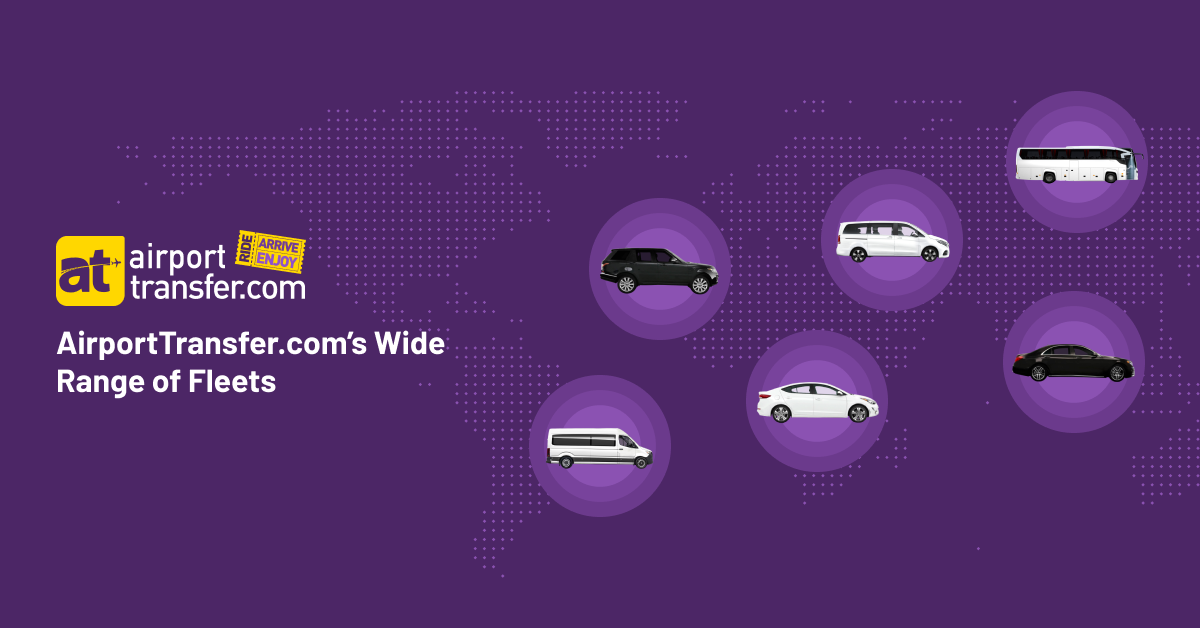 Our fleet of vehicles comes in various sizes and classes, ensuring that we can cater to all travel requirements and budgets. Whether you're travelling alone on business or with your family, we have private and premium cars, including sedans, economy class, SUVs, minivans, and even limousines, that will suit your needs.
Our extra services include pet-friendly vehicles, bicycle racks, roof racks, child seats, and elderly assistance, ensuring that we cater to all your requirements.
You don't have to be concerned about waiting or potential delays since our private drivers will be waiting for you at the airport.
Our flexible cancellation policy allows you to cancel your booking up to 48 hours before your scheduled transfer with a 100% refund. You can also contact our 24/7 customer support team through WhatsApp for any inquiries or assistance.
Our ultimate goal is to ensure every customer is completely satisfied with their transfer experience. We work hard to achieve this through attentive customer service and a commitment to quality.
The best Fuerteventura (FUE) Airport transfer reviews at airporttransfer.com!
Public Transportation - Fuerteventura (FUE) Airport
Fuerteventura Airport (FUE) is well-connected to the rest of the island by public transportation. Several transportation options are available for travellers to reach their destination, including bus, taxi, and car rental when travelling from Fuerteventura Airport to the city centre of Puerto del Rosario,
Fuerteventura Airport Bus
Fuerteventura Airport transfers offers three public bus lines to the capital city, with continued service to various tourist areas on the island. The bus stops are located on the airport's ground floor, near the Exit (Salidas) area.
Route 3 - Route 3 connects Fuerteventura Airport with the tourist destinations of Puerto del Rosario, Caleta de Fuste, and Las Salinas. The buses on these routes operate at frequent intervals, typically every 15 to 30 minutes, depending on the time of day. During late night hours, from 22:00 to midnight, buses run hourly.
Route 10 - Route 10 runs from Fuerteventura Airport to Puerto del Rosario and Morro Jable. Unlike Route 3, this service is less frequent and only has a few daily departures.
Route 16 - Route 16 connects Fuerteventura Airport with the tourist destinations of Puerto del Rosario through Playa Blanca and Gran Tarajal. Route 16 is an infrequent service, with only four buses operating each way from Monday to Friday and two buses each way on Saturdays, Sundays, and holidays.
Good to Know: Planning your journey for certain destinations is important as some services can be very infrequent. Additionally, if you're travelling in a group, the fares for public transportation can add up quickly, so booking a private transfer might be a more cost-effective option.
Taxi & Car Rental from Fuerteventura Airport
Another Fuerteventura Airport transfer option might be getting a taxii from the airport. The taxi rank is conveniently located in front of the airport terminal building, near the exits of the arrivals hall. It's worth noting that Fuerteventura airport taxi prices may vary depending on the day of the week, so be sure to check the prices accordingly.
Good to know: It's important to be aware that some drivers may drive at high speeds, possibly to reach their destination quickly so they can pick up their next fare. Private transport may be the best option if you're travelling with a group larger than four, as most taxis can only accommodate up to four passengers.
You can also rent a car, but most Fuerteventura airport car hiring companies only offer the bare minimum insurance coverage. Upon arrival, they may attempt to sell you an expensive full coverage plan.