Aberdeen Airport All Transfer Services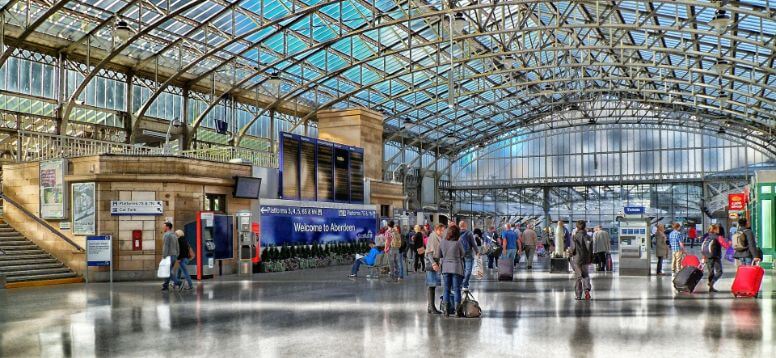 Airport transportation services at Aberdeen Airport are bus and coach services, train lines, taxi transfer services, private airport transfers, and car hire.
Remember that Aberdeen Airport taxis are usually expensive. We recommend booking a private airport transfer via AirportTransfer.com and enjoy traveling hassle-free.
Aberdeen Airport Buses
Buses run to Aberdeen city and surrounding areas from the airport regularly. Travel time between the airport and Aberdeen is 30 minutes.
Airport bus services have a bus station right outside the airport. Passengers can find the bus stop of airport shuttle services following the signposts.
First Bus X27 serves between the city centre and Dyce Rail Station. From the train station, there are scheduled drop-offs to the airport.
Jet Service 727 runs every 15 minutes from Aberdeen Airport to the city centre Monday to Friday.
Catch Service 747 transports the passengers between the airport and Montrose, Stonehaven, Kingswell and Ellon.
Train for Aberdeen Airport Passengers
The nearest train station to Aberdeen Airport is Dyce Rail Station. ScotRail trains run around Scotland.
Passengers can go to the station 2 miles away from the airport by bus, taxi service or The First Bus X27 drop-off lines.
Private Airport Transfer at Aberdeen Airport
When you land at Aberdeen Airport, the first thing you would like to do is either have a meal at The Granite City or go to your hotel immediately. Because Aberdeen Airport is both a heliport and an airport, it has heavy passenger traffic.
You may plan to book a taxi, yet keep the high rank and inconvenience of airport taxis in mind. The best and most effective way of transferring from the airport is booking a private airport transfer that will be waiting for you before you reach Aberdeen Airport.
• Airporttransfer.com is a marketplace collecting best local and professional drivers and transfer providers in Aberdeen on a single platform.
• You can compare different vehicles and prices to determine the most appropriate private transfer option for you.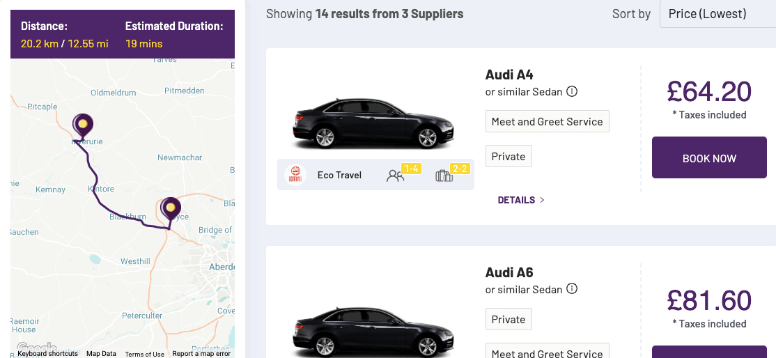 • Booking your airport transfer is very easy at airporttransfer.com.
••• Select your pick-up and drop-off locations, and choose the vehicle type among SUVs, MPVs, Minivans, Limo, Electric cars, Sedans, Economy class. You can also add extra services: child seats, red carpet, elderly assistance, meet & greet service with a nametable, roof racks, VIP greeting, bicycle racks, pet-friendly cars, and more facilities at affordable prices!
Make your reservation using your credit card via AT's secure payment method with a 100% refund guarantee and free cancellation in 48 hours.
☎️ Our experienced customer support team is available 24/7 on Whatsapp to assist you before, during and after your private airport transfer to any location you desire!
FAQ - Aberdeen Airport in Scotland
Where does Aberdeen Airport fly to in the UK?
Passengers can fly to London - Heathrow, Manchester, Sumburgh, Birmingham, London - Luton, Scatsta, Kirkwall, Norwich, Newcastle, Durham, Bristol, Exeter, Norwich, and Belfast - City from Aberdeen Airport.
Can I fly from England to Aberdeen?
Yes, passengers can fly from different parts of England to Aberdeen.
What airlines fly out of Aberdeen?
The following airlines operate regular flights to and from Aberdeen: airBaltic, BH Air, British Airways, Eastern Airways, EasyJet, Flybe, Loganair, Ryanair, Scandinavian Airlines, TUI Airways, Wideroe and Wizz Air.
Who flies to Aberdeen in the UK?
Eastern Airways, Flybe and Loganair operate direct flights from 14 airports in the UK.