How Can I Get From Hewanorra International Airport to City Center?
Castries, the capital of Saint Lucia, is flooded with tourists from all over the world with its magnificent Piton Mountains, the volcano that vehicles can enter, huge waterfalls and white sandy beaches.
If you are coming to Hewanorra International Airport as a tourist, you must be wondering how to make airport-hotel transfers.
As the AirportTransfer.com team, we explained: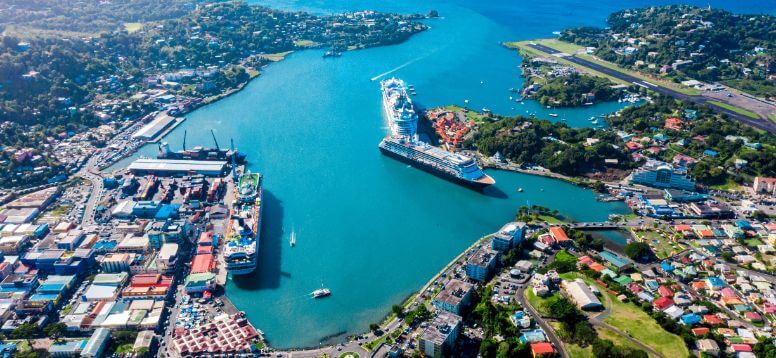 St Lucia Airport Public Transportation Options

• You can use the airport buses to go to Hewanorra International Airport's Castries city centre.
• The journey time from St Lucia airport to the city center will take 1 hour 30 minutes.
• Airport bus ticket prices are about $5.
• St. Lucia Airport buses depart from route 2. Buses start from Vieux Fort and go through several different points, starting with the last stop in Castries.
• You can buy your ticket during boarding and pay the driver.
• However, you can also reach Castries from Saint Lucia Airport by taking a taxi.
• The journey time will take approximately 1 hour.
• The average taxi fares from Saint Lucia Airport to the city center are 80 dollars.
⭐🌠★💫 Best Caribbeans Hotels with Private Beaches

Private Transfer Service at Saint Lucia Airport
✔️ Hewanorra Airport buses and taxis are convenient to go to the city centre, but they are not comfortable and simple enough.
✔️ Choose a private airport transfer instead of taking taxis where you have to shop in local currency on cramped, smelly buses.
✔️ AirportTransfer.com brings Saint Lucia's best drivers and vehicles to your doorstep.
✔️ Experience a fast and safe end-to-end transfer with professional, local drivers.
✔️ Go to this address right now to compare vehicles and prices, enter the information and make your payment.
✔️ Book your Hewanorra Airport transfer in just 3 simple steps.
✔️ For all your questions and the extra services you want (red carpet, extra baggage allowance, child seat, elderly care assistant, etc.), contact us via our 24/7 Whatsapp line.
✔️ All transfers at Saint Lucia Airport have the right to 100% refund and cancellation up to the last 48 hours!