Public Transfers - La Palma Airport
Several public transportation options are available to and from the airport, including taxis, buses, car rentals, and private airport transfers.
Bus from La Palma Airport
The Line 500 bus provides transportation from La Palma Airport to the capital city of Santa Cruz de La Palma. The Line 500 bus runs from Monday to Friday from 06:30 AM to 10:40 PM and on weekends from 07:10 AM to 10:40 PM. The bus service from the airport runs every 15 minutes.
The bus journey from La Palma Airport to Santa Cruz de La Palma takes approximately 30 minutes. The bus stops for Line 500 are conveniently located beside the arrivals terminal at La Palma Airport.
Good to Know:
The bus can get crowded, especially during peak travel times, making it uncomfortable and cramped, especially with large bags or suitcases.
The bus schedule changes during holidays, leading to altered timings and less frequent services. It can be frustrating for travelers who must be aware of the changes.
The bus journey may take longer than an airport car transfer, especially during peak traffic or due to delays/diversions.
Consider a private transfer for a seamless and efficient journey with ample luggage space, a customized schedule, and faster transit to La Palma Airport.
Taxi from La Palma Airport
A Palma airport taxi is another option to get to downtown Palma from the La Palma airport Gran Canaria. The taxi station is in front of the terminal beside the bus stop. Fares may vary depending on the time of day and amount of luggage. Night fares and fares during the week may be higher than during the day.
Good to Know:
Taxi rides from the airport can be problematic as some drivers may deceive passengers by taking a longer route or not turning on the taximeter, leading to overcharging and stress.
Private transfers offer a reliable solution. By booking in advance with AirportTransfer.com, travelers can enjoy modern and comfortable vehicles with experienced and knowledgeable drivers.
Private Transfers at La Palma Airport
If you're planning a trip to Palma, the bustling capital of the beautiful Spanish island of Mallorca, you're in for a treat.
Palma is known as the "pearl of the Mediterranean" and it's easy to see why. With its gorgeous turquoise seas, stunning architecture, and delicious seafood dishes, there's something for everyone in this vibrant city.
AirportTransfer.com offers private airport car transfer services from La Palma Airport to make your trip even more enjoyable.
AirportTransfer.com provides car service with a fleet of modern vehicles, including sedans, SUVs, limousines, and minivans, to accommodate groups of all sizes. The vehicles are well-maintained and equipped with air conditioning to keep you cool and comfortable during your journey.
Our airport pick-up service ensures that your journey begins stress-free. Upon your arrival hall at La Palma Airport, your driver will be waiting to greet you and assist you with your luggage.
Plus, with options like airport chauffeur service and airport pick-up, you can rest easy knowing that you'll be well taken care of from the moment you land.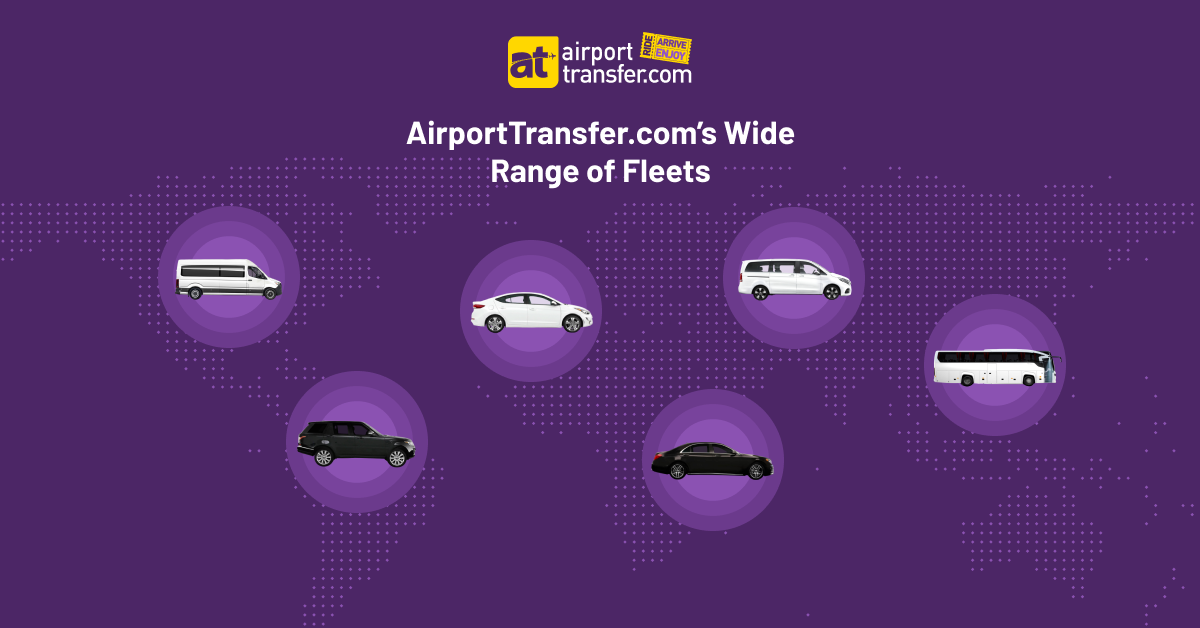 But the benefits continue beyond there. AirportTransfer.com also offers additional services like pet-friendly travel, child seats, red carpet treatment, elderly assistance, and roof racks, so you can customize your experience to fit your unique needs.
One of the best things about booking with AirportTransfer.com is the peace of mind from their 100% refund policy and secure payment options. You can trust that you're getting a fair price and reliable service.
So why stress about transportation during your Palma vacation? Book your private transfer with AirportTransfer.com and enjoy a seamless and comfortable journey to your destination.
You can contact us anytime, 24/7, on WhatsApp if you have any inquiries regarding your booking.
AirportTransfer.com: Your Trusted Source for Top-Rated Airport Transfers
Regarding La Palma airport transfers, reliability and convenience are essential. AirportTransfer.com provides a solution for those who want to avoid experiencing a stressful or uncomfortable journey to the airport.
Let's take a closer look at what customers are saying.
The Best La Palma Airport transfer reviews at airporttransfer.com!