Private Transfer to Santiago–Rosalía de Castro (SCQ) Airport
Santiago de Compostela boasts a rich cultural heritage, deeply influenced by the unique traditions of the Galician region. Visiting this city offers the opportunity to explore this distinctive cultural imprint and immerse oneself in the local way of life.
A private transfer from Santiago–Rosalía de Castro (SCQ) Airport offers endless possibilities for new and returning visitors to Santiago de Compostela.
AirportTransfer.com provides a hassle-free arrival experience from Santiago–Rosalía de Castro (SCQ) Airport. With everything arranged beforehand, there's no need to worry about transportation costs or directions.
Collect your luggage and head straight to your waiting vehicle, allowing you to relax and enjoy the journey to your destination without any stress.
You may look for Santiago–Rosalía de Castro (SCQ) Airport transfers upon your arrival, your driver will be waiting just outside your arrival terminal, holding a sign with your name.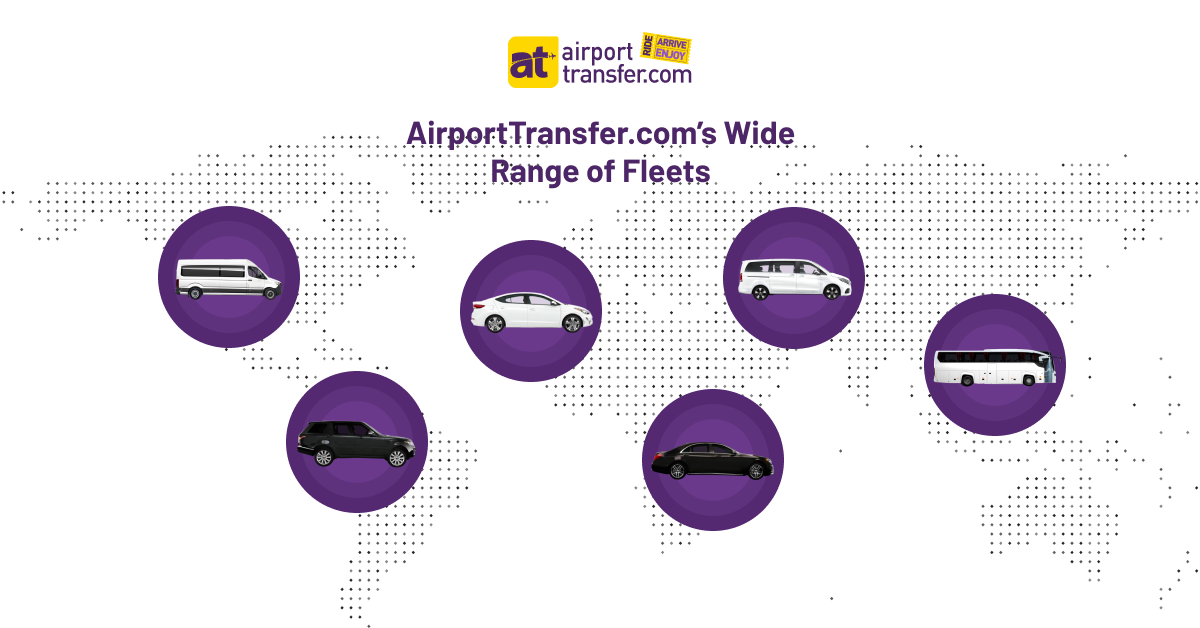 AirportTransfer.com provides various taxi services from Santiago airport, ranging from SUVs, Minivans, MPVs, Electric cars, Economy class, Sedans, Luxury class, and Limos, ensuring a transportation option for every budget and preference.
Additional services like child seats, roof racks, and VIP treatment are available upon request when booking your private transfer. Browse the list of services the company provides during the reservation process to add any extra amenities you may require.
We offer fixed-price private transportation services for all types of vehicles in Santiago with a 100% refund guarantee and secure payment! We are available on 7/24 on WhatsApp to offer customer support and assist you with any queries.
AirportTransfer.com: Making Our Customers' Travel Experience a Happy One
At AirportTransfer.com, we prioritise ensuring customers have a happy and stress-free travel experience. We strive to provide exceptional service from when you book your transfer to when you arrive at your destination.
We take pride in our happy customers and look forward to providing you with the same high-quality service on your next trip.
Explore the testimonials of our happy customers who entrust us with their daily transfer needs.
The Best Santiago–Rosalía de Castro (SCQ) Airport transfer reviews at airporttransfer.com!
Public Transfers - Santiago–Rosalía de Castro (SCQ) Airport
Santiago Airport is one of the busiest terminals in Spain, serving millions of passengers annually. While there are multiple options for ground transportation, including a taxi stand, bus station, and car rental, finding reliable services can be a challenge due to the constant influx and outflow of visitors.
Fortunately, private airport transfers offer a convenient and reliable solution for travellers seeking hassle-free transportation at Santiago Airport.
Bus
Travellers looking to reach Santiago de Compostela from the airport can easily do so via the conveniently located bus stop directly in front of the terminal entrance.
Bus line 6 operates between the airport and the city centre, with stops at Os Tilos and Lugo along the way. This bus service provides transportation from Santiago de Compostela Airport to the city centre and other nearby destinations.
The journey to the Avenida de Rodríguez de Viguri bus stop, located at the city's bus station, takes approximately 20 minutes.
The journey to Praza de Galicia, the city centre, takes around 25 minutes, while the journey to Hórreo Estación, the city's railway station, takes around 30 minutes.
Good to Know:
Travelling to remote rural areas from Santiago de Compostela Airport can be a hassle due to the need for multiple bus transfers.
One major drawback is that public transport can be slow and inflexible, with strict adherence to set schedules.
Unlike public transportation, private transfers operate on the traveller's schedule. Private transfers are the most recommended Santiago–Rosalía de Castro Airport transfer option.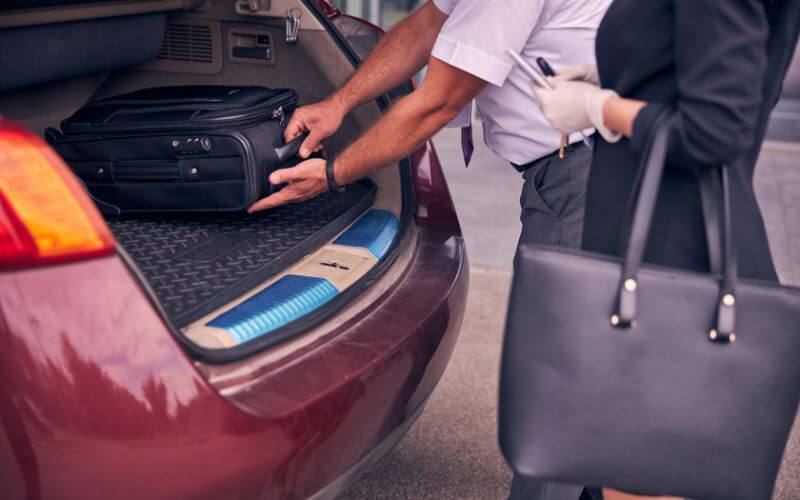 Taxi and Car Rental at Santiago–Rosalía de Castro Airport
Taxi and car rental services are available among Santiago de Compostela Airport transfers. It may be convenient for those who prefer something other than public transportation.
During busy periods or for tourists unfamiliar with the Santiago de Compostela and the Galicia region, there is a risk of encountering unscrupulous taxi drivers who may attempt to take advantage of the situation by overcharging or exploiting language barriers.
At the same time, car rental companies typically have strict terms and conditions that require the car to be returned in an acceptable state without any damage.
With private transfers, you can book in advance, and the cost is fixed, providing a stress-free experience and peace of mind.