Private Airport Transfer at Nadi Airport | NAN
Among the Nadi Fiji Airport transfer options, the most passenger-friendly one is to get a private transfer service. For example, you may want to search for hotel transfers in Fiji via Google, or you may want to evaluate the options that appear in front of you by searching for Suva Airport Transfers.
But for that we have a great offer for you!
Airporttransfer.com is the best among Nadi Airport transfers (Airport Transfers Fiji). Because in case of any disruption, you can cancel your reservation free of charge up to the last 48 hours and use your 100% refund right. For Nadi Airport transfer, we have dozens of vehicle options such as Sedan, Minivan, SUV, Limo and Bus. We claim, as AirportTransfer.com, we are in every economic class and we are completely budget friendly.
Immaculate, hygienic Fiji airport transfers can pick you up from your hotel and drop you off at Nadi Airport, accompanied by private and experienced drivers. Or, it can carry you end-to-end during your transfer from NAN to the hotel. Build your route and vehicle accordingly, whichever is appropriate for your Fiji holiday.
After entering your reservation information, you can make your Nadi Airport transfer payment with many different methods. We've shared a great image of it below.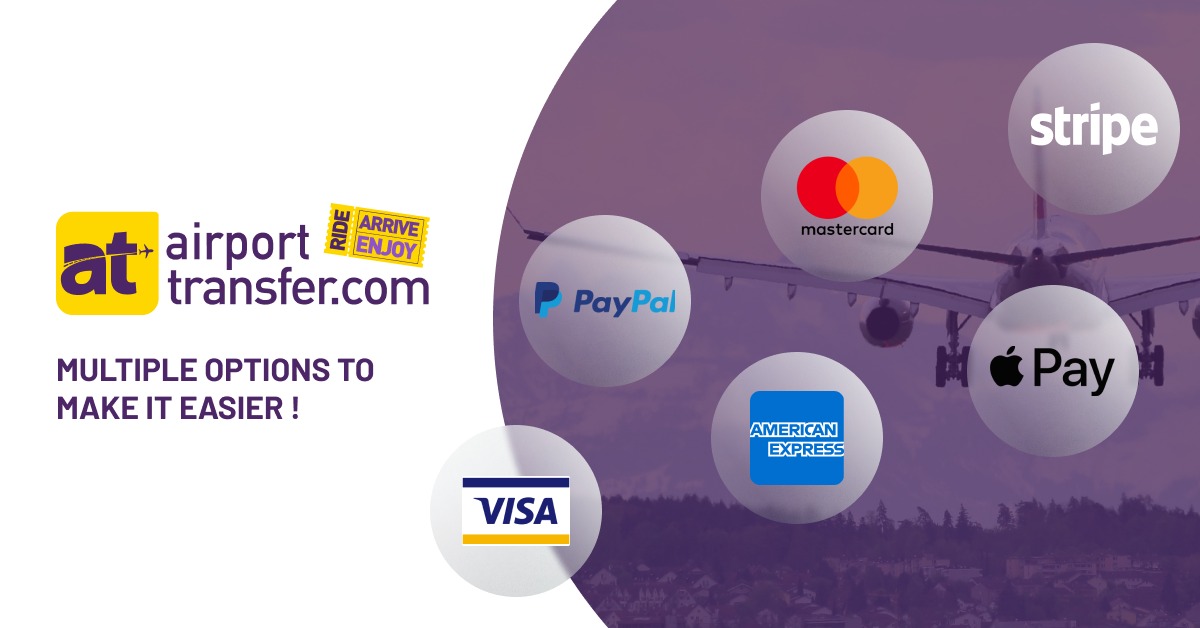 Which is the most suitable for you? In the meantime, do not hesitate to reach our support team via Whatsapp 24/7 for all your questions and changes regarding your journey.
Choose AirportTransfer.com for a safe, fast, comfortable and on time Nadi International Airport transfer, don't think twice!
Nadi Airport Transportations - Public Options for NAN
All the information you are wondering about Nadi Airport transportation options is here! Do you need a taxi or a bus to get to the city center from Nadi? Then check out the transportation options and means you can use for Fiji Nadi airport.
Nadi Airport Bus Services
You can use several bus companies for Fiji Nadi Airport buses. These are also known as Fiji public buses. Nadi Airport bus tickets are sold within the airport, bus fares vary depending on the location
Sunbeam Transportation
It offers routes from Nadi Airport to Lautoka and Suva. It departs once an hour between 03:00 - 15:15. Travel time is very long and you can get stressed. Nadi Airport, Nadi, Fijian, Sigatoka, Deuba, and Beach House destinations are where the bus will stop.
Coral Sun Express
Hotels also offer routes to Natadola Junction, Art Village, Mango Bay Junction, and Nadi and Suva. It does not provide 24/7 service, you can only use it between 07:30 - 00:00. You can go to Suva from Nadi in 4 hours by bus. Are you stressed?
Pacific Express
From Nadi Airport; You can ride to Suva, Pacific, Navua, Sigatoka, Nadi or Lautoka.
Nadi Airport Classic Bus
You can choose to travel between Nadi Airport and Votualevu roundabout. Bus times from the airport: 06:30 and 18:05. It moves on time. It passes through the Votualevu roundabout at 06:30 and 18:30.
Nadi Airport Taxis
Can you get a taxi from Nadi Airport? Taxis at Nadi International Airport are owned and operated by individual proprietors with the approval of Airports Fiji Limited. It is mandatory for taxi meters to be utilized for all trips. Nadi taxis go to Nadi in 10 minutes (if there is no traffic jam!) You can take a taxi from the airport to Lautoka in half an hour. However, you can reach Suva after 4 hours by Taxi. The starting price of Nadi airport taxi fares is slightly higher.
Don't forget to check the taximeter often!