Sangster Transfer - Public Airport Transportation
Sangster International Airport transportation service alternatives are ground transportation via public buses, Jamaica taxi service, car rental companies, airport shuttle service, and airport transfers that passengers can get private transportation in Jamaica.
⭐ 🌟 🌠 ✨ What you need to know about airport transfer services?
The airport is within the driving distance of the cruise ports of Montego Bay and Ocho Ricos.
Driving from Sangster Airport to Negril, a popular tourist destination, is also possible for those preferring to drive their personal vehicle.
North Jamaica Airport Buses
• Montego Bay Metro, operating the municipal transport service, has three regular lines for the Montego Bay Airport transfer: Greenwood - City Center, Sandy - City Center, and Cambridge - City Center.
• The buses depart from Montego Bay Airport Transportation Center. The transportation hall is a couple of hundred meters across from the airport.
• Although they are the cheapest transportation option, public buses are not recommended for foreigners in Jamaica due to long travel times and no direct routes.
Transfer/Tour Operators & Hotel Shuttles MBJ
Sandals, Half Moon, Couples, Hyatt, and Club Mobay hotels have lounges and airport shuttle services at Montego Airport. Passengers can get further information about the transportation service by contacting their hotel.
Nearly 30 Transfer/tour operators in the Ground Transportation Arrivals Hall take passengers to the pre-booked associations.
Apart from shuttles and public transport, there are Sangster Airport taxi companies serving the busiest Jamaica airport. Montego Bay Airport taxi service can be reached at the Authorised Airport Taxi desk outside the Customs exit.
The two companies JCAL Taxi and Juta Taxi are Montego Bay Airport's authorized providers. Other companies such as On Time Taxi Montego Bay also serve at the airport.
Maybe, you have already started to ask: "How much is a taxi ride in Montego Bay?" or "Can I get a taxi at Montego Bay Airport?"
Well, are you sure? You may have heard about the Jamaica taxi service in Kingston. Similarly, Montego Bay taxi rates are higher than you expect because of being a popular tourist destination.
Private Airport Transfer Sangster Jamaica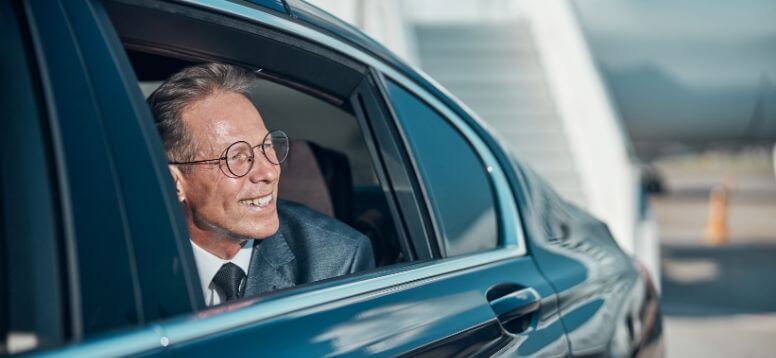 If you are looking for a reliable and affordable private car service at Montego Bay Airport Jamaica, private airport transfer is at your service!
AT is an online platform gathering the best providers of Jamaica private transfers on a single platform.
You do not need to spend hours in the lines, wait for the transportation desks or try to find a taxi at the most crowded airport in Jamaica!
All you need to do is book your air-conditioned private transfer in advance in three steps and enjoy your hassle-free and door-to-door transfer after your flight.
Step 1, enter your pick-up and drop-off locations and date to filter the available vehicles.
Step 2, choose the most appropriate vehicle type among many alternatives: Sedans, Minivans, Electric cars, MPVs, Luxury cars, Limousines, SUVs, Economy class...
Step 3, Select additional services to make your transfer even more comfortable and personalized with such facilities as child seats, elderly assistance, roof racks, VIP greeting, luggage assistance, red carpet, bicycle racks, meet & greet service with a name-table, pet-friendly vehicle.
And finally, securely make your %100 refund-guaranteed payment which has free cancellation in 48 hours on Airporttransfer.com's online payment page. That's all! Now you are ready to have a comfortable transfer service and a great time in Jamaica!
☎️ Airporttransfer.com offers professional customer support 24/7 on Whatsapp for your reservation details, further questions, and any necessary information.