Gibraltar International Airport Public Transfers
Gibraltar Airport transfers can be easily used from anywhere in Gibraltar. Cadiz – Malaga Highway (A7/E15) can be used for Gibraltar to Malaga airport transfer to and from Spain. On arrivals from Spain, we recommend that you make sure you allow enough time for the border crossing. If you wish, you can park your car and walk across the border. The airport is just a two-minute walk away.
By bus
Gibraltar Airport shuttle Line 5 is a single bus line running between Market Place - Airport and connects to other buses. The bus stop is on Winston Churchill Avenue and a two-minute walk from the terminal.
Click for route information of all bus lines in Gibraltar and Malaga to Gibraltar bus timetable.
Those who will travel between Gibraltar Airport and Spain should go to La Linea Bus Station. The bus station, which is very close to Frontier on Calle San Felipe, is accessible by local buses and resorts in the area. From this location, Gibraltar to Marbella, to Seville, to Estepona, from Malaga to Gibraltar (and vice versa) can be transfered. Malaga Airport shuttle bus from Gibraltar to Malaga Airport operates from the terminal, too.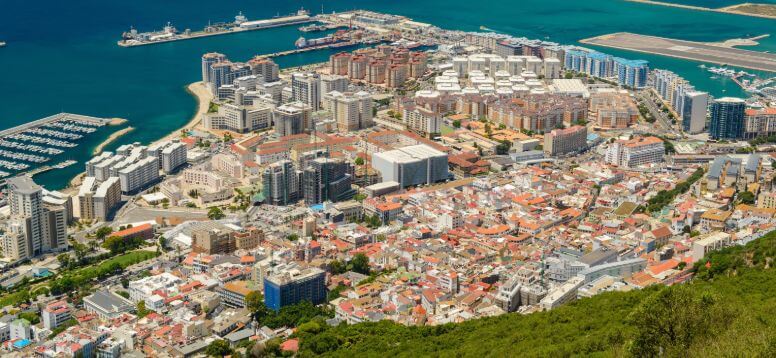 Private Taxi Gibraltar Airport GIB
The fastest and easiest way to travel between Gibraltar Airport and popular destinations such as Rock of Gibraltar, Frontier, Casemates Square, Piazza, Anglican Cathedral, Trafalgar Cemetery is to take a private transfer. Taking a private taxi to Gibraltar or Gibraltar to Malaga taxi means unpredictable costs and an unfamiliar driver, but airporttransfer.com offers a fixed price and the opportunity to meet your driver in advance.
Book your transfer with airporttransfer.com as soon as you receive your flight ticket for a comfortable journey with private transfers all over Gibraltar and to Spain!
Access the most experienced ground transportation companies and compare prices for your Gibraltar International Airport transfer. We keep as many options as possible so that you have a smooth and practical experience. To provide you with the best quality service, we control the fleets of our contracted companies and accept the latest models of luxury cars, standard sedans, minivans, or SUVs.
⭐ There is a 100% refund guarantee and 24/7 customer support on Whatsapp for your private airport transfer. Book now and enjoy your visit to Gibraltar on a privileged trip.