Public Transfers Buenos Aires Ezeiza Airport
Buenos Aires Ministro Pistarini Airport Transfer Shuttle by public transport is available to the city center or the surrounding areas. The official means of transportation from Buenos Aires airport to city are bus, taxi, and private transfer. Buses will be crowded; taxis will not be trustable. However, airport transfer is private and trustable. In this direction, you can travel with buses numbered 394, 518, 51 and 8. Ministro Pistarini Shuttle bus stops are outside the terminal building. SUBE cards are used to get on the city public transportation vehicles.
Bus line 394: Ezeiza Hospital, Jorge Newbery Road, Post Office Headquarters, Monte Grande Railroad station, route 4 and Camino de Cintura.
Bus line 518: Barrio Uno, Ciudad de Ezeiza, Canning / Ramal Barrio Del Plata, Barrio Uno, Ciudad de Ezeiza, Hospital de Ezeiza, Ciudad de Carlos Spegazzinie
Bus line 51: Monte Grande, Temperley, Lomas de Zamora, Banfield, Lanús.
Bus Line 8: Liniers, Mercado Central, Congreso, Plaza de Mayo, Facultad de Ingeniería (UBA), Paseo Colon.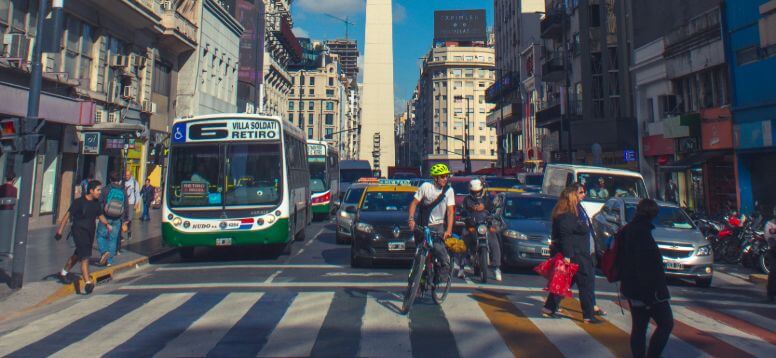 Minibus EZEIZA
You can use the Ezeiza Buenos Aires Airport Shuttle buses of the transportation company Manuel Tienda Leon to go from Ministro Pistarini International Airport to San Telmo, to AEP Airport Buenos Aires, or to downtown Buenos Aires. These minibusses, which do not operate on weekends, depart every 30 minutes between 08:00 and 18:00 on weekdays.You should read this article: Disadvantages of Public Transport in Airport Transfers
Private Transfer to Ministro Pistarini Airport
You can book a private airport transfer from Buenos airport to city with a hassle-free trip. Argentina's capital, Buenos Aires, is the country's most populous city with a population of over 12 million. You can transfer from Buenos Aires Airport to city by simply booking your ride via AirportTransfer.com.
If you are coming to Buenos Aires for the first time, you should definitely try the famous dish "Asado". You can find this dish in any restaurant.
You should also visit Plaza de Mayo, Tigre and Cafe Tortoni. Or maybe you need a reliable vehicle from Jorge Newbery Airport AEP to EZE Airport as a shuttle service for your business trip?
Well, in order to do all these, you need to go quickly from the airport to your hotel or to your destination because your time is paramount. Instead of waiting for a bus for hours at EZE, you can travel by Argentina's best road transport companies.
Start your vacation in the best possible way by making your airport transfer from Buenos Aires Ministro Pistarini International Airport easy and hassle-free.
You'll get to your destination with Buenos Aires's best local drivers with airporttransfer.com.
You can book your airport transfer with just a few simple steps and affordable prices.
By the way, you can do all of this on airporttransfer.com with an online and secure payment option and a 100% refund!
You can book a private airport transfer from EZE airport to the city centre.
Don't hesitate to write to us on Whatsapp or call us for all your needs and suggestions regarding airport transfer reservations!