How to Get From Termini to Leonardo Da Vinci Airport - All Possible Ways
Rome-Fiumicino Airport (FCO) is the most important airport in Italy, with more than 40 million passengers every year. Its official name is Leonardo da Vinci Airport, in homage to the Italian inventor of the 15th century. Fiumicino is the small town where the airport is located. Rome-Leonardo Da Vinci Airport has three main terminals and a satellite. Rome's largest airport, Rome-Fiumicino (FCO), is approximately 30 kilometers from Rome's city center.
· The airport is served by so-called traditional companies (Air France, Lufthansa, etc.) and low-cost companies (Vueling, Easyjet, etc.). Different possibilities are available to you to reach the city center. We wrote this blog for those wondering about door-to-door airport transfers in Italy.
How to get to Rome from Rome Airport Transfer Service?
Of course, it is possible to list the disadvantages of public transfers, but for those who are still curious, we have explained how to get from Termini to Rome Airport!
If you want to opt for comfort and tranquility, the transfer service is the most suitable for your needs. A driver will be present at the airport to welcome you with your name written on a sign and take you to the desired location.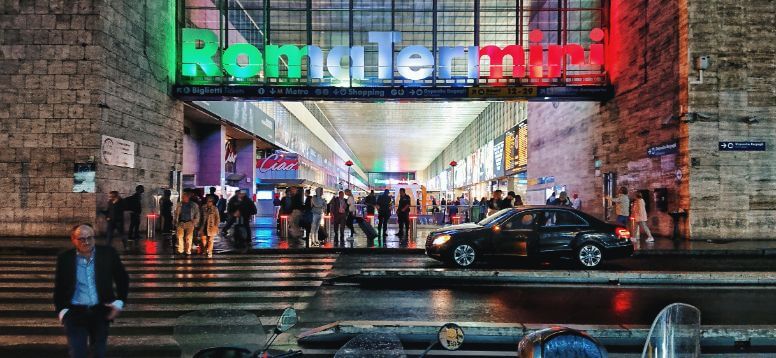 This solution is ideal to avoid being scammed and encountering language-related difficulties. You can reserve a vehicle online for 50EUR by clicking here.
If you are traveling alone or as a couple, you can also book shared Hotel transfers for 17EUR per person.
It is the same service, with the only difference being that the vFind out here the routes and tools you can take between Termini and Leonardo Da Vinci. Busses, taxis, private transfers, Leonardo Express train vehicles are shared with other travelers.
City Bus
The citrus Airport shuttle stops at Piazza Cavour 33 and Via Marsala 5 (near Termini). The price is 6EUR one way and 8EUR return. Buses depart from the airport between 08:30 and 00:00.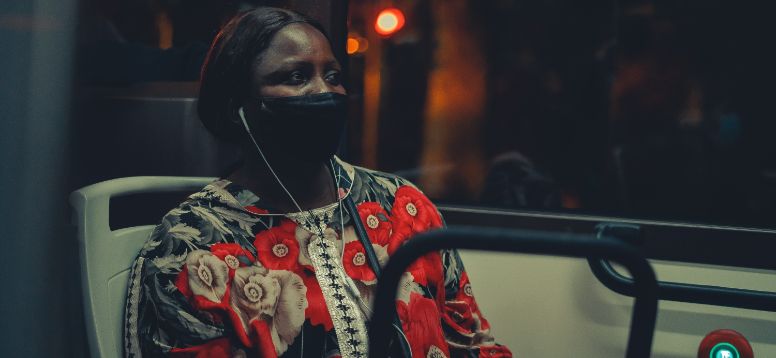 The Sit Airport bus is one of the best ways to get to central Rome from Ciampino Airport. We, therefore, recommend that you book your tickets in advance.
Buses from Terravision
Terravision buses connect Terminal 3 of Leonardo Da Vinci Airport with Termini Station (nº29, Via Marsala) in about 55 minutes. The price is 6EUR one way and 11EUR for a round trip. Terravision buses leave the airport between 05:35 and 23:00. We recommend that you buy your tickets in advance on their website since you can usually benefit from discounts of up to 50%.
In the meantime, read the answer to the question "How can I get the cheapest flight ticket?"
Leonardo Express train
The Leonardo Express train connects Leonardo Da Vinci Airport with Termini Station in just 30 minutes.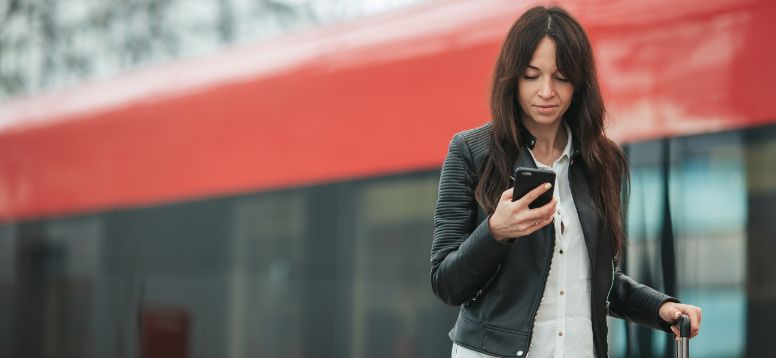 The price is 14EUR each way and, although it may seem expensive, it is the fastest option to get to the center. This Railway operates between 07:00 and 23:30, and children up to 12 can ride it for free.
Regional train FR1
The regional train of the Sabina-Fiumicino line (FR1) is a cheaper alternative to the Leonardo Express.
The ticket price is 8EUR each way, and the train stops at the following stations: Tiburtina, Tuscolana, Ostiense, and Trastevere. At Ostiense/Piramide you can take metro line B.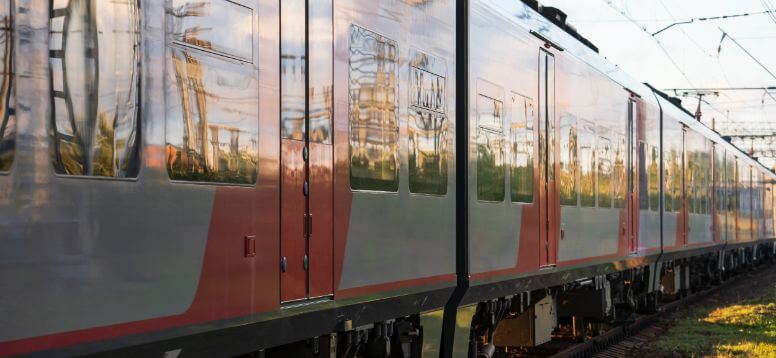 A regional train is a good option for people housed in these neighborhoods. This train operates between 06:00 and 23:30.
Other buses
Another bus to the city center company connects Rome with Fiumicino Airport: Schiaffini. All these buses depart from terminal 3 bus station. They operate between 6:05 a.m. and 8:25 p.m., running approximately every 45 minutes. The price is €5 one way, €8 on return.
Private transportation from Leonardo Da Vinci Airport to Termini
Going to the airport with private airport transfers will always be the safest and most comfortable option. It will be good for you to have a comfortable transfer journey in Rome with stress-free, fast and friendly drivers.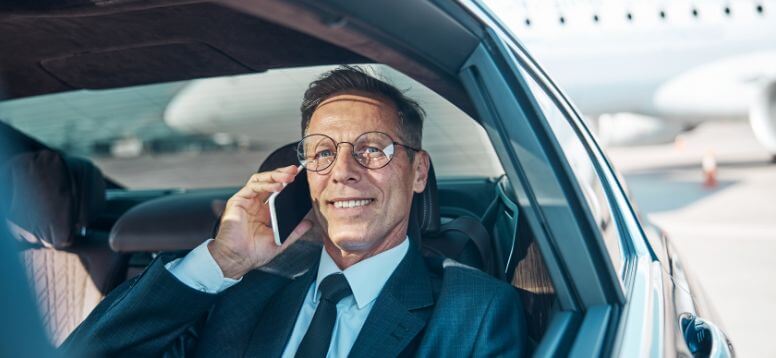 With the privilege of cancellation up to the last 48 hours, you can choose luxury or budget-friendly taxis at affordable prices. With airporttransfer.com, you can simultaneously list many vehicle types for the best Rome Airport transfers such as sedan, luxury, SUV, minivan, and limousine and choose the one you want.
Click here to book a private airport transfer from Termini to Leonardo Da Vinci Airport in just three steps with Airporttransfer.com.
Local Taxi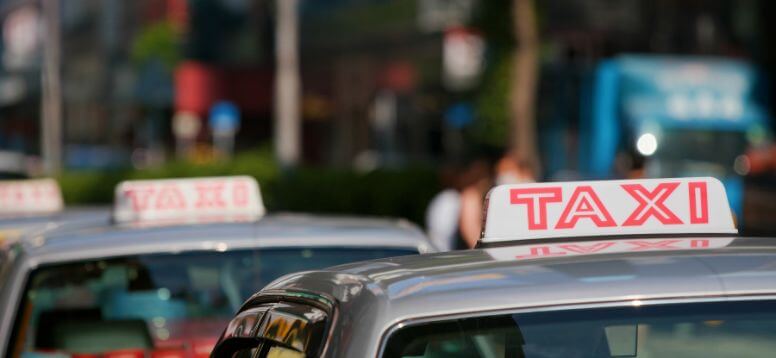 Taking a taxi from Fiumicino to central Rome hotels has a fixed cost of 48EUR and includes four passengers and their suitcases. In practice, it is better to ask before boarding to avoid future misunderstandings! Read more, Uber vs Taxi for Airport Passengers
What should you choose to get from the airport to your hotel in Rome?
There are several solutions to get from the airport to Rome's city center: train, bus, private taxi or airport. Private transportation from Leonardo da Vinci airport to Termini is booked in advance. On the other hand, check that it is a private transfer if you do not want to wait at the airport.
Where to stay in central Rome? ( Hotels)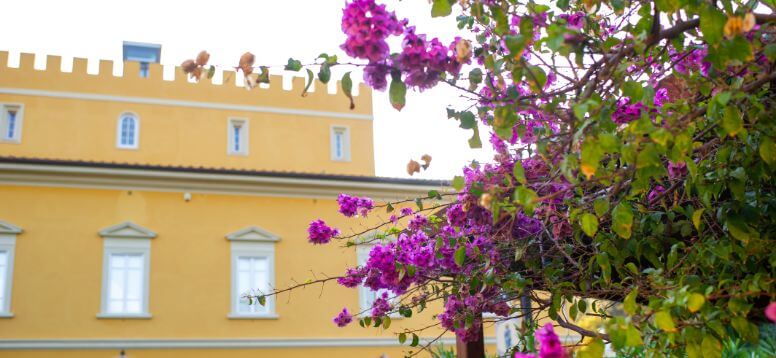 The best area to stay in in Rome in 2022 remains the historic center if your Budget accommodation allows it, 150€ per night. Otherwise, the suitable plan is to find a hotel near Termini station. For the location/price ratio, this area is unbeatable.
The main difficulty of the historic center has sufficiently well-insulated housing. Indeed, this is one of the main drawbacks of the former. Here are two other hotels were to sleep in Rome as a couple or as a family. Tips for Booking a Good Hotel Online.
The Bridge Suites Hotel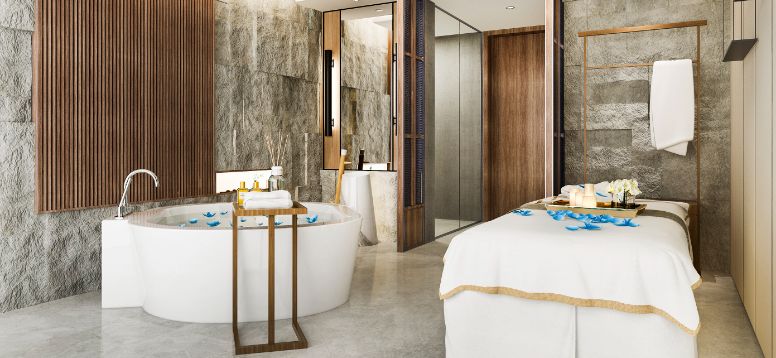 The Bridge Suites hotel is very well located and close to the quays of the Tiber. This luxury hotel is approximately 32 kilometers from Leonardo da Vinci Airport. At around 180 EUR a night, this luxury hotel is the perfect place to enjoy Rome.
Hotel Residence Regola
Meanwhile, the Hotel Residence Regola is soberer in decor, but just as well located for visits. This somewhat more convenient hotel is approximately 27 kilometers from Leonardo da Vinci Airport. At around 130 EUR a night, this luxury accommodation hotel is the perfect place to stay in Rome at an affordable price.
What is the best season to go to Rome?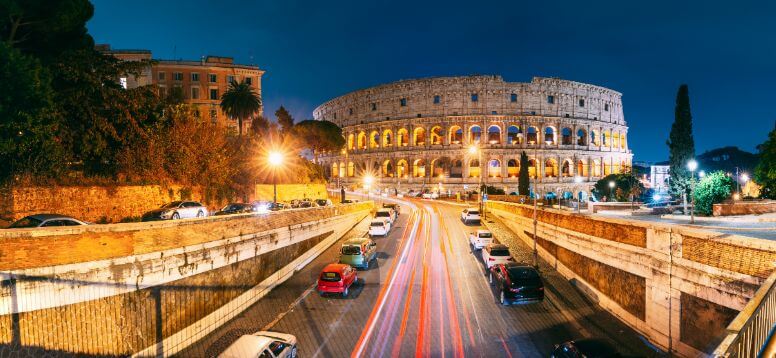 The Eternal City can be visited all year round. To take advantage of a mild sky and fewer crowds at the Colosseum, Villa Borghese, the Trevi Fountain, and many other unmissable UNESCO heritage sites, choose a trip to Rome in the spring or autumn.
The countryside of Latium then offers a rural landscape.
What is the climate and weather like in Rome?
Rome benefits from the mild Mediterranean climate. In August, summer is hot and dry, with an average of 25°C, while winter is mild (9°C on average in January) but can be rainy. From May to September, the Rome tours season is at its peak.
✅ From June (the driest month), the temperature becomes heavy in the capital, with heat peaks that can reach 40°C.
✅ To benefit from a bit of freshness, opt for a stroll along the banks of the Tiber.
✅ The period from November to April is less crowded, with some peaks at Christmas, during the Mardi Gras carnival, and during the Rome Marathon, which is held in April.
What are the festivities in Rome?
Your holidays in Rome can be designed around the holidays and festivals, landmarks that can only add charm and interest to your stay. Below is a selection of events.
Namely: religious holidays (Easter week, Ascension, Christmas, Epiphany, All Saints, etc.) rhyme with the high season because the Vatican then attracts pilgrims.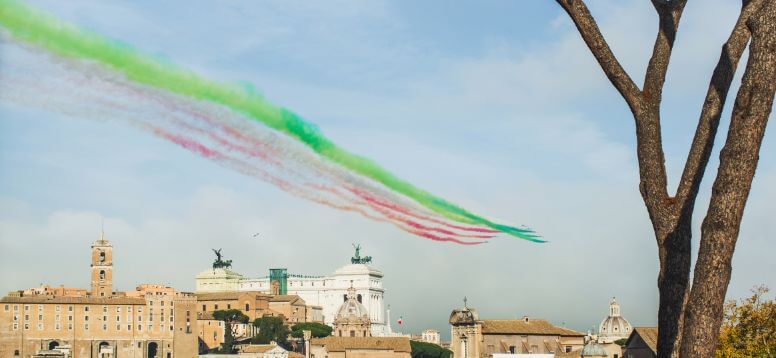 Events calendar in Rome
January: Festa di Rome (January 1); Epiphany (January 6)
February: Carnival
April: Rome Marathon; the anniversary of the birth of Rome (April 21); Holy Week; a celebration of the liberation of Italy (April 25)
May: Labor Day (May 1)
June: National Day of the Republic (June 2); Rock in Rome; music festival (June 21); St. John's Day with fireworks (June 23)
June-August: Cinema Island; Rome Opera
June-September: Estate Romana
July: Festa de Noantri
August: Feast of San Lorenzo; Assumption (August 15)
September: International Festival of Music and Sacred Arts; Note Bianca
October: Rome International Film Festival
November: Rome Jazz Festival
December: Piazza Navona Christmas Market; Rome gospel festival
You might be interested