Phuket is a mountainous island with tropical forests and beautiful sandy beaches in the Andaman Sea. Away from the bustling towns of Phuket and Patong, it hosts some of the best hotels and resorts in the world on prime beachfront locations.
The combination of outstanding natural beauty, tropical climate, and Thai hospitality is a heavenly mix.
If there is one thing, Thailand is known for its stunning beaches.
Phuket, Thailand's largest island, is home to some of the best for ocean lovers. Travelers often spend their days playing in the water, snorkeling along the reef, or diving from the top of the cliffs. For the best water views, hotels in Phuket, and easy beach access, consider staying at a hotel with its own private beachfront.
The resort offers Backlinks incredible facilities, excellent service, and a unique experience without exception.
1- Beyond Resort Karon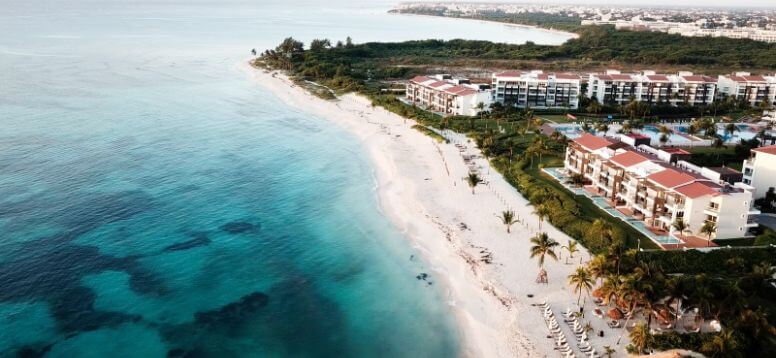 Minimum price per night: 80 Euro
Google score: 4,4
Distance from city center: 15 km
Beyond Karon Resort is an upscale, adults-only resort claiming the distinction of being the only resort located right on Karon Beach.
The location makes for some great ocean views -- from the rooms, two pools, and its restaurant-- and a relatively peaceful atmosphere.
Spacious units come with furnished balconies, though there have been reports of issues with mosquitoes.
Rates are on the pricey end of the scale for this caliber of the hotel, but you're paying for its unique setting and stunning sea views.
2- Banyan Tree Phuket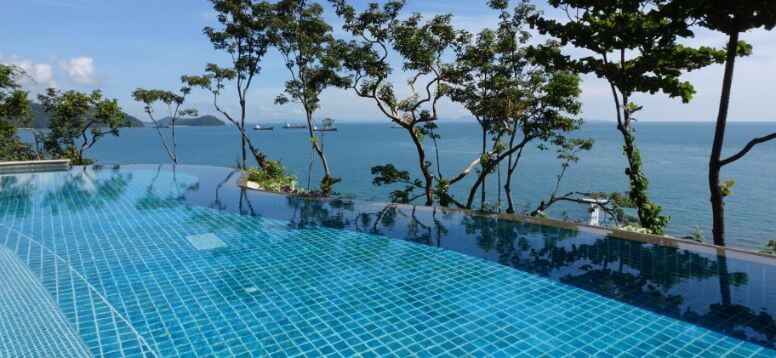 Minimum price per night: 290 Euro
Google score: 4,8
Distance from city center: 23 km
Banyan Tree Phuket is one of the largest five-pearl resorts in Phuket, with more than 100 guest villas on sprawling garden grounds that can be tricky to navigate.
Artificial lagoons and the Andaman Sea provide beautiful water views.
Villas are spacious and include luxurious details like private outdoor spaces with hot tubs or pools, designer furnishings, and pillow menus.
Features here are closer to what you'll find at an all-inclusive in the Caribbean than what's typically offered in Thailand: cooking classes, boat rides, a kid club, multiple restaurants, a sandy beach, a pool free form, yoga, a golf course, bikes, and even a baby elephant for photo ops.
3- JW Marriott Phuket Resort & Spa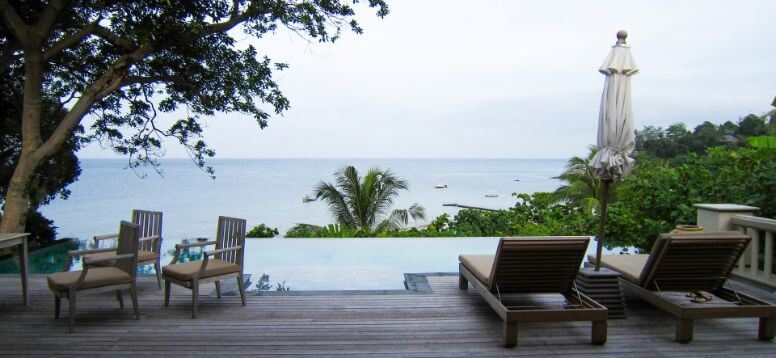 Minimum price per night: 160 Euro
Google score: 4,6
Distance from city center: 41 km
JW Marriott Phuket Resort & Spa is one of the most luxurious properties (with a price tag to match) in Phuket.
The tropical gardens and friendly room service are nearly impeccable. A location near Phuket International Airport is convenient for flights but less for those wanting to explore Phuket.
There are three upscale swimming pools, a luxury spa, and 12 different restaurants and bars.
Contemporary rooms include balconies and mini-fridges, while the villa has a private pool. The drawbacks are that the beach isn't suitable for swimming, and past guests have reported that kids have a run for the place.
4- Trisara
Minimum price per night: 700 Euro
Google score: 4,8
Distance from city center: 26 km
Trisara Phuket is one of the most luxurious and private five-pearl properties in Phuket.
Guests are met at the airport by an SUV and shuttle to the sleek resort, with a private sandy beach, infinity-edge pool, three restaurants, and gorgeous rooms with private pools and the Andaman Sea views.
There is a private boathouse and a popular Jazz Brunch on Sundays.
Prices are high, but freebies include airport transportation, a breakfast buffet, chocolates, and Wi-Fi. For honeymooners and families who can afford it, Trisara is hard to beat.
5- SALA Phuket Mai Khao Beach Resort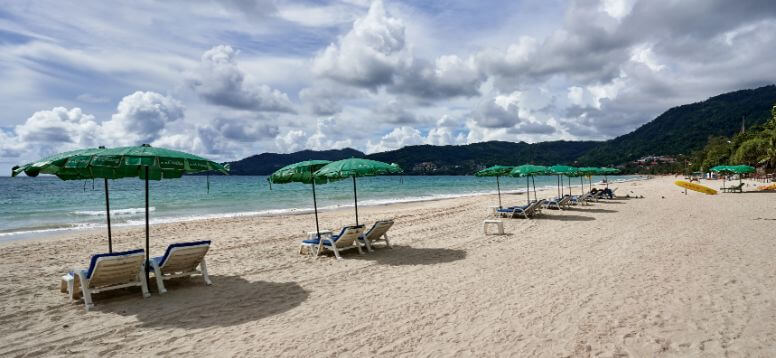 Minimum price per night: 150 Euro
Google score: 4,6
Distance from city center: 40 km
SALA Phuket Resort is a 5-star resort romantic option in a series of upscale-to-luxury resorts on Mai Khao Beach near Phuket International Airport.
Apart from its many competitors, this property is its intimate size, rooms with open-air bathrooms and gorgeous soaking tubs, and swimmable stretch of beach.
Two ocean-facing infinity pools, and there's not much to do on-site besides borrowing one of two kayaks, biking, visiting the spa, or dining at the gourmet restaurant.
Families with kids will be much happier down the road at the JW Marriott Phuket Resort & Spa, with larger waterslides and pools, plus a kids' club.
6- Movenpick Resort & Spa Karon Beach Phuket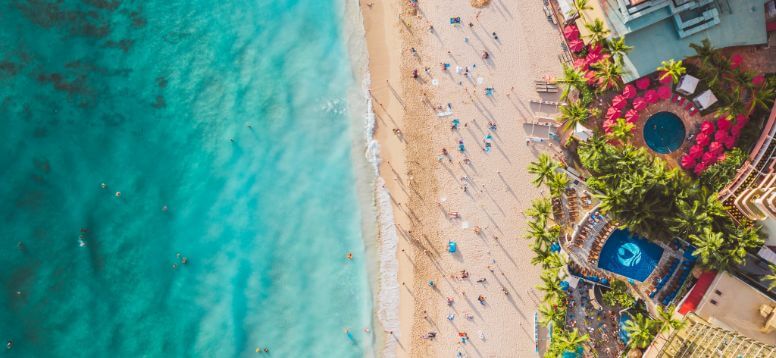 Minimum price per night: 140 Euro
Google score: 5
Distance from city center: 17 km
This Moevenpick Resort location, part of a global chain, is a huge upscale property set in sprawling tropical gardens overlooking Phuket's beautiful Karon Beach.
Amenities are plentiful and include four pools, four restaurants, a spa, and plenty of activities to keep kids entertained.
A buffet breakfast is included in the price of the room. Most rooms and villas have sea-view balconies; however, some units are starting to show wear while generally well-maintained.
Rates are on the high side, but it's a solid option for this type of upscale vacation retreat.
⭐★ Best Restaurants of Bali - Ultimate Travel Guide
7- Cape Panwa Hotel
Minimum price per night: 70 Euro
Google score: 4,6
Distance from city center: 25 km
The 205-room Cape Panwa Hotel is an upscale property located directly on Panwa Beach.
It's a solid pick for families and couples who want quick access to the hustle and bustle in nearby Phuket but prefer to sleep and eat somewhere quieter.
The hotel makes transportation easy with a free shuttle and parking. Guests who want to stay on the property can take advantage of the white sands, outdoor pool, multiple restaurants, and cultural and fun activities.
Rooms are spacious and well-equipped with creature comforts like pillow menus and balconies, but past guests have reported occasional cleanliness issues.
Larger groups (or honeymooners) can upgrade to a Lodge or Villa with a private infinity pool.
8- The Racha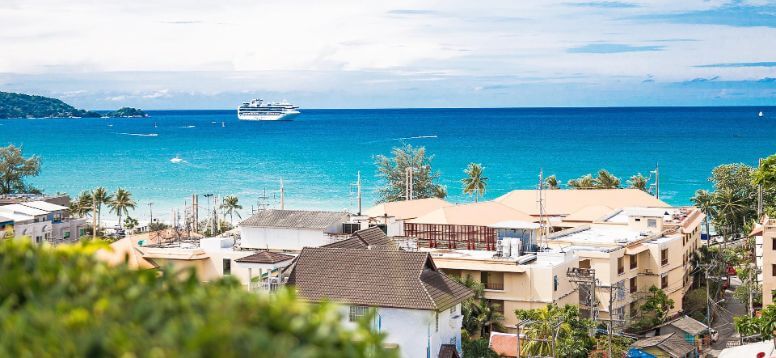 Minimum price per night: 160 Euro
Google score: 4,4
Distance from city center: 19 km
The Racha is a five-pearl eco-chic resort on the tiny island of Racha Yai in the Andaman Sea.
It's a 35-minute boat ride from Phuket to get there, and there's a charge for the transfer. Once guests arrive at the island, they are greeted with the sight of white villas built with clean lines, blending in with the natural surroundings over the tropical landscape and water.
The villas are clean and comfortable; some have private plunge pools and spacious outdoor bathrooms.
Recreational facilities are top-notch: mountain biking, water games, tennis courts, a spa, and more are all offered. However, the sandy beach club is a hot spot for tourist boats from Phuket and gets overrun with day-trippers often, making it not exactly ideal for those who want a quiet, romantic tropical vacation.
⭐★ TOP TRAVEL DESTINATIONS FOR SENIORS
9- Le Meridien Phuket Beach Resort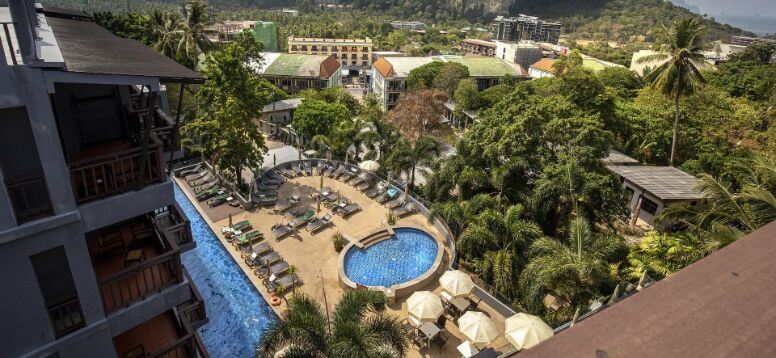 Minimum price per night: 120 Euro
Google score: 4,6
Distance from city center: 14 km.
Le Meridien Phuket Beach Resort is a massive stand-alone resort surrounded by lush jungle overlooking its sandy beach.
The hotel's large size can make it feel a bit impersonal, but its sheer scale does mean a huge range of facilities, including an enormous pool and an array of sports equipment.
The spacious rooms have been sleekly renovated, and many include lovely sea views.
All of this doesn't come cheap, though, and you may also find yourself paying for lots of extras -- including Wi-Fi if you book the room-only rate.
10- Phuket Marriott Resort & Spa, Merlin Beach
Minimum price per night: 120 Euro
Google score: 4,6
Distance from city center: 16 km.
The 414-room Merlin Beach Resort is a sprawling, family-friendly beachfront resort located on the outskirts of Patong.
Rooms have private balconies with sitting areas, and while they vary a bit in decor, all have air-conditioning and large bathrooms with separate showers and tubs.
Resort features include several pools (including a kiddy pool and a shallow kids' pool with a waterslide), a tennis court, a fitness center, a spa, and several bars and restaurants.
The location may be a bit remote for some visitors, as it's a 10-minute drive into Patong beach, and there's not much within walking distance.
11- Andaman White Beach Resort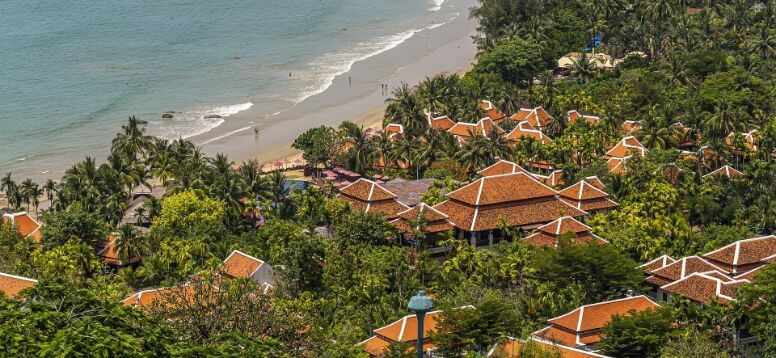 Minimum price per night: 75 Euro
Google score: 4,4
Distance from city center: 30 km
The intimate but stylish Andaman White Beach Resort is located directly on the beach in a secluded and quiet stretch of western Phuket.
Rooms range from romantic sea-facing rooms to lavish suites, some with private plunge pools.
On-site dining options include a Thai restaurant with fresh seafood dishes and a more relaxed beachfront pizzeria.
Dala Spa adds to the hotel's overall relaxed vibe, as does the semi-remote location with not much to do within walking distance from the beach.
The waters off the hotel can be dangerous to swim in during the summer, but there's a long pool for guests who want to swim in the off-season.
⭐★ BEST VACATION SPOTS FOR COUPLES
12- The Shore at Katathani Resort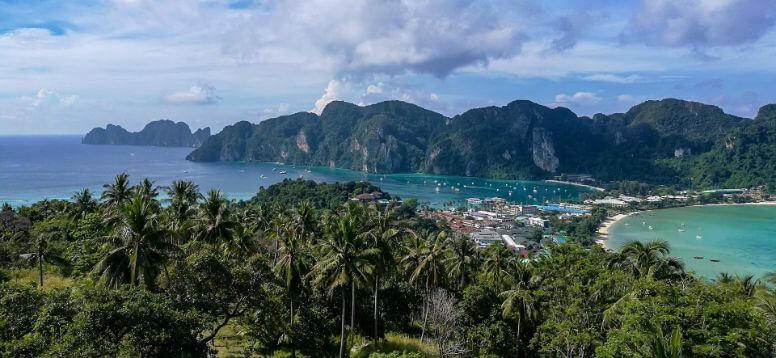 Minimum price per night: 310 Euro
Google score: 4,7
Distance from city center: 3 km
Located on beautiful Kata Noi Beach, The Shore at Katathani is a beachfront hotel perfect for a romantic getaway.
It's far enough from the shopping and dining paradise of Kata Beach but close enough that you can walk there, giving you the best of both worlds.
Each private villa resort has an infinity pool and is tastefully designed to make you feel relaxed. You can admire the breathtaking view of the ocean or the lush gardens from your bed or the swimming pool.
Besides the beautiful rooms and suites, you can enjoy the hotel's beachfront restaurant, a large inviting main pool, and an amazing spa.
13- The Vijitt Resort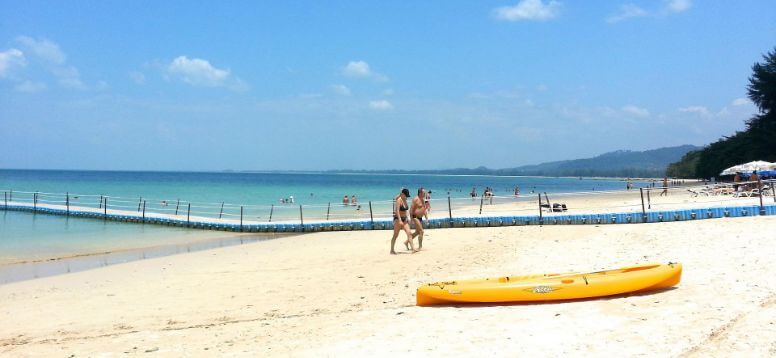 Minimum price per night: 120 Euro
Google score: 4,4
Distance from city center: 20 km
The Vijitt Resort is a tranquil beachfront hotel with beautifully designed private villas, landscaped gardens, playgrounds, a huge beach-facing infinity pool, and a virtually private beach.
This is the perfect beachfront hotel for a family vacation or to escape your hectic life. Kids can enjoy the kids' club, game room, and playground, while adults can partake in Thai yoga and botanical walks.
You can soak up the magnificent ocean views from the beach bar during sunset time.
14- The Surin
Minimum price per night: 250 Euro
Google score: 4,7
Distance from city center: 1,7 km.
Located along the coast of Pansea Beach, Surin Phuket is a tropical sanctuary for discerning travelers, couples, and families seeking relaxation in a tranquil beachfront hotel.
It is one of the first luxury beachfront hotels on the island and is renowned for providing exceptional service.
The suites and villas are designed to blend into the green rainforest, each with a modern and elegant Thai design.
The beach is perfect with soft sand and clear blue water. Besides that, it is mostly private as only Surin and Amanpuri Resort guests can access it.
15- The Nai Harn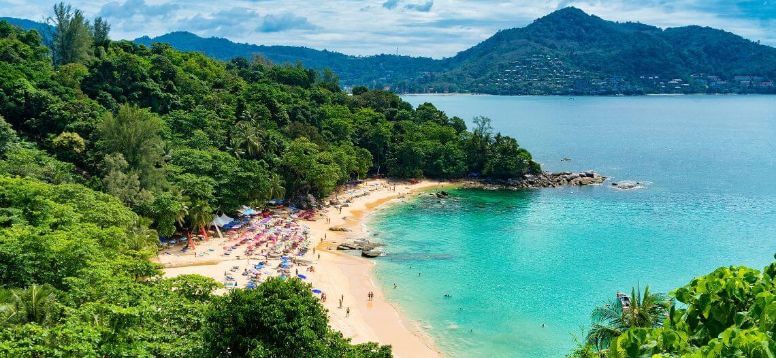 Minimum price per night: 132 Euro
Google score: 4,6
Distance from city center: 2.4 km
Nestled into a tropical hillside overlooking a beautiful beach, Nai Harn was once and still is one of Phuket's most exclusive beachfront hotels.
Some rooms have a large balcony with a remarkable view of the sea and are well equipped to guarantee you a fantastic stay.
The hotel also has a large rooftop bar overlooking the sea, with plenty of lounge chairs, beanbags, and cushions.
You can also pamper yourself with the finest lavish spa indulgence on the island.
You might be interested