Public Transfers at Ahmedabad Airport
Although there are various routes to reach Sardar Vallabhbhai Patel Airport to Ahmedabad Railway Station, it varies between half an hour and a half hour.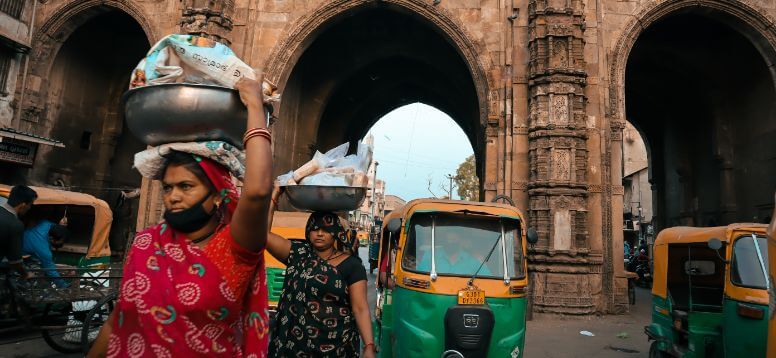 *As the shortest route, you can get on the bus line number 18, get off at Kalupur Railway Station and walk for 200 meters to reach the train station. However, be aware that this time may be longer depending on the bus arrival time.
* In addition, in a crowded city like India, you may lose your way, and you may not meet someone who speaks your language with whom you can communicate on public transport. To prevent such situations, Airport Transfer is often preferred by passengers.
* Sardar Allabhbhai Patel Statue distance from Ahmedabad is 4.4 kilometres; this road takes an hour to walk. Instead, you can choose the bus. You can get off at Kalupur Ghee Bazaar stop with line 56 and walk for 15 minutes.
Private Transfer Sardar Vallabhbhai Patel - Ahmedabad Airport
Although this airport, which is domestic and international terminals, has transfer services, it may not be able to meet sufficient demand. In this case, you may get lost in an unfamiliar and rather complicated country.
Passengers who resort to methods such as car rentals to prevent this may have problems with car parking. Choosing an airport transfer instead can be more advantageous in many ways.
*Airport Transfer, the best private transfer service globally, provides you with transportation from the airport to the hotel.
You can use the 24/7 helpline on WhatsApp whenever you want to eliminate the question marks in your mind.
• In which city Sardar Vallabhbhai Patel International Airport is located?
Sardar Vallabhbhai Patel International Airport(SVPI) is an International Airport located in Hansol, 9 Kms (5.6 m) north of Central Ahmedabad. It is named after Sardar Vallabh Bhai Patel, 1st Deputy Prime Minister of India.
• How many airports are there in Ahmedabad?
The airport currently consists of four terminals: domestic, international, an additional terminal for secondary traffic, and a cargo terminal.
• Is the Ahmedabad runway open?
Ahmedabad airport runway to reopen on April 15 2021
• When will Ahmedabad airport open for international flights?
According to well-placed sources, the airport runway will be open for flight movements through the day after April 15. As the maintenance and resurfacing work is on, the runway was kept closed for flight movements from 9 am to 6 pm on all days except Sundays and public holidays.