How do I get from Turin Airport to Turin?
You can take the train, bus, taxi, or private transport from Torino Airport to Turin city center.
· How do I get from Turin TRN Airport to Porta Nuova?
You can get from Turin Airport to Porta Nuova by bus, train, taxi, or car ride. Also, you can benefit from the Turin Airport Transfer service shuttle.
· Does TRN Airport have a train station?
Yes, Turin Airport has a train station. The airport railway station is only a few meters away from the airport. You can recognize the train station in front of the Air Terminal at Turin Airport Departures level. Pretty easy to find! Daily, the train from Turin airport to Turin city center serves. 😉
· Is Turin airport small?
No, Turin Airport is not that small. However, it is not so big that you will not get lost or have a big confusion while traveling inside.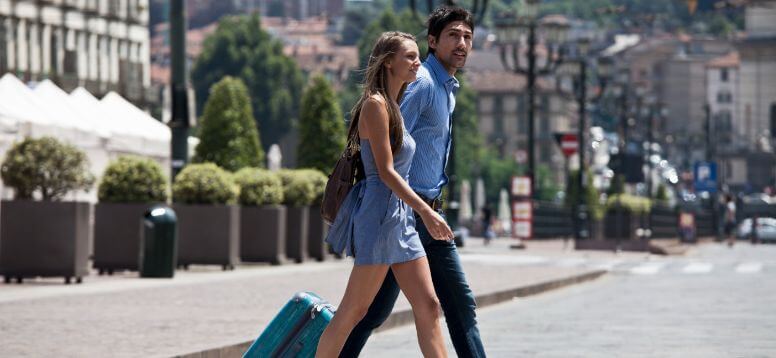 Public Transportations at Turin Airport
By Bus
By bus, you can reach from Turin Airport to Torino Porta Nuova, Turin, and Porta Susa. This bus Torino departs every 15 and 30 minutes. Your expected journey time is between 45 to 50 minutes. However, your bus ride may take a bit longer during commute hours.
· How much does a bus ticket cost: Bus Torino may cost 7 euros per person for a single ride.
· How can I buy a bus ticket: You can buy a bus ticket online, on board the bus, or at ticket offices in the Arrivals Area.
If you want to go back from the Turin city center to Turin Airports, you can find a bus service at these bus stops. This bus service to the airport leaves every 15 to 30 minutes. However, you must be careful whether it is a national holiday or Sunday.
Ti Porto in Valle d'Aosta offers a low-cost transfer service between Turin Caselle Airport TRN and the main towns in the Aosta Valley.
By Train
It is possible to reach Torino Airport to Turin by train. Turin Airport TRN has a train station inside, so it is highly convenient to take a train to Turin city center.
The train operates between Caselle Airport to Venetia. However, if you want to reach Torino Porta Susa, you must take a bus. First, you can arrive at Veneria by train. Then, you may take a bus to Porta Susa. 😊
As mentioned above, the railway station is only a few meters from TRN Airport. When you get Arrivals Level, you can easily realize it. To be sure about timetables, you may want to check this link.
· How much does a train ticket cost: Your ticket fees may change, depending on your last stop.
· How can I buy a train ticket: You can purchase your train ticket via the vending machine at the railway station or in the Arrivals Area at the airport.
By Airport Shuttle Service
As in many other airports, there is a shuttle bus service offered at Turin Airport. The SF2 shuttle bus takes its passengers from Caselle Torinese Airport to Turin. To see all the stops, you may visit this web page.
· How much does a shuttle bus ticket cost: Your shuttle bus ticket may cost 3,20 euros, per person, for a single ride. Although, depending on your last stop, the shuttle bus fee can be changed.
· How can I buy a shuttle bus ticket: You can purchase your train ticket via the vending machine at the railway station. 😊
By Local Taxi
Your taxi ride's journey time will change according to the destination point. The same goes for the taxi fee. However, to give you a rough idea, we will share the information on the taxi from Turin Airport to the city center. Your taxi ride may take approximately 30 minutes.
· How much does a taxi cost: Your taxi fee will depend on your last destination. Although, from Torino Airport to Torino Porta Nuova may cost between 30 to 50 euros.
· How can I find a taxi airport Torino? The taxi service is located near the Arrivals Level, Airport. Also, it is possible to book your taxi ride online.
By Car Rental at TRN Airport
There are several car rental companies available at Torino International Airport. Torino Airport is located in Caselle Torinese. If you plan to go to Turin City center, you will have 16 kilometers ahead of you. Your car ride may take 25 minutes if you go via the Turin – Torino Airport motorway.
· How much car rentals cost: Your daily car hire fee depends on your car rental company and the vehicle type you choose.
· How can I rent a car: Several car rentals are located in the Arrivals Lounge and inside the multi-story car park.
By Private Transfers Turin Airport %100
The most comfortable way to get from Turin Airport to the city center is to get a private transfer. If you want to return from your hotel to Turin Airport to turn, you can also get assistance from the same private transfer company. 😉
Even though private airport transfers stand out with their special offers, not all customer satisfaction is fulfilling. Then, what are you supposed to do to find a reliable one? One way to find an ideal one is to check companies' feedback.
The Airport Transfer service is considered the best private transfer service globally, as we can see from their former clients' happy experiences. But what makes Airport Transfer that desirable and trusted?
· Your route
Airport Transfer provides an end-to-end transfer for its passengers. In other terms, you will be benefiting from a door-to-door transfer opportunity. Your ride will be airport-to-hotel or airport-to-airport if you need to. 😊
Besides airport-to-hotel, you can also be escorted from Turin airport to Porta Nuova or other points in the city center of Torino. You can shape your destination route while driving your car.
· Onboard
Several additional service options are offered to you to make your journey even more comfortable. As Private Airport Transfer puts its customers' safety and health first, all cars are highly hygienic. Your kids can sit on baby seats to make your ride even safer. Or, if you are traveling with elder members of your family or arranging a journey for them, you can demand elderly assistance from AirportTransfer.com.
Our pet friends are our family members too! Airport Transfer does not miss them, as well. Thanks to their pet-friendly approach, your pet can enjoy its holiday with you!
Sometimes, all of us may need extra services. To spoil yourself, you can ask for a red carpet. If you need any equipment for your holiday, you may also demand a ski equipment rack or bicycle car rock!
· Fastest & Cheapest Payment Procedure
With AirportTransfer.com and its secure payment system, you can accomplish your booking fastest & cheapest. It is possible to finish your online payment only in 3 steps. For instance, you can click for Turin Airport at this website. Then you can see all possible vehicles for your scheduled dates. By comparing these options, you can find the cheapest one!
If you have any questions, you can reach their customer service any time and any day. Since the Airport Transfer service is available 24 hours a day and 7 days a week; you can reach them whenever you want. 😊 (24/7 helpline on WhatsApp)
Thanks to their free 48-hour cancellation policy, you can cancel your reservation within 48 hours of your booking. It means you can get a 100% refund!
On this page, we have seen both shared and private airport transfers. Also, we have discussed which features make Airport transfers preferable. We hope our page will help you journey from Turin Airport to the city center.