Public Transportation Alternatives for Passengers from/to Tromso Airport
Since the airport is approximately 5 kilometres from the city centre, there are various transportation alternatives for arrived passengers. While the most common public transportation options are bus, local bus, and the airport shuttle, private airport transfer services are the most convenient.
Perhaps the most affordable transportation service for arriving passengers is the public transport vehicles. The airport Express Coach, the local bus, and the airport shuttle service are the most popular shared Tromso Airport transfers.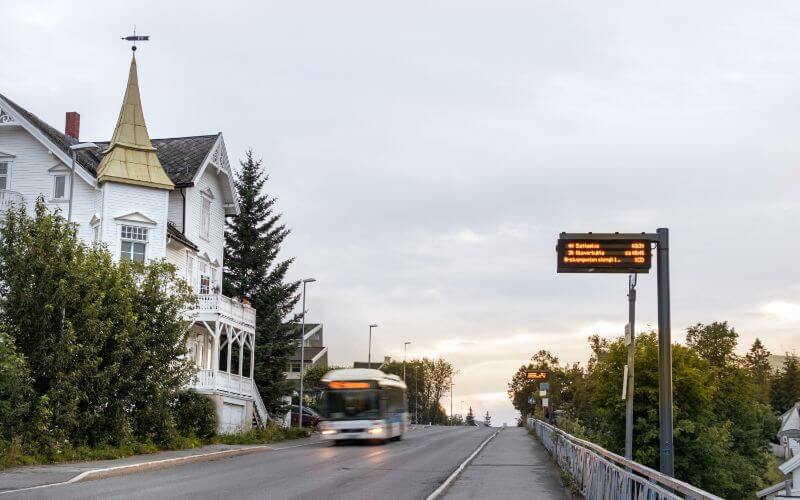 Local Bus Option for Travelers
Using a local bus to arrive at the city centre is also possible.
Bus 40 and bus 42 have destinations from/to Tromso Airport.
It takes around 15 or 20 minutes to reach downtown from the airport using the local bus.
The local Tromso Airport bus covers many stations such as the city centre and the university hospital in town.
The local bus is operated by a company which is called Troms Fylkestrafikk.
To get more information regarding the bus schedule, it is recommended to visit the company's website.
How to Buy the Local Bus Tickets and How Much Does a Ticket Cost?
While a single ticket for adult passengers costs NOK 50, the exact ticket costs NOK 25 for older adults and children; there are several ways to purchase a ticket.
It is possible to buy one at the bus stop ticket machine or once you arrive at the bus (onboard).
Also, passengers can download the Troms Mobillett App and purchase tickets on this portal.
Even though the express bus service could be seen as an ideal choice to go from Tromso Airport to the city centre, arriving passengers may not find an available bus if they arrive at the airport after the last bus. Moreover, there is no guarantee that the express bus driver will be a fluent English speaker. Therefore, miscommunication might occur.
Taxi from/ to Tromso International Airport
Taxis are located on the outside of the arrival hall. Therefore, arrived passengers can find a taxi once they arrive at the airport. It takes around 20 minutes to reach downtown by choosing a cab.
It should be noted that finding an available taxi might get more challenging during peak times. Furthermore, it cannot be predicted before whether the taxi driver is a fluent English speaker or not.
There are at least 4 different taxi companies that work at the airport 24/7. The taxi from the airport to the city centre is fixed on NOK 200. However, an extra fee can occur at night and on the weekends.
Car Rental Companies at the Airport
Arrived passengers can also consider the car rental companies at the airport. There are around 6 different Tromso Airport car rental companies. All of them can be found on the first level of the airport, near the check-in zone.
Each car rental company has its phone number and email. Therefore, tourists planning to hire a car must contact each company separately. However, it is suggested to hire a car in advance, way before arriving at the airport, especially during the busy times of the year.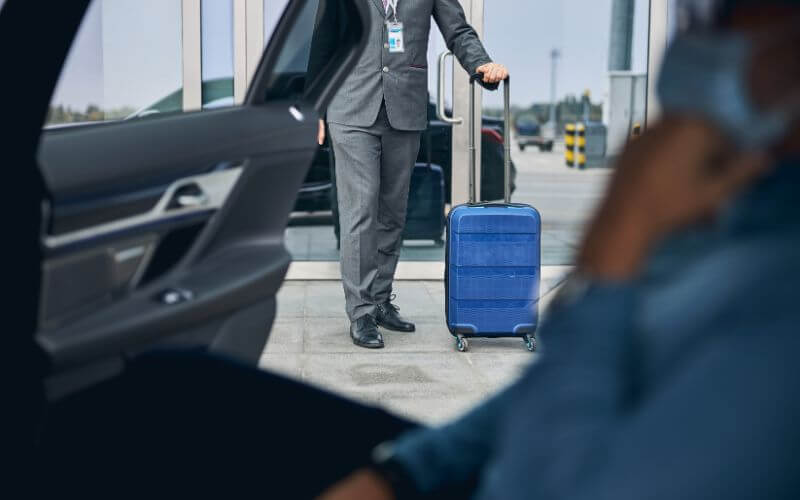 Private Airport Transfer Service at Tromso Airport
Perhaps the most joyful way to go from the airport to the hotel you would like to stay in is possible by choosing a personal airport transfer service, such as AirportTransfer.com. AirportTransfer.com offers its customers the most convenient and secure driving experience worldwide!
Unlike choosing a public transportation option from the airport, you will not need to consider the timetable if you choose AirportTransfer.com. Since AirportTransfer.com is always ready to give you the best door-to-door transfer regardless of the time of the day. 😊
Moreover, by choosing AirporTransfer.com, you can be sure that an immaculate car and a fluent English-speaking driver will be waiting for you. When you book a private transfer service from AirportTransfer.com, you can inform the company about your language preference. By doing so, you can choose your driver with a language you feel comfortable talking to, such as English.
AirportTransfer.com provides the best end-to-end transfer to its customers in northern Norway in many ways.
More specifically, there are numerous additional service options for customers with special needs.
For instance, if you are planning to travel with an older adult, or perhaps you are an older adult, you can ask for elderly assistance while booking your service.
Doing so guarantees that a smooth meet & greet service will be waiting for you! 😊
Moreover, the company has a pet-friendly atmosphere; you can bring your pet on your journey without thinking twice.
You can ask for a baby seat for a safer journey if you have a baby or an infant.
If you let the company know about your need for the baby seat when booking your service, you can be sure that a car specialized in your baby will be there for you and your family.
Likewise, if you are fond of outdoor activities, such as skiing or camping, you can upgrade your car by letting the company know about your preference. By doing so, you can quickly put your ski equipment rack in the car. If you plan to visit Explore the Arctic-Alpine Botanic Garden in Norway by using a bicycle, you can ask for a bigger car and put a bicycle car rock in it at ease.
Furthermore, AirportTransfer.com offers its customers a 100% refund policy regardless of their country.
The customers only need to inform the company at least 48 hours before the scheduled time.
Other than having a free 48-hour cancellation, the customers can reach customer service whenever they need.
The customer service 7/24 helpline on WhatsApp is always available.
Therefore, if you have questions regarding the service, the booking, or the payment system, you can ask all of your questions without any hesitation.
ABOUT TROMSO AIRPORT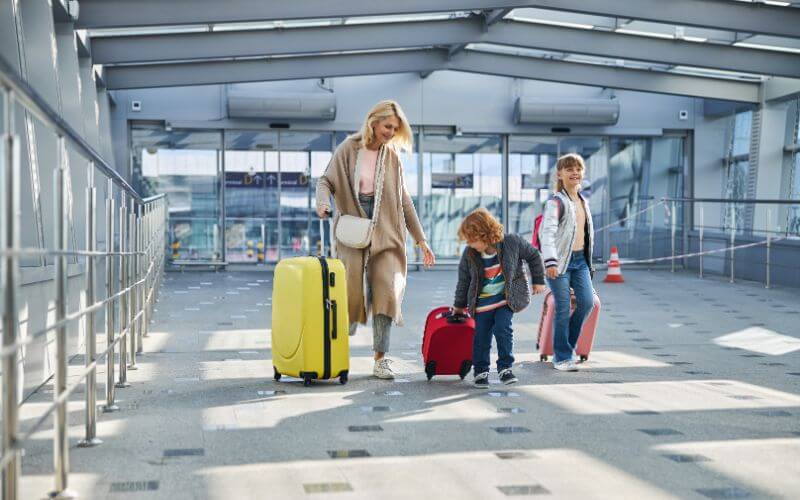 The Biggest Airline Companies that Offer Flight from/to Tromso International Airport
Even though more than 20 airline companies have flights from/ to the airport, some companies have come forward among the others. The most significant airline companies are listed below.
The Most Popular Destinations from/to Tromsø Airport (TOS)
Tromsø Airport (TOS) holds a wide range of flights worldwide. For instance, air passengers could find flights from Alta, Bergen, Gdańsk, Kirkenes, London- Gatwick, Frankfurt, Oslo, Helsinki, and Dusseldorf regardless of the time of the year.
Moreover, passengers can find more flights during the holiday season. The most common seasonal flights cover many cities such as Antalya, Sandefjord, Munich, Zurich, Vienna, Brussels, Milan– Malpensa, and Paris–Charles de Gaulle.
Tromsø Airport (TOS) works as an international cargo centre with West Atlantic Airlines.
The Services that Passengers Could Find at the Airport
Free Wi-Fi in different locations of the airport ( free service for 2 hours)
ATMs and currency exchange points
Shops, book shops, and duty-free centres
Restaurants and cafés, machines that offer foods and beverages
Mobile charges
Luggage storage
Medical centre and pharmacy (available 24/7)
Assistance for passengers with special needs
Lost & found service
Meeting rooms
Lounges could be an ideal place to wait for the departure time.
Other than lounges, air passengers could stay in the Tromso Airport Hotel. By doing so, tourists can rest before or after their flight. An advanced booking might be necessary, especially during peak times like the holiday season.
Escalators and elevators are located in various parts of the airport.
Different transportation alternatives from the airport to the city centre.