Playa Del Carmen, located along the stunning Caribbean coastline of Mexico's Riviera Maya, is a popular tourist destination known for its pristine beaches, vibrant atmosphere, and diverse attractions. Playa Del Carmen boasts breathtaking white-sand beaches and crystal-clear turquoise waters. Visitors can relax on the sun-kissed shores, indulge in water activities like snorkelling and scuba diving to explore the vibrant coral reefs, or simply enjoy a stroll along the coastline. Nature enthusiasts can explore the region's natural beauty through ecotourism activities and nature parks. Xcaret and Xel-Ha are popular eco-archaeological parks that combine cultural exhibits, natural wonders, and adventure activities. Visitors can swim in cenotes (natural sinkholes), observe wildlife, and immerse themselves in the region's natural wonders.
Travelling from Cancun Airport to Playa Del Carmen
Travelling to Playa Del Carmen in Mexico is an exciting prospect, but the first task upon arrival at Cancun Airport is to find a reliable and convenient mode of transportation to your destination. With several transfer options available, it's essential to select the one that suits your needs and ensures a seamless journey. In this blog post, we will explore various transfers from Cancun Airport to Playa Del Carmen, considering factors such as convenience, safety, and comfort.
Shuttle from Cancun Airport to Playa Del Carmen
Shuttle services are available from Cancun Airport to Playa Del Carmen, providing shared transportation for multiple passengers. As a general estimate, shuttle prices from Cancun Airport to Playa Del Carmen typically range from approximately $15 to USD 30 per person for a one-way trip. However, prices can vary, and it's advisable to compare different shuttle options to find the best price and service that meets your needs.
Bus from Cancun Airport to Playa Del Carmen
The approximate price for an ADO bus ticket from Cancun Airport to Playa Del Carmen is around 190 to 250 Mexican pesos per person for a one-way trip. The exact fare may vary slightly based on factors such as the time of day and the type of service (regular or luxury). ADO buses operate on fixed schedules, and passengers must adhere to the departure times of the buses.
Taxi from Cancun Airport to Playa Del Carmen
The journey from Cancun to Playa Del Carmen takes approximately 45 minutes, covering a distance of around 55 kilometres. The fare can range from approximately $40 to USD 70 for a one-way trip.
While taxis are generally available at Cancun Airport, during peak travel seasons or busy periods, there can be high demand for taxis, leading to longer wait times or limited availability.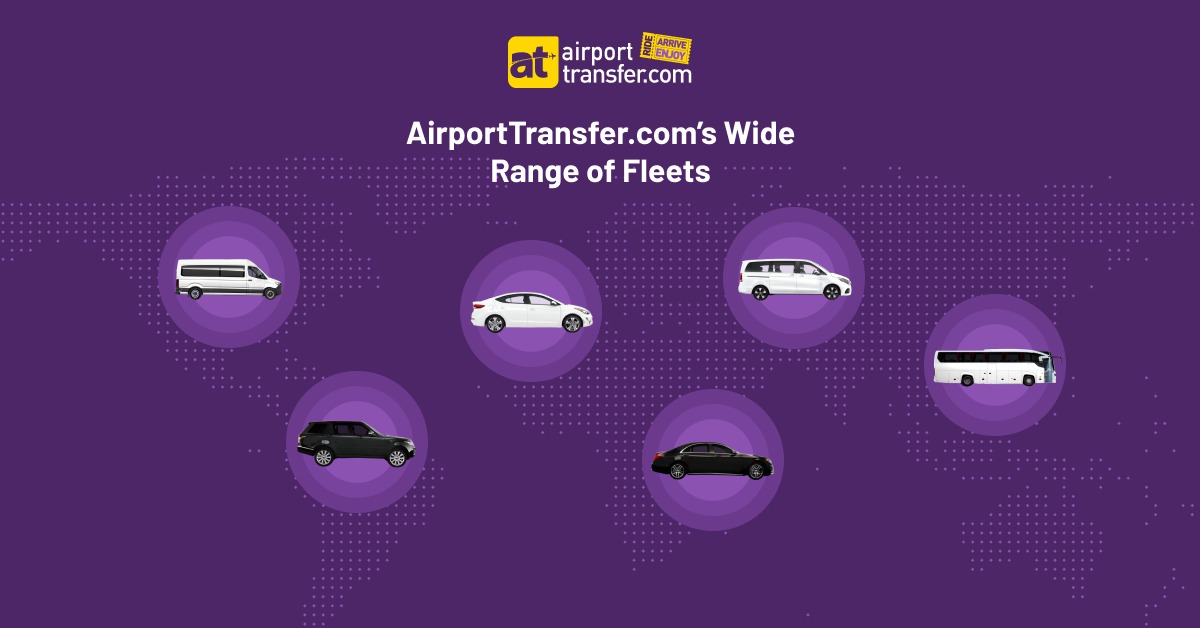 Private Transfers from Cancun Airport to Playa Del Carmen
Private transportation is a popular option for those seeking a personalized and comfortable experience. Several reputable companies provide private chauffeured transfer services from Cancun Airport to Playa Del Carmen. These services offer various benefits, including door-to-door service, professional drivers, air-conditioned vehicles, and flexibility in terms of pick-up time and drop-off location.
At AirportTransfer.com, we take pride in offering airport transfer services from Cancun Airport to Playa Del Carmen. Our primary aim is to ensure a seamless and comfortable journey for our valued customers. With our private transfers, you can enjoy numerous benefits and conveniences tailored to meet your specific travel needs.
Reliable and Professional Drivers: Our team of experienced drivers is dedicated to providing exceptional service. They are highly skilled, professional, and knowledgeable about the best routes from Cancun Airport to Playa Del Carmen. You can rely on them to ensure a safe and efficient transfer.
High-Quality Vehicles: We maintain a fleet of well-maintained, comfortable, and modern vehicles to enhance your travel experience. Our vehicles are equipped with air conditioning to keep you cool and comfortable throughout the journey. You can relax and enjoy the scenic route from Cancun Airport to Playa Del Carmen in style.
Personalized Service: With our chauffeured transfers, you have the advantage of personalized service. We cater to your specific requirements and schedule, allowing you to choose the departure time that suits you best. Whether you're travelling alone, with a group, or with your family, we can accommodate your needs. Plus, you can also contact AT on WhatsApp.
Convenience and Efficiency: Our airport pickups offer the convenience of door-to-door service. Upon arrival at Cancun Airport, our driver will be waiting to greet you and assist with your luggage. There's no need to wait in long taxi lines or navigate public transportation. We aim to make your journey as smooth and hassle-free as possible.
Peace of Mind: With AirportTransfer.com, you can have peace of mind knowing that your transfer is pre-booked and confirmed. You won't have to worry about availability or last-minute arrangements. We prioritize your safety and satisfaction throughout the entire journey.
Why should you choose AirportTransfer.com?
At AirportTransfer.com, our main goal is to offer dependable transportation services that prioritize the skills and professionalism of our drivers, along with the quality of our vehicles, ensuring a pleasant and fulfilling travel experience. We customize our services to meet the specific requirements of travellers starting their journeys at Cancun Airport. The positive recommendations and satisfied feedback we consistently receive from our happy customers are evidence of our excellent reputation as a top-tier transportation service provider.
The best Cancun Airport transfer reviews are at AirportTransfer.com!

Frequently Asked Questions
You might be interested