An airport, especially United States Airports, is no longer an airline terminal used to transport passengers from one city or country to another, but an airport city with all the other amenities like airport restaurant, airport market, airport shop!
All travelers need to spend a couple of hours minimum at the airports before their flight which is enough for getting hungry! Airport food courts aim to appeal to different taste buds with lots of options from fast food, grab and go kiosks to traditional food.
Airport restaurants are known for tasteless and expensive dining experience due to the need for fast service and passengers have difficulty finding something good in an airport restaurant. Here we have compiled the best airport restaurants that will help change the bad reputation of the airport food.
📍 Easily discover the best restaurants and food at 18 popular US airports! 🇺🇸.
1- Charlotte Airport Food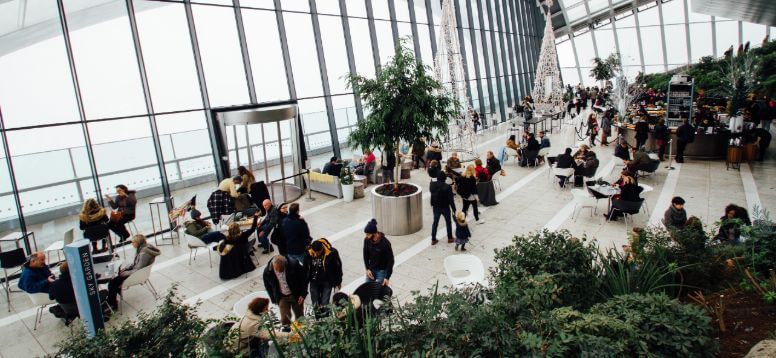 Charlotte Douglas International Airport, CLT has improved its airport dining courts considerably over time. Any Charlotte Airport restaurant offers many delicious options to the passengers.
1897 Market is one of them, being a restaurant bar with its own style, 1897 Market offers plenty of delicious food like pizza cooked in a wood oven and breakfast sandwiches to the passengers in the Atrium between Concourse A and Concourse B.
2- Seatac Restaurants Airport
Seattle - Tacoma International Airport, SEA is also known as SeaTac Airport. At SeaTac Airport food options are endless both at the central terminal and all gates.
Beecher's Handmade Cheese at C gate, for example, is a heaven of cheese! You can find very good grilled sandwiches, mac and cheese, hot drinks and more in this cozy place while waiting for your long layover.
There is a vending machine available for passengers in a rush to buy quick and delicious snacks. At the central terminal, there is Lucky Louie Fish Shack famous for fried seafood and snacks, Koi Shi Sushi Bento for sushi lovers, and pulled pork, smoked salmon and more at gates A, B, C and D of the Seattle–Tacoma International Airport.
3- Lax Food - Lax Restaurants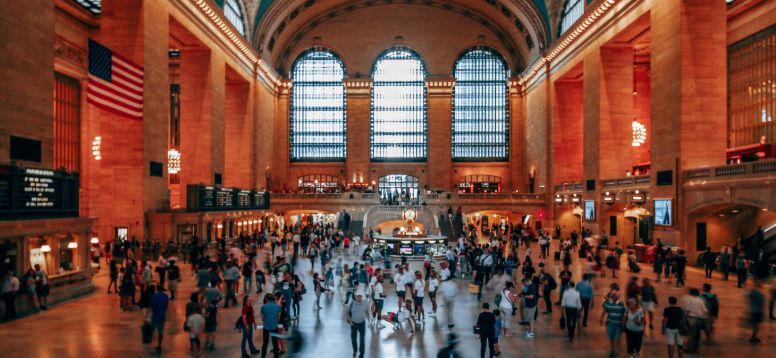 In Los Angeles International Airport, LAX restaurants do not only offer dine-in but also pickup options by an airport application. Would you prefer not to go to a cafe or bar in the terminals? Order from the LAX shop & dine application and they will find you where you are to serve your order!
At all 8 terminals, LAX restaurants, bars and coffee shops provide service with burgers, pizza, pork belly and other magnificent food, and some special coffees and beverages. You should definitely give Oz Burger at Terminal 4 a chance for Niman Ranch beef burgers.
In Tom Bradley Terminal of LAX Airport, Ink Sack makes a name for itself with sandwiches, salads, and gourmet delicacies like pork butt banh mi, Spanish father and gravlax.
4- Tampa Airport Restaurants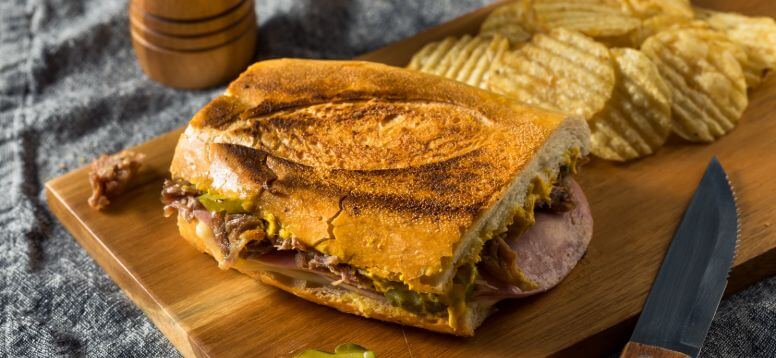 Tampa International Airport, TPA is located in Florida, USA. Tampa Airport food chain brands, kiosks, bars and local hotspots are waiting for travelers having some time before the flight to rest and taste their specials in Main Terminal and Airside A, C, E and F. Tampa Airport at Airside E has a vendor of the oldest restaurant of Florida, Colombia Restaurant Cafe.
The restaurant has special Cuban sandwiches, Cuban toast, 1905 Salad with baked ham, Swiss cheese, Spanish olives and more vegetables. You can drink Cafe con Leche along with your Cuban sandwich or bar beverages like sangria, mojito or wine. But if you are one of those beer gourmets, there is another airport restaurant for you at Airside C! Cigar City Brewing is famous for being the only brewery that brews beer in an airport.
5- San Francisco Airport Restaurants
San Francisco International Airport, SFO has different options for healthy food, fast food, grab and go kiosks, restaurants and local cafes all of which show the culinary art of the Bay Area. Passengers seeking San Francisco Airport food options can be confused in deciding on a particular place to sit and feed. Manufactory Food Hall in the International Terminal airport location is a famous restaurant founded by a leading Bay Area chefs team.
The restaurant serves handmade pastries and bread whose ingredients were collected from the local farmers and suppliers. Passengers can find specially baked goods and food from various cuisines; Tacos Cala from Mexico, Kamin or rice bowls from Thailand or any American eatables and roasted coffees or local beer. Cat Cora's Kitchen in Terminal 2 is another airport restaurant that aims to enhance the travelers' food satisfaction at the airport with organic and fresh materials in their tapas, tomato soup, lamb meatballs and all other Greek heritage food. You will feel like you flew south while tasting grilled avocado Cobb salad.
6- Miami Airport Restaurants
Miami International Airport MIA is another airport in Florida. Miami Airport, after taking serious precautions, started an application MIA2GO for passengers to order in a way as contactless as possible. Within this application and website of Miami Airport, food can be ordered, paid and picked up.
Of course, sitting in a restaurant is something we all miss, for travelers looking for an authentic eatery, La Carreta serves Cuban food like flan, croquetas, fish soup, pastelitos and real Cuban espresso in Concourse D. Another chic cafe in the North Terminal near Gate D is Icebox Cafe. The cafe adopts a quick-serve Mediterranean concept. Pitas, salads and sandwiches with tomatoes dried under the sun, chocolate chip cookies, pulled pork with chimichurri sauce and much more are in Icebox Cafe at Miami Airport.
7- JFK Airport Restaurants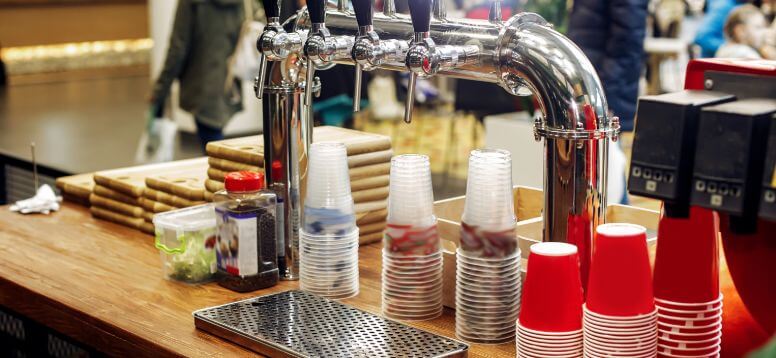 John F. Kennedy International Airport JFK restaurants offer some irrefutable menus at different food chain restaurants and cafes. JFK Airport food options vary from sushi to burgers, from doughnuts to steaks. Deep Blue Sushi in Terminal 5 surprises the travelers with delicious teriyaki filet mignon, sushi, pad Thai and lobster rolls. Uptown Brasserie in Terminal 4 on the other hand, serves such food as blackened catfish, spicy cabbage slaw and grits with cowpeas in New York cuisine style. The airport restaurant stands out with its founder James Beard Award-winning chef Marcus Samuelsson.
8- Midway Airport Food
Chicago Midway International Airport MDW is smaller and not like O'Hare Airport in terms of eatery but there are still lots of cafes and restaurants serving tasty food and beverages. Cafe L'Appetito is that kind of a Midway Airport restaurant. The Classic Italian unique tastes like Parma sandwiches, sesame-crusted hoagie rolls, meatball subs and Italian espresso is a logical option. Arami in Concourse A Food Hall is a dining place where you can find fresh sushi with sake and optional beer or wine along with your Asian meal.
9- Detroit Airport Food
Detroit Metropolitan Wayne County Airport DTW has restaurants, bars and cafes with sit-down table service options and takeaway drinks and meals. The most renowned Detroit Airport restaurant is Bigalora Wood Fired Cucina in McNamara Terminal.
The place serves wood-fired oven unique pizzas with the signature of Italian chef Luciano Del Signore, Frutti de mare filled with shrimp or clams, steak frites, branzino and pasta dishes. Bigalora is one of the best dining places among restaurants in and near the airport. National Coney Island in the North Terminal can also be a good option for quick snacks like traditional and specialty sandwiches, burgers or Hani's and cold beer before the flight.
10- Newark Airport Food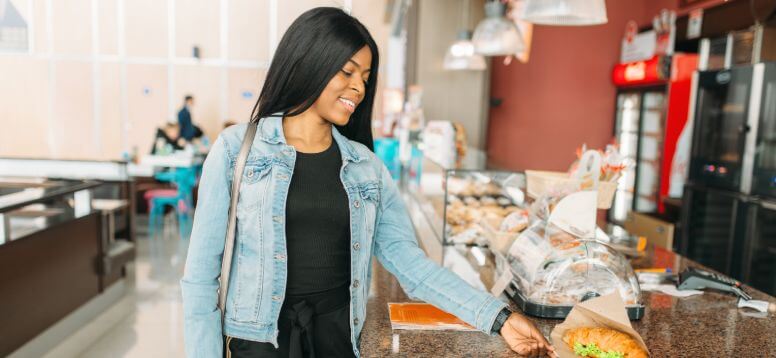 Newark Liberty International Airport EWR serves New Jersey and New York. In a Newark Airport restaurant, passengers can find grab and go or sit-down services. Daily Restaurant in Terminal C provides menus changing every season with organic and seasonal ingredients.
Having a direct supplier from farms to the airport, Daily has fresh dishes like grilled broccoli rabe sandwich with pepper jack cheese, Pekin duck, pickled onions from the wood oven.
For travelers craving a strong beer, there is no better place than Belgian Beer Cafe in Terminal B. Forget your travel stress and tiredness with tasty Belgium beer and sausage or chips.
11- SLC Airport Food
In Salt Lake City International Airport SLC, cafes and restaurants are mainly located in Terminal Plaza, Concourse A and Concourse B. Utah SLC Airport restaurant Cafe Rio in Concourse A serves original and casual Utah food very fast and the best!
Travelers can enjoy tortillas, beans, meat, beef along with potatoes and eggs at breakfast, lunch or dinner. Market Street Grills in Terminal Plaza is famous for being the first restaurant to bring fresh seafood. Try the freshest shrimp cocktail, eggs benedict, clam chowder appetizer, fresh Atlantic salmon or Maryland lump crab cakes for a good dining experience!
12- PHL Airport Restaurants
Philadelphia International Airport PHL restaurants serve both local favorites and different cuisine and deli dishes. Tony Luke's food chain shop in Terminal F offers the best cheesesteak, rib-eye steaks and roast pork Italian sandwiches for hungry passengers looking for a PHL Airport food place to sit.
When you walk between Terminal B and Terminal C, you will come across recently opened, cool Bud and Marilyn's restaurant. Remarkable homemade-like dishes attracting many travelers before their flight are chicken noodle soup, Nashville hot buns filled with fried chicken, grilled cheese with special flavoring, burnt scallion ranch and pickle brine slaw.
13- Oakland Airport Food
Oakland International Airport OAK offers convenient places to sit and relax while consuming healthy and worth trying food and beverages. Andale in Terminal 2 is a food chain shop but a good one.
From Chile Verde Burrito to Pozole soup, from tacos to other Mexican food this Oakland Airport restaurant is a place you won't regret going to. If you prefer a quick meal, you can try Chili's Too or Heinold's First and Last Chance in Terminal 1.
14- McCarran Airport Restaurants
McCarran International Airport or Harry Reid International Airport LAS is known as Las Vegas Airport. Leisurely meals if you have time, or a quick takeaway snack if you are already late, there are a lot of McCarran Airport food options for everyone!
There is a Shake Shack vendor or other fast-food brands like Burger King, McDonald's for quick meals. Metro Pizza in Terminal 1 is a place every passenger should visit in McCarran Airport. The original pizza shop has been serving since the 1980s and the traditional pizza taste is just the same at the airport.
15- Dallas Fort Worth Airport Restaurants (DFW Airport Restaurants )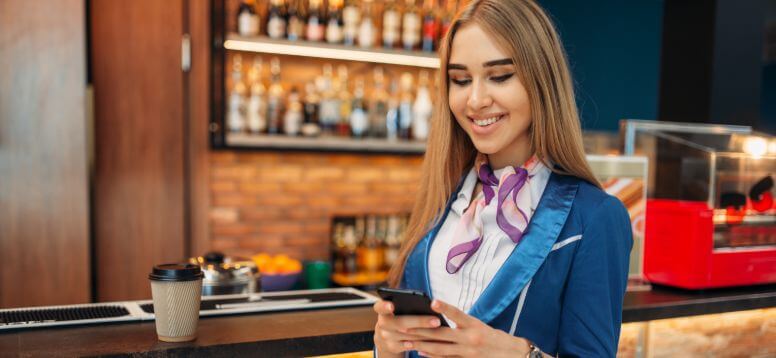 Dallas Fort Worth International Airport DTW serves the North Texas region as one of the world's busiest airports. Hence, there is a wide variety of Dallas Fort Worth Airport food alternatives for every pocket and taste.
White Tail Bistro in Terminal B is a famously good eatery all around Texas with one of the most creative menus among the United States airports. If you are in DFW waiting for a late flight do yourself a favor and try one of the sweet pepper lacquered crispy duck, cornmeal-crusted Texas catfish, grilled cheese with fire-charred tomato soup or bobwhite quail on a johnnycake with sausage gravy.
On the other hand, if you crave Texas barbecue, şt's better you have one before leaving DWF. Salt Lick BBQ in Terminal A will surprise you with its own BBQ-lovers community inside the airport restaurant. Beef brisket and pork ribs and a peach cobbler dessert are some famous dishes you should give it a go!
16- Pittsburgh Airport Restaurants
Pittsburgh International Airport PIT restaurants have dine-in service for leisurely meals and to-go service with quick and tasteful dishes for ongoing travelers.
What about drinking a quick cold beer just before your journey? Penn Brewery in Concourse A offers relaxing at the bar accompanied by delicious sips of beer or enjoying breakfast, lunch or dinner in the restaurant.
Pittsburgh Airport food alternatives may not be varied like other huge airports yet there are still good options like Bruegger's Bagels and Chai's Pittsburg Fusion.
17- Boston Logan Airport Food
Boston Logan International Airport BOS has served East Boston since 1923. Each Boston - Logan Airport restaurant has some national favorites and grab and go selection quick dishes in BOS Airport. Legal Test Kitchen was founded as a seafood market Legal Sea Foods in the mid-1900s.
Since then, the restaurant has come to six locations in Logan Airport offering an extensive menu from roasted salmon, hamburgers to New England clam chowder and lobster rolls. Ice cream and key lime pie desserts can be a good choice after a seafood meal.
18- Dulles Airport Food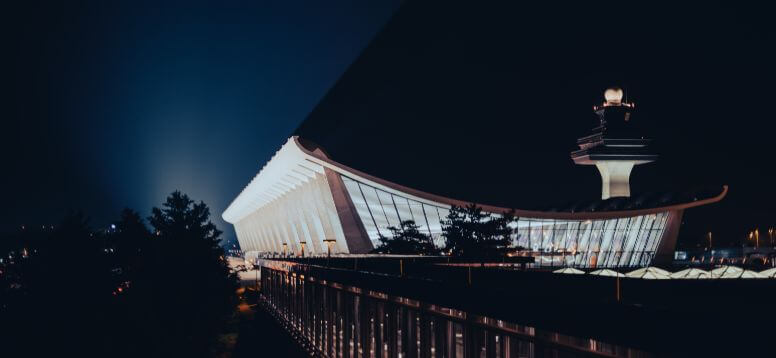 Washington Dulles International Airport IAD is an airport that aims to improve its facilities and maximize passenger satisfaction.
Chef Geoff's in Concourse C is one Dulles Airport restaurant that has done it with its classic American menu: gourmet burgers, caesar fries with parmesan honey sriracha cauliflower, salads, wasabi-crusted salmon, crispy shrimp rice bowl and more.
There is Bar Symon in Concourse D for travelers looking for a relaxed pub environment. Michael Symon's comfort-food pub is a James Beard Award winner in DC and a worth-going place at the airport, too.
Craft beers, cocktails, burgers, Fat Dough, cheddar and potato stuffed pierogi, crab-meat guac and other American specialities are waiting for you at this comfy bar.
You might be interested
Browse Airports for Airport Transfers