Bodrum city has become one of Turkey's most popular holiday destinations in the last decade. Since this wonderful district of Mugla is located in the Aegean Region of the country, it is pretty convenient to arrive at this place whether you are a national tourist or an international one.
If you are fond of summer holidays, cultural tourism, and gastronomy, there could be no better choice than Bodrum. This holiday district is suitable for couples seeking a romantic getaway or families with little children.
This blog is dedicated to readers who want to explore Bodrum's natural beauties and the best restaurants and bars in Bodrum simultaneously. Vegetarians, vegans, not vegans, can find something for themselves.
READ MORE: Milas Bodrum Airport Transfer
Start With the Traditional Turkish Cousin: Where to Go, What to Eat?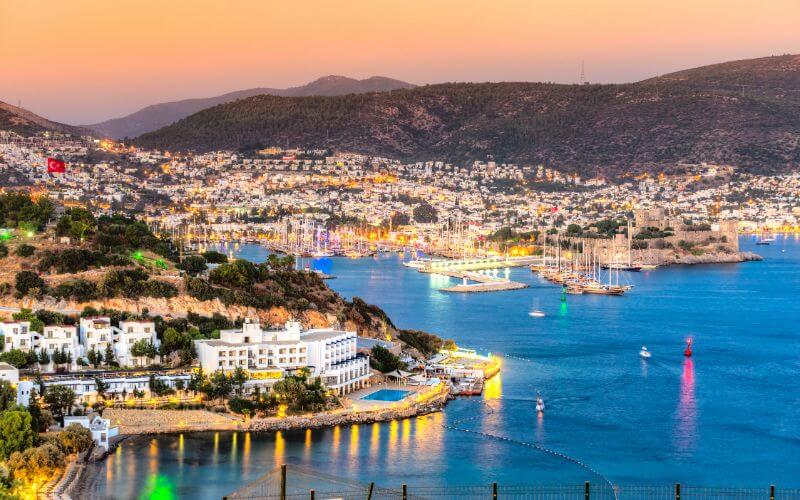 • One of the benefits of having a summer holiday in Bodrum Peninsula is that both traditional Aegean cousins, Bodrum Mediterranean kitchen, and the Eastern side of the cousin are available in this little town!
• Therefore, if you would like to try different kinds of seafood, such as sea snails, there would be lots of great places. On the other hand, if you feel closer to the Eastern side of Turkish cuisine, the number of great restaurants for kebabs and pide might be dazzling for you!
• It goes the same for the beverages. You can find amazing mojito and gin tonics, but also you could find the tastiest local alcohol options like raki.
• Lastly, if you wonder about the best restaurants and bars in Bodrum, you could visit Bodrum Essendon if you feel like Turkish and Mediterranean food.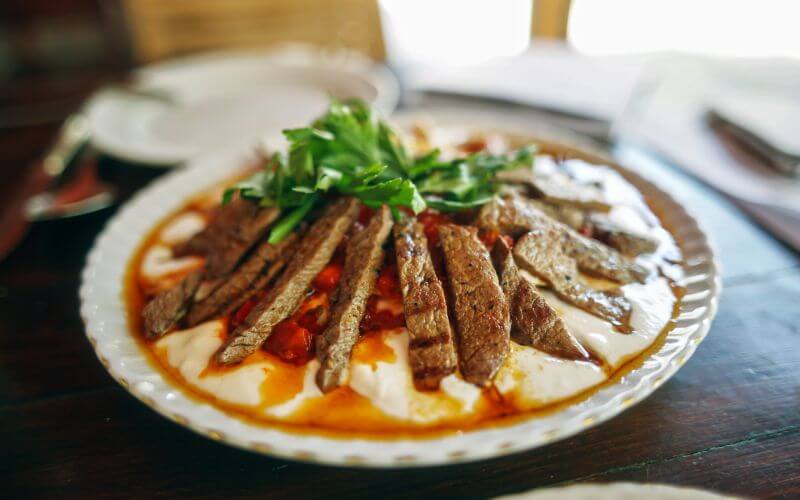 Itinerary to Kebab Lovers: The Best Places
If you heard of kebabs, perhaps you are expecting more to discover; you should check out Otantik Ocakbasi! This well-known Bodrum restaurant was established in 1999, and they keep raising the quality of food and serving every year! You can start with the traditional taste of Bodrum Turkish kitchen marrow soup before diving into your main dish.
When ordering a kebab, choosing a single one might be extremely difficult since you have around 15 great options! If you want to try a new taste, you cannot find it in the kebab restaurant in various European cities!
Here are the best dishes, including; "Duz Beyti", which comes with rice, green pepper, tomato, and "Lamb Ribs" that would leave a perfect taste in your mouth right after your first bite, and lastly ", Mixed Grill Kebab" if you want to try different sorts of kebab in one night.
Other Popular Dishes in Bodrum
• We would recommend their unique tomato soap for vegan readers. Suppose you would like to explore special cheeses of the region in this Bodrum kebab house.
• In that case, you can order starters with ''hellim", aka halloumi cheese. This special cheese is grilled before the service, so don't be surprised when you find out it's hot.
• ''Icli Kofte" could be the most common starter in Turkey, regardless of the region. While you wait for the main dish and literally crave the food, you can order these tasty stuffed meatballs.
• The readers who have been to Balkan or Greece and would like to discover the best restaurants and bars in Bodrum might find the taste familiar.
• However, if you have never been to those places, you have a fresh new alcohol taste! Raki is local alcohol in Turkey that is mixed with ice and water.
• Since many restaurants offer this beverage, it is convenient to come across. So Brazilian readers might feel nostalgic since their "caipirinha" is very similar to "raki". You can order raki or a local wine bottle.
"I Just Want to Eat Something Not Heavy": What to Eat in the Afternoon?
Since most tourists visit Bodrum in summer, you may find the weather especially hot during the afternoons. We recommend some "heavy" meals that enable you to digest the food easily among the best restaurants and bars in Bodrum.
In this case, Sultan Bahce Restaurant might be the best option! This lovely restaurant is mainly focused on sea foods. Therefore, you can order a salad with or without seafood, or perhaps a kind that could be easily digested, such as grilled octopus.
All kinds of seafood are fresh and clean; you can order anything you want to try! However, this restaurant is famous for its lobster, smoked eel, and crab, the way they serve it, and their atmosphere!
You can find tranquillity while you enjoy your lunch.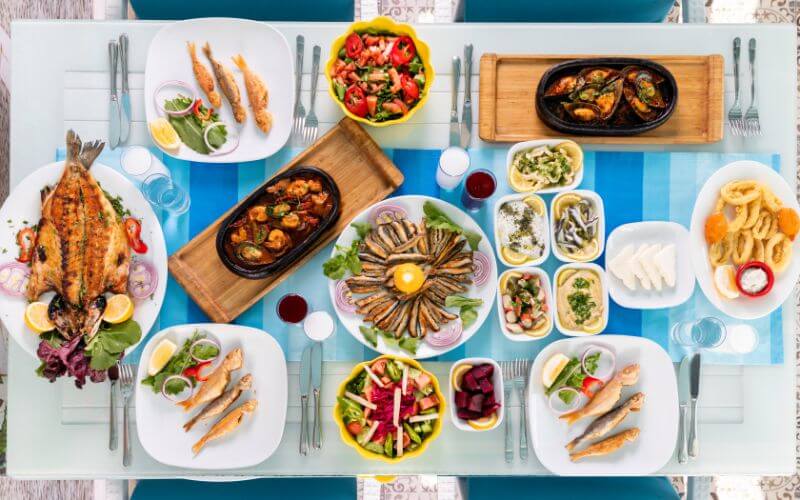 I Loved Turkish Cuisine So Far: Can I Have a Getaway Just for One Day?
Instead of eating Turkish cuisine for lunch, you may want to eat a different Mediterranean cuisine. Then the traditional Italian kitchen might be an appealing alternative for you! Tyro Italiano Pizzeria Ristorante could be the best choice for Italian cuisine lovers, which is on the list of the best restaurants and bars in Bodrum!
Once you look at the menu and the atmosphere surrounding you, you may feel like you are on a coastline in Italy! 😊 You would like to start with traditional bruschetta; since it includes fried garlic bread with tomatoes, red onion, basil, olive oil, and balsamic; this starter is suitable for vegetarians and vegans as well.
You can try out their pasta options, considering that the restaurant is famous for its special pasta service and special style of Bodrum grill. You can be sure their "tagliatelle Bolognese" is fresh because the restaurant prepares its own tagliatelle and Bolognese sauce daily. If you are fond of the light taste of Mediterranean spices, there could not be a more charming choice than the Pizza Bresaola!
This tasty pizza consists of tomato sauce, mozzarella, pepper, fresh thyme, mushroom, and parmesan powder. After you finish your lunch or dinner, you can spoil yourself with their amazing desserts! Their panna cotta is especially gorgeous since it is served with chestnut and red fruit sauce on top of it!
You might be surprised to see how long their wine Bodrum menu is. You can order a local wine bottle from Ankara, Bodrum, Izmir, or Pamukkale, or perhaps you could order an Italian or French wine if you like. Moreover, the area pizzeria is also famous for its quick and tasty pizzas.
Those Restaurants Are Dedicated to Sunset Lovers: Bodrum Restaurants with The Best View!
• El Vino Hotel is located on the top of the hills of Bodrum; therefore, it has a mesmerizing panoramic view of Bodrum Castle, the yacht club, and the lovely Mediterranean Sea.
READ MORE: 14 Best All Inclusive Hotels in Bodrum
This restaurant is one of the best restaurants and bars in Bodrum, which is covered with wood material from its windows to nostalgic tables so you can smell this old sincere ambience.
You could order different sorts of cuisines, such as local Bodrum cuisine, kinds of seafood, Mediterranean and Europe tastes as well.
However, we would like to suggest a few of their best starters, salads, main courses, and desserts. You can order some delicious Turkish food and homemade bread with different flavours as a starter. If you are looking for a salad that is easy to digest, you can order the Mediterranean salad with smoked salmon.
• As a main dish, there are many great options to try out! You can go for their Sole Fish Beyti with roasted eggplant, or perhaps you can find their Grilled Tenderloin with pepper or blue cheese sauce and mashed potatoes more appealing to you.
Lastly, you could order their refreshing and tasty desserts, such as Chocolate Soufflé with whipped cream or ice cream on top of it.
For readers looking for the best company for their meal, local wines could be the option! Do not miss a chance to try out Anatolian wine before you finish your journey in Bodrum.
READ MORE: How to Get from Dalaman Airport to Bodrum?
Cocktail Lovers: This Section Is Written Only for You!
Bodrum is not only famous for its turquoise-coloured water, vivid sand, the first quality beaches, and untouched nature, but it is also very well-known for its national and international gastronomy cuisine. If you plan to have a good time in Bodrum for a few days, there are special alcoholic beverages you should try out!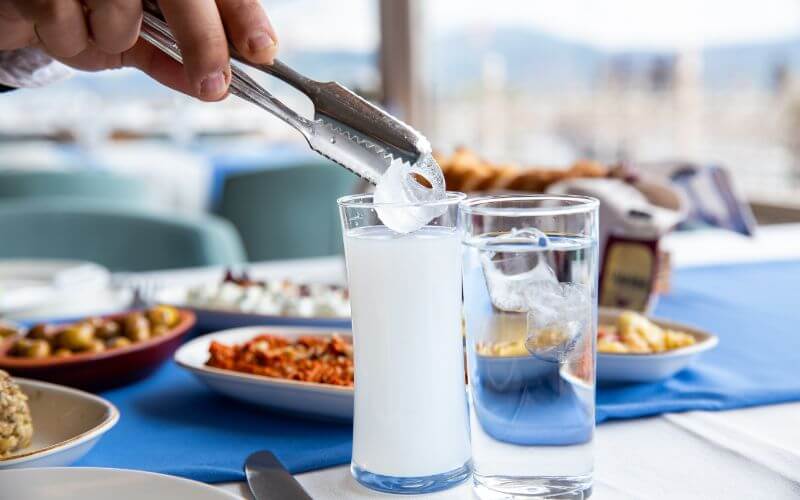 "I Can Not Wait for The Night!": The Relatively Light Alcohols that You Can Try Out During the Day
We can start with light alcohols that you could drink during the day. Since Bodrum has around 67 blue flag beaches, which means the very high quality of beaches, you could enjoy your alcohol while you lay down on the sand! 😊
Here is a quick and short list of the places with the best coasts that you can swim; Mazı Köyü Çakıllıyalı Koyu, Kissebükü Koyu, Gerenkuyu Küçük Sahil, Aktur, Camel Beach, Türkbükü, Cennet Koyu, Yalıkavak, and lastly Akyarlar.
• Protip: You can take wonderful photographs near the symbolic lemon tree in those places.
• Protip 2: You can order stuffed mussels while you drink your beer.
Local beers such as Efes Pilsen, Tuborg, Gara Guzu, Pablo Bira, Cunda Bira, Bristol Bira, 2 Kopru, DAS Bira, TOPS Bebek, and Red Tower Brewery in the best restaurants and bars in Bodrum.
Greek and Italian readers might feel familiar with the word "bira", which means "beer" in Turkish, which is almost the same in those languages.
Red Wine Lovers: The Best Local Red Wines and Great Bars to Try Out
Anatolia has an immense history and culture that includes various nationalities. Therefore, its alcohol culture is a projection of the land's history.
• You can try out the most prestigious wines that were harnassed in Izmir, Pamukkale, Manisa, Denizli, Canakkale, Nevsehir, Mardin, Elazig and Tokat.
• You can try out those amazing local wine list alternatives in great restaurants around Bodrum, such as Mistral Bay Steak & Wine House or perhaps Annalivia Restaurant Gumbet.
• You could order tasty grilled fish if you are looking for a dish for your white wine. However, we would like to focus on the local bars in this section. 😊
Perhaps the most famous bar in the town is Chico's Cocktail Bar.
Since this bar runs by a family, many visitors find this place pretty sincere and joyful! Even though the prices are much more affordable compared to the best restaurants and bars in Bodrum, their alcoholic beverages are way too good if you compare them to visiting others.
Even though it depends on the day you visit, you can listen to live music while you enjoy your drink.
Moreover, the bar is well-known for its great DJ and comedians. You can contact their Instagram or Facebook account before you go into the place, so you can be sure that DJ will be waiting for you!
Lastly, But Not The Least: Cocktails Are A Different Sort Of Addiction
Memories & Horribles Karaoke Pub is appreciated by its visitors' thanks to its friendly and welcoming staff, karaoke service, and originally served cocktail options. If you are fond of international sports competitions, you could watch the games live!
Another tasty option could be Yok Deve Bar. We can assure you the owners of this bar has a great sense of humour since "Yok Deve" means "No Way" in slang in Turkish. This bar has a regular live music service too.
Therefore if you would like to listen to some English and Turkish songs live, you can contact the bar before going there about the music schedule. Moreover, you can be surprised how much this bar loves animals!
This blog was written for gastronomy lovers to explore The Best Restaurants and Bars in Bodrum!
You might be interested
Browse Airports for Airport Transfers