Istanbul New Airport, Turkey was officially inaugurated in October 2018, and the last sections of the airport are regularly open until completion.
The airport is expected to become a vast passenger terminal in Eurasia. Also, it is expected to compete with some of the biggest airports in the world. However, it currently operates only a limited number of flights. The airport has supported all flights from Ataturk Airport since March 2019. Taxis and buses have been the only way to reach the airport since its initial opening in October 2018.
All Possible Ways Istanbul International Airport to Taksim
There are so many things to do in Istanbul! I can really tell you dozens (hundreds if I exaggerate) of things to visit! Of course, Taksim comes first among them. Therefore, it is not surprising that you first go to Taksim from Istanbul Airport.
To get to Taksim from Istanbul International Airport, here are the hours, fares and stops for bus, metro, taxi and private transfers. The airport is located in the northern area of ​​Arnavutkoy and should take around 50 minutes to reach Taksim in the city centre for hotel transfers.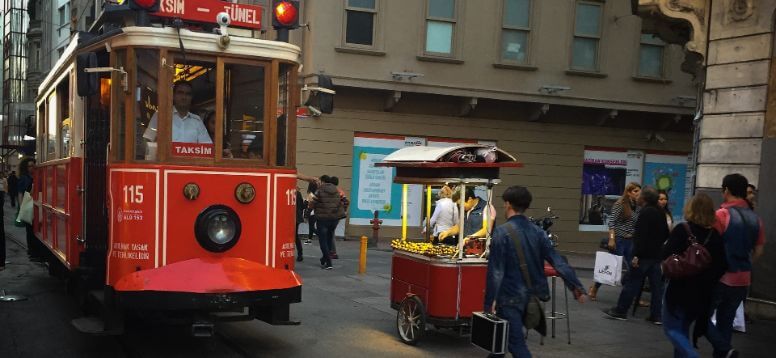 The approximate cost of a Private taxi, based on a taximeter, is around €30.
Bus to city centre services are operational and take between 60 and 90 minutes, depending on traffic.
The cost is around €5.
By the way, you have probably never heard: 15 Free Things at Airports
How to get From the City to the Istanbul Airport by Taxi
Taxis are the most comfortable, safest and best way to get to Istanbul New Airport (IST).
The route will likely be affected by traffic.
The journey could therefore be much longer during peak hours, but at the moment expect around 45-60 minutes to reach the city centre.
Taxis are available 24/7 at the Airport shuttle and are either black type 'E', blue type 'D' or orange type 'C' taxis.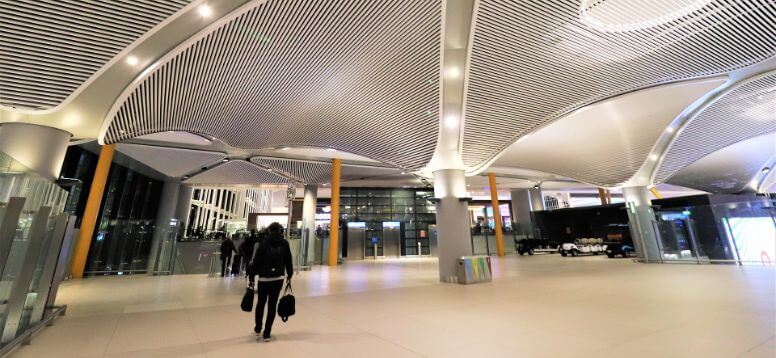 Taxi Fare from Istanbul International Airport to City
A ride to Taksim (city centre) from Istanbul New Airport (IST) will likely cost around €25.50 based on current taximeter fares.
Taxis are metered, which means you might find yourself paying more if there's traffic (there's a lot), not to mention the possibility of tolls.
Taxis are generally the best way to get into the city centre as they are comfortable, safe and efficient.
However, Istanbul Tours is notorious for rush hour traffic, which could also be a problem for those paying with a metered fare.
How to get From Istanbul New Airport to the City by Metro
Transportation with metro is not available at Istanbul New Airport yet, but there are significant plans for serving excellent metro transfers between the airport and the city centre.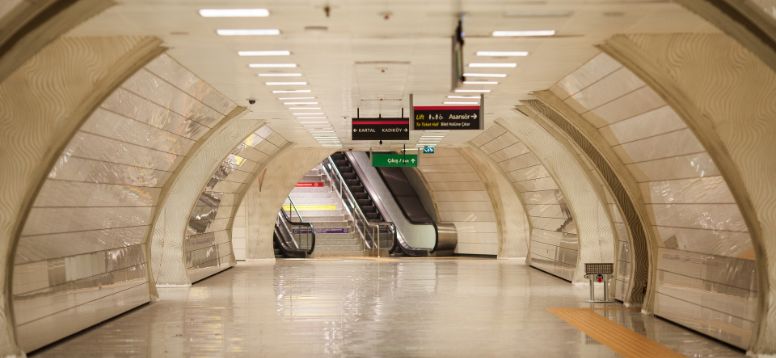 The M11 airport line is under construction and will provide direct and fast access to Levent, the city's main commercial centre. Fewer stops will likely be along the way, but it should reduce the journey to around 30 minutes.
The M11 line will connect Gayrettepe Station to the M2 Yenikapı – Hacıosman (Taksim) and to the airport the high-speed Railway line connecting Sabiha Gokcen Airport to IST.
How much is the Metro from Istanbul's New Airport to the City?
There is no price available for the new metro yet, but it is likely to be slightly more expensive than other metro services as it is an innovative 'high-speed' transit service.
Where can I take it?
According to airport plans, there will be a metro station at each new airport terminal.
It will probably be downstairs as you enter the arrivals area.
Convenience
It is difficult to determine whether the airport subway line will be convenient for passengers without available information.
However, with its predicted capacity and fast Private Transfer time, it will undoubtedly be a valuable alternative to roads congested with rush hour traffic.
Private Transportation From Istanbul Airport to Taksim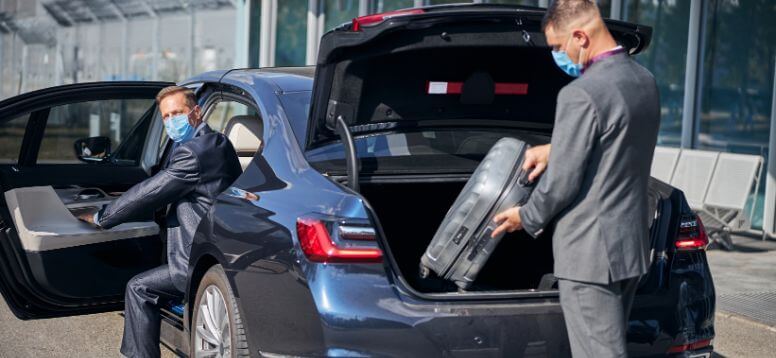 If you don't know much about private airport transfers, click here and find out what it is in just 2 minutes! When you land at Istanbul Airport, private airport transfers are the vehicle that will take you to the taxi or your hotel in the safest and most comfortable way. Working with the best transfer companies in Istanbul, every driver affiliated with Airporttransfer.com is local, can speak English, is polite and helpful.
Transportation to the airport with private transfers will always be the safest and most comfortable option.
It will be good for you to have a comfortable transfer in Istanbul with stress-free, fast and friendly drivers.
You can choose luxury or economy taxis at low prices with the privilege of cancellation up to the last 48 hours.
Click here to book a private airport transfer from Istanbul International Airport to Taksim in just three steps with Airporttransfer.com.
How to get foIstanbul Airport from Taksim by Airport Bus?
Bus services are now operational from the airport. There are 19 different routes and more than 150 daily buses connecting the airport to several destinations.
The buses are operated by three different companies: Seyahat (intercity transport), Havaist and IETT.
Buses provide luggage spaces for passengers.
The current best option to reach the city centre (Taksim Square) is to take the H2 line to Sisli-Mecidiyekoy station.
You can take the M2 metro line to Taksim Square from this station.
Another good option is the Havaist line from Sultanahmet IST 1S.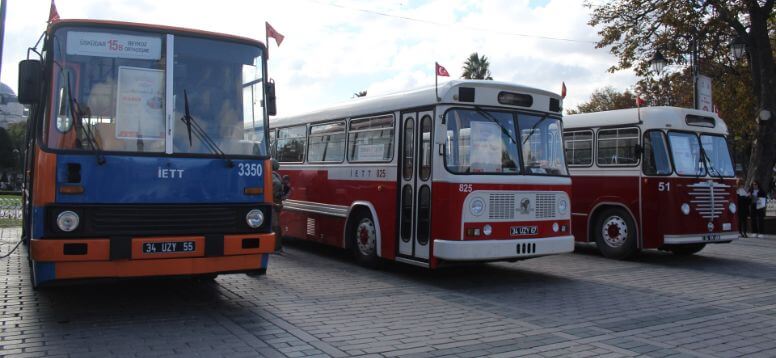 How much is the Bus From Istanbul New Airport to the City?
Istanbulkarts can be purchased at yellow kiosks at the airport for €1. The cost of the bus ticket varies depending on the service you use about your destination. The H2 line, currently the most popular, will cost around €2.60.
You can expect to pay an extra €0.40 for the train station to Taksim Square station.
Where can I take it?
Bus stations are currently located outside the arrivals area of the airport's operational area. Many signs are there to help those who wish to take the bus.
Convenience
The bus service seems to be quite cheap and relatively comfortable, but the bus journey will likely belong to many stops, extending the transfer time, especially if the route is subject to a lot of traffic.
Also, you will have to use another means of transport from Sisli-Mecidiyekoy station to reach Taksim.
Where Do You Stay in Istanbul?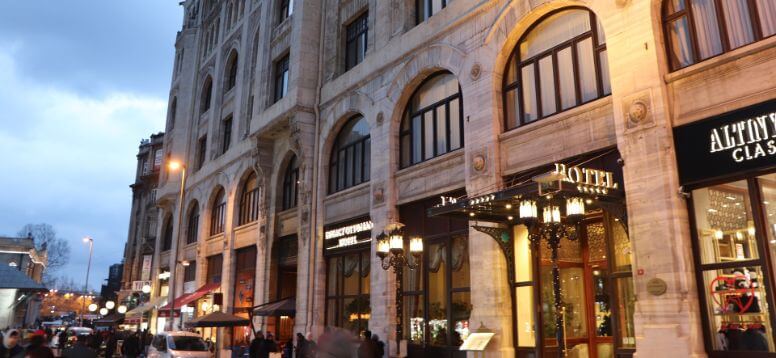 Where to stay in Istanbul: Budget accommodation
Are you looking for well-located accommodation with an intermediate budget to accommodate you? The hotels are well located and have a budget of close to 100 Euros per night in a double room.
Regie Ottoman Hotel
In this category, we can only start with the Regie Ottoman.
📍 Located a stone's throw from Sirkeci Station and the New Mosque, its location is perfect for me to stay in Istanbul if I want to visit the city on foot as much as possible. Moreover, it is charming, and the buffet breakfast is impressive and of high quality. The establishment also has a small cafe that overlooks the street.
Four Seasons at Sultanahmet
As always, the Four Seasons chain offers perfect accommodation here! It is, for me, the best 5-star hotel in town for luxury accommodation: Perfect location, charming building, 5-star service; if you are looking for the best place to sleep in Istanbul, there is no hesitation.
When to go to Istanbul to visit?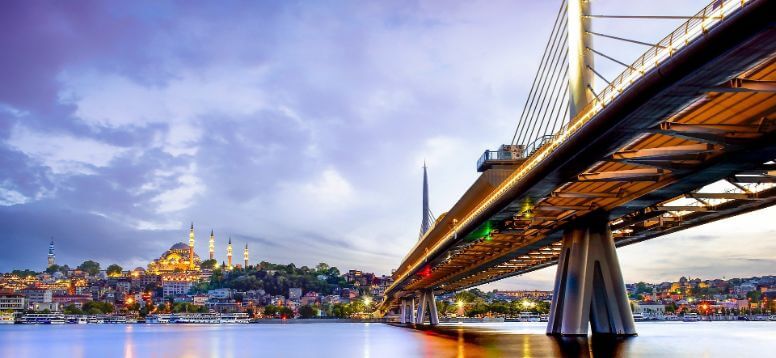 The best time to visit Istanbul is undeniable during the mid-season, spring and early autumn. If you still hesitate to define when to go to Istanbul, plan your trip to Istanbul between May and June or between September and October to benefit from a pleasant climate.
Maybe you are interested: Things to Do in Bodrum - Top 11 Attractions and More
Due to its particular geographical location, the climate in Istanbul is genuinely different from the rest of Turkey. It can also quickly turn out to be changeable and unstable for the visitor caught off guard.
The weather is a little cool from April to June, around 15-20 degrees.
Note, a little extra in spring; it's the tulip festival at the end of April.
September and October are also months with an exceptionally mild weather history.
Temperatures hover around 20-25 degrees, and the sun's rays still promise to brighten your days.
It is the ideal season to visit the significant unmissable monuments of Istanbul, such as the Blue Mosque and Topkapi Palace, or get lost in the alleys of Istanbul's Grand Bazaar.
Plan long walks in the city to capture the soul of the city. A cruise on the Bosphorus is also a good idea because Istanbul's weather history at this time of year generally shows very calm weather.
You might be interested
Browse Airports for Airport Transfers