Oia, an enchanting and picturesque village situated on a cliff with stunning views of the Caldera crater, is an absolute must-see when visiting Santorini. Its reputation stems from its captivating sunsets and idyllic atmosphere, which draw in visitors from all over the world. If you are planning to visit one of Greece's most recognizable villages, you need to know the best transfer from Santorini Airport to Oia.
Santorini Airport – A Gateway to Oia
Santorini Airport also referred to as Thira Airport, is the main air travel hub on the captivating Greece island of Santorini. Positioned around 6 km southeast of Fira, the island's capital, and 5.5 km north of the delightful town/village of Kamari, Santorini Airport marks the beginning of many memorable journeys for travellers.
The distance from Santorini Airport to the alluring village of Oia is approximately 17 km. Oia, renowned as the most photographed village on the island, entices countless visitors seeking its captivating beauty and timeless charm. With the airport conveniently serving as the gateway to Oia, reaching your destination and immersing yourself in its wonders is a seamless experience.
Travelling from Santorini Airport to Oia
When arriving at Santorini Airport, you'll find several transportation options to reach the captivating village of Oia, including bus services, shuttle service, taxis, car rentals and private airport transfers.
Bus from Santorini Airport to Oia
When travelling from Santorini Airport to Oia, you have the option of using bus services. However, it's crucial to be aware that there is no direct bus route connecting the airport to Oia. When you travel to Oia by bus, you'll need to board the airport bus to the central Fira bus station and then transfer to another bus from Fira (Ktel bus) that will take you to Oia within approximately 20 minutes.
Due to the high popularity of Santorini, buses frequently become overcrowded, leading to standing during the journey or potential waits for the next bus due to limited seating. If the bus is full, there may be a delay of up to 2 hours until the next available route. This can be especially inconvenient, particularly when dealing with jet lag, as transfers are involved, potentially resulting in longer travel times.
Bus journey duration: Approx. 20-30 minutes (depending on traffic), with a potential waiting time of up to 3 hours for both buses.
Ticket prices: 1.70€ for the airport bus, 1.80€ for the Oia itinerary, totalling 3.50€.
Additional Tips: Santorini Airport is small, with limited amenities during waiting time. Stay informed about bus schedule changes during the tourist season. Check the latest itineraries to plan your journey accurately.
Taxi from Santorini Airport to Oia
When it comes to transportation options, Santorini Airport taxis offer another way to reach your destination. Located just outside the arrivals hall, the taxi rank is accessible for passengers.
The taxi journey from Santorini Airport (JTR) to Oia typically lasts around 25 minutes. It's important to note that the taxi fare from Santorini is not set and can vary. Regular taxis calculate Santorini Airport to Oia taxi cost based on the taximeter, taking into account factors like the time of day and the amount of luggage. Additionally, during the night shift (01:00 to 05:00), an extra charge of 25% applies.
Additional Tips: During peak summer, taxi wait times and ride-sharing may occur due to the limited availability of Santorini airport taxis. Traffic congestion on the island can result in longer travelling time and impact taxi fares despite the short distance between Santorini Airport and Oia.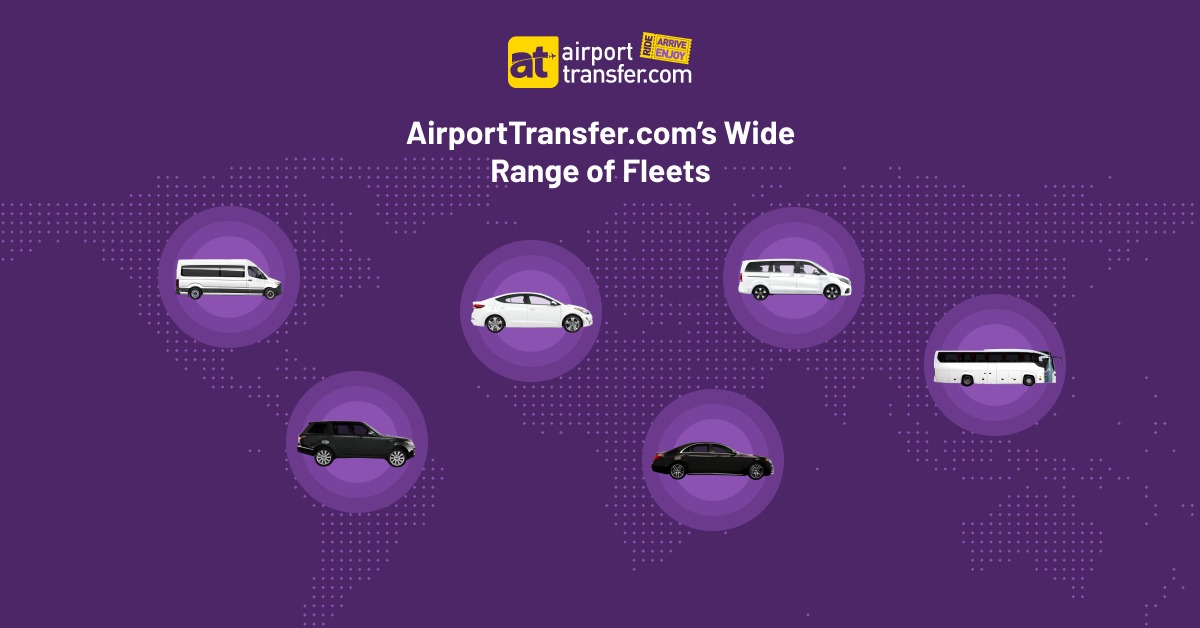 Private Airport Transfers from Santorini Airport
Oia, on the enchanting island of Santorini, embodies the essence of this Greek paradise. Perched on a cliffside with stunning sea views, its charm lies in the breathtaking scenery of blue domes and whitewashed houses. Oia has captured Santorini's incomparable beauty, captivating magazines and the Internet. For those seeking to escape the hassle of public transportation and seeking a more reliable and comfortable option, AirportTransfer.com offers an exclusive private airport transfer service.
While taxis and buses are used between Santorini Airport and Oia, there are compelling reasons why choosing private transfers can be a superior choice:
Skip Taxi Wait Times: Private transfers offer a direct and prompt journey without any uncertainties or delays.
Avoid Traffic Congestion: Bypass traffic and enjoy a smoother and faster ride to Oia with fixed pricing.
Personalized Service and Flexibility: Private transfers provide the freedom to choose your pickup time, eliminating the need to wait for scheduled buses.
Comfort and Convenience: Experience a relaxed and exclusive travel experience with private transfers, avoiding crowded buses or shared taxis.
With our premium offering, you'll have the peace of mind of knowing that you'll have a dedicated vehicle exclusively for your party, providing a comfortable and personalized experience right from your arrival at Santorini Airport.
Benefits of Choosing AirportTransfer.com for Your Santorini Airport Transfer:
Fixed Prices: Enjoy the convenience of transparent and fixed prices for your private airport transfer.
24/7 Car Service: Our dedicated car service operates round the clock, ensuring reliable transportation regardless of your flight arrival time.
Additional Services: We offer a range of additional services such as child seats, elderly assistance, pet-friendly vehicles, roof racks, and greeting/meeting services to cater to your specific needs.
Flexible Cancellation Policy: Benefit from a 100% refund and free cancellation policy up to 48 hours before your scheduled transfer for added flexibility.
Airport Pick-up and Door-to-Door Chauffeur Service: Begin your journey right from Santorini Airport with our professional drivers who will be waiting to assist you and provide a seamless door-to-door chauffeur service.
Wide Range of Vehicle Options: Choose from a variety of vehicles including sedans, limousines, SUVs, and minivans to suit your preferences and ensure a comfortable journey.
Secure Payment Options: Book with confidence using our secure payment options for a safe and secure reservation process.
Professional Drivers with Local Knowledge: Our experienced drivers possess in-depth knowledge of the local area, offering valuable insights and recommendations during your transfer.
24/7 Customer Support: Our dedicated customer support team is available 24/7 on WhatsApp to assist you with any inquiries or concerns you may have.
Book your Santorini Airport transfer today and enjoy a safe and comfortable journey to the symbol of Santorini, Oia. Explore the beauty of the Mediterranean without worrying about public transport, knowing that you are in trusted hands.
Exploring the Enchanting Village of Oia with AirportTransfer.com
Welcome to the captivating village of Oia in Santorini, where beauty and charm converge in an unparalleled experience. With its iconic blue-domed churches, stunning coastal landscapes, and rich cultural heritage, Oia is a treasure trove waiting to be discovered.
Let us guide you through the wonders of Oia, unlocking its hidden gems and capturing memorable moments along the way.
Discover Oia's Architectural Splendor
Capture Unforgettable Memories at Katharos and Baxedes Beach
Explore Santorini's Maritime Heritage at the Naval and Maritime Museum
Immerse Yourself in the Melodies of the Museum of Musical Instruments
Experience the Serenity of Ammoudi Port
Step Back in Time to the Ruins of the Byzantine Castle of Oia
With AirportTransfer.com, you can explore the hidden gems of this captivating village, from its iconic churches and pristine beaches to its rich maritime heritage and ancient ruins. Say goodbye to the hassle of renting a car and embrace the ease and comfort of pre-booked transfers, ensuring a seamless and immersive adventure in the enchanting village of Oia.
Customer Testimonials: The Proof of Our Excellence in Airport Transfers
When it comes to choosing an airport transfer service, it's natural to seek reassurance and trust. After all, you want to ensure a safe, efficient, and comfortable journey to your destination. At AirportTransfer.com, we understand the importance of customer satisfaction and take great pride in the positive feedback we receive.
The best Santorini Airport transfer reviews are at AirportTransfer.com!

Frequently Asked Questions
You might be interested