You probably heard about the fame of Greek foods. Greek cuisine is known for resulting in a feast for your taste buds. We have prepared a list of popular Greek foods for you to try, from pita gyros to chicken souvlaki. Additionally, you can find Greek restaurants to try these dishes.
🇬🇷 If you are a picky eater and curious about "What do picky eaters eat in Greece?", you can choose amongst these popular Greek foods. Also, you can choose which foods are your "foods to avoid in Greece" and the ingredients of Greek food recipes to prepare yourself!
What are some popular Greek foods?
1- Dolmades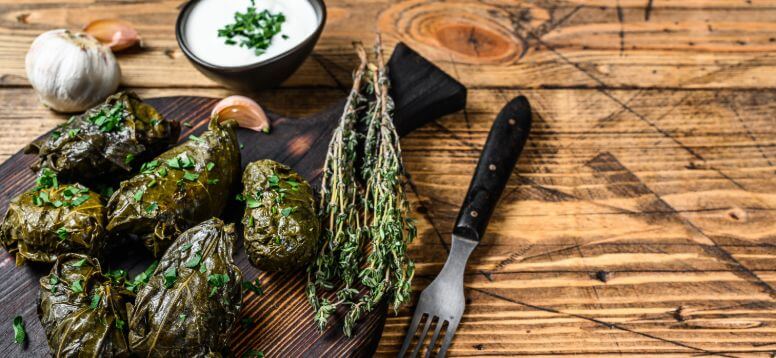 Dolmades is a Greek food stuffed with grape or cabbage leaves with onion, parsley, mint, dill, and rice. Additionally, minced beef is utilized, though meatless variants are more prevalent. They can be served hot or cold, with or without a dip or sauce, depending on the contents. Dolmades is a small cigar-shaped vegetable that is cooked until the leaves are quite soft.
⭐ Absolutely the best guide for Greece: Tips to Visit the Greek Islands - 2022 Hotels & Airports
• They are drizzled with olive oil and served with lemon wedges, as is the case with many Greek foods. It is one of the 100 Greek foods that are famous and maybe your answer to "What is the most popular food in Athens Greece?".
2- Greek Moussaka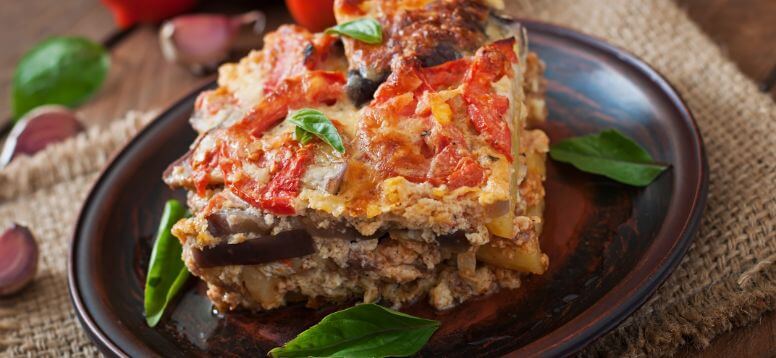 If you ask yourself "What is the national dish of Greece?", you have found your answer. Greek Moussaka is a flavorful Greek main dish made up of numerous components. Moussaka is found throughout the Mediterranean and Balkans. The iconic Greek oven-baked one is composed of layers of aubergine, minced lamb, tomato sauce made by pureeing tomatoes, onion, garlic, and spices such as cinnamon.
• On top of some potatoes, a final fluffy topping of bechamel sauce and cheese is put, and you have one of the traditional Greek dishes. This classical Greek dish will keep you full for an extended period.
3- Saganaki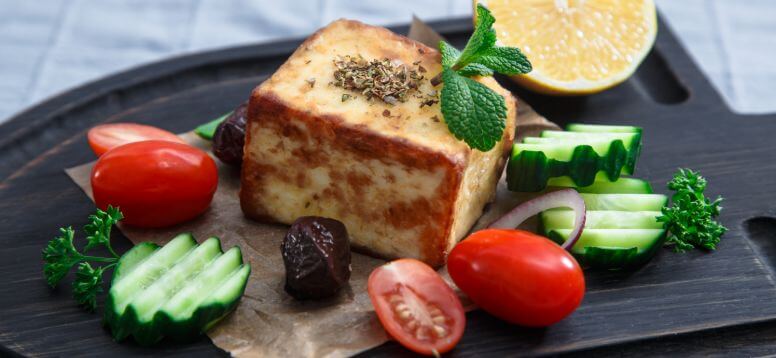 Saganaki is a tiny frying pan used in Greek cuisine. However, it also refers to a variety of foods produced in this pan, the most well-known of which is a fried cheese appetizer and the best Greek food for cheese lovers. Saganaki can be prepared with some different cheeses, including halloumi, graviera, and kefalograviera. To prepare it, melt the cheese in a frypan until bubbly and serve with a spritz of lemon, freshly ground pepper, and some bread.
Which Island Is Better: Rhodes vs Crete?
• This classic Greek dish requires just two ingredients, cheese, and flour, and takes less than 20 minutes to prepare. After slicing a block of cheese into thin slices, it is dredged in flour. The cheese is then cooked until it develops a golden crust at a high temperature.
4- Greek Salad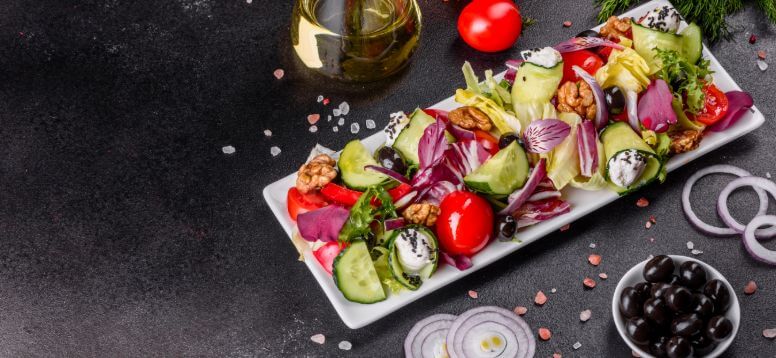 Greek cuisine is mostly composed of simple meals that emphasize the freshness of its components. The best Greek food that embodies this is the Greek salad, one of the traditional Greek dishes. Fresh tomatoes, cucumbers, onions, capers, and kalamata olives are used in Greek salad. It's prepared with olive oil, salt, pepper, and oregano then topped with a block of feta cheese.
🥗 The Greek salad dressing is entirely up to personal choice, which is why every restaurant serves the salad with olive oil, salt, vinegar, lemon, and pepper. It is made in Santorini with the island's renowned cherry tomatoes and capers. Megalochori's beautiful Tavern Tzanakis restaurant is one of the best places to eat in Greece if you crave a Greek salad. It is a family-owned establishment serving delectable home-cooked Greek cuisine. Greek salad is mostly considered a side dish. However, you can also prepare your Greek salad with pasta, Greek pasta salad, for eating it as a main dish.
5- Souvlaki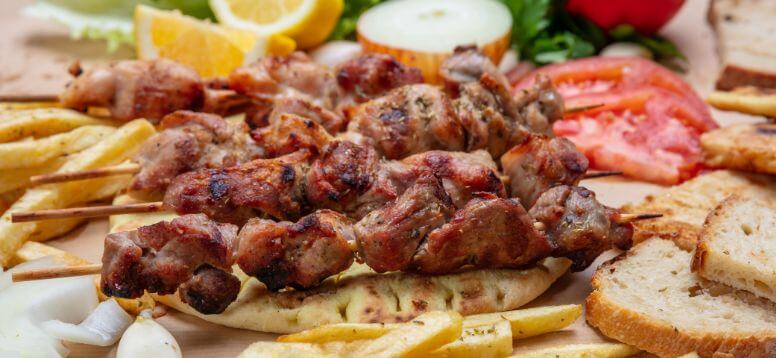 Like gyros sandwiches, souvlaki is a famous Greek street snack and one of the country's most well-known dishes. Souvlaki is a grilled beef dish served on a skewer.
🥩 Like gyros, it is plated and served with veggies, fried potatoes, pita, and tzatziki. However, it can also be served wrapped. Souvlaki is a name that refers to skewered pig or chicken meat. At times, lamb meat is utilized, while the vegetarian-friendly version is made entirely of veggies. Tzatziki sauce, onions, and tomatoes are among the more often provided toppings. The primary distinction appears to be in the way the meat is prepared and cooked. Souvlaki is cooked with skewered grilled meat, whereas gyros are produced with meat sliced vertically. If you think about what to eat in Athens, this again can be your answer.
Best Beaches in the World - From Maldives to the Mykonos
6- Tzatziki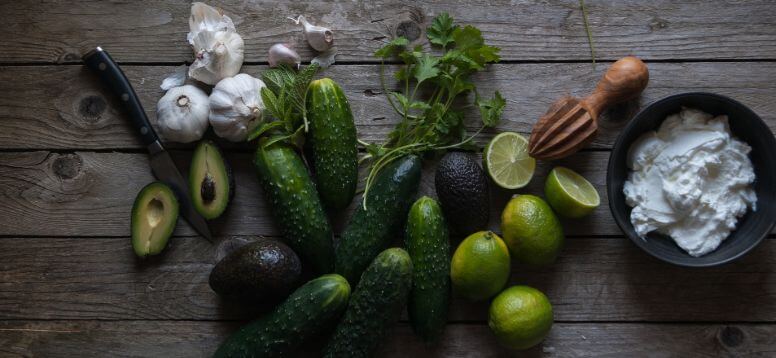 Tzatziki is a famous Greek yogurt dip prepared with cucumber, garlic, salt, and olive oil. Lemon juice is occasionally combined with herbs such as dill, mint, and parsley. Tzatziki is found in a variety of forms in Middle Eastern and Southeastern European cuisines and is one of the popular Greek foods.
• It can be served as a dip, sauce, or even soup, although it is most frequently served as a meze or appetizer in Greece. It is intended to be served with bread and fried veggies such as eggplant or zucchini. You can order this meal as a side dish at Santorini's Lucky's Souvlakis.
7- Avgolemono Soup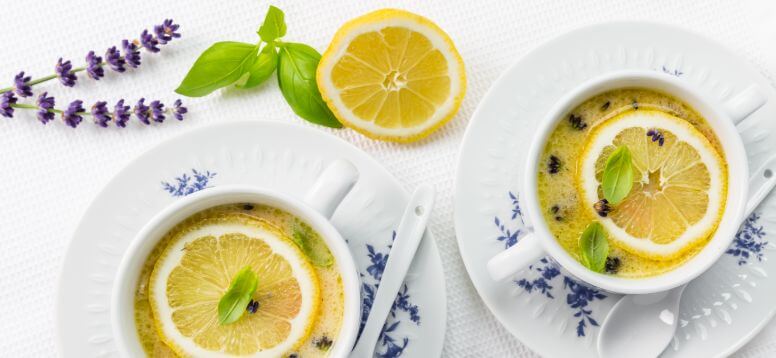 Avgolemono soup may begin with the same ingredients as any other chicken soup: onions, carrots, celery, stock, and chicken. However, when combined with avgolemono sauce, it changes into a smooth chicken rice soup. The Greeks love to use avgolemono sauce to enhance or flavor a variety of dishes, ranging from avgolemono soup to roast chicken, veggies, and even dolmades.
8- Baklava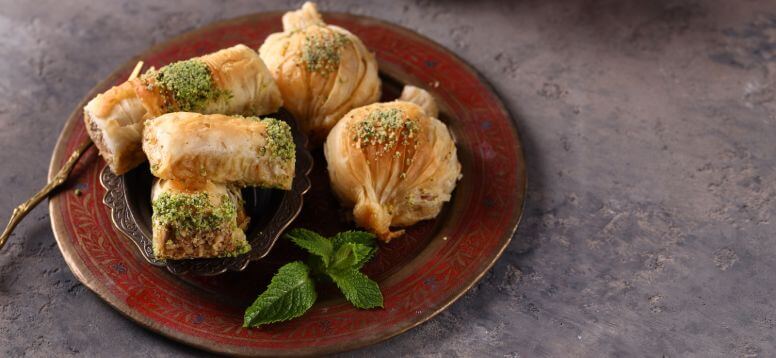 For eating one of the Greek desserts, feta cheese with honey is also a good choice. After wrapping the feta cheese in layers of phyllo, it is cooked and drizzled with Greek honey and sprinkled with sesame seeds.
9- Tiropita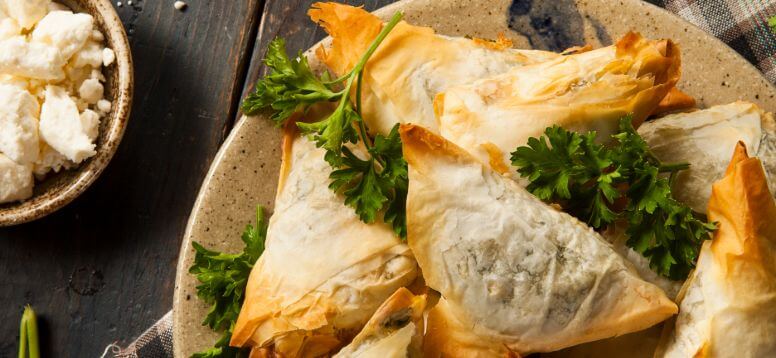 Tiropita, sometimes referred to as 'Greek cheese pie,' is a popular breakfast or mid-day snack item in Greece. To create these phyllo pastry triangles, you will need a variety of different varieties of cheese, mostly feta. Crush the feta cheese and combine it with two different types of yellow cheese.
• Wrap the mixture in phyllo and oven bake it until crispy and golden, brushing with olive oil or melted butter. This recipe is especially delicious when cooked with chicken and can turn into a Greek marinated chicken dish too.
10- Greek Gyros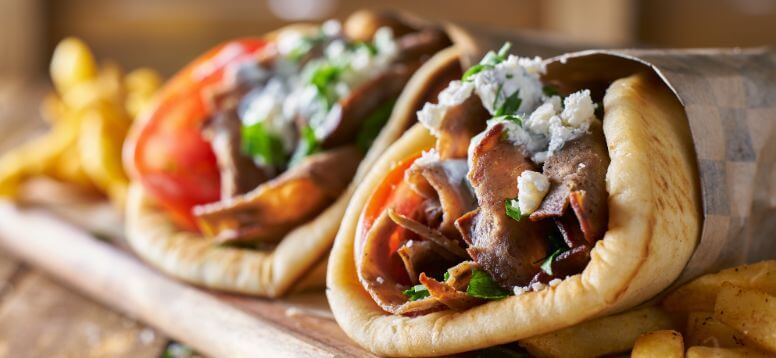 Gyros is undoubtedly the most popular Greek dish in Greek cuisine outside of Greece. You can find gyros restaurants in many cities nowadays. It's a meal similar to shawarma or the Turkish doner kebab in that it's created with grilled meat shaved from a vertical grill. While pork and Greek chicken are frequently utilized, gyros may also be cooked using lamb or beef.
• All lamb, beef, pork, or chicken gyros can be eaten wrapped in pita bread or plated with fried potatoes, veggies, tzatziki, and lemon. Gyros pita wraps are straightforward yet one of the popular Greek foods and a classical Greek street meal that's ideal for eating on the run.
11- Spanakopita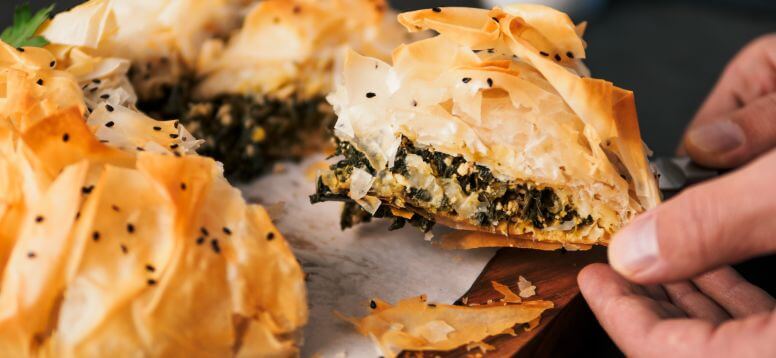 Spanakopita, which translates as "spinach pie," is a delicious Greek pastry filled with spinach and feta cheese. It is a variation of the borek pastry that is also one of the Greek foods that are Turkish. Spanakopita is a traditional Greek dish prepared with spinach, feta cheese, onion, herbs, and an egg. While feta is the favored cheese, other white salty cheeses like kefalotiri may also be used.
Best Vacation Spots for Couples
• The filling is prepared by wrapping it in phyllo pastry with butter or olive oil. Typically, it is rolled into triangles or piled in a big baking dish before being sliced into individual pieces.
12- Greek Lemon Potatoes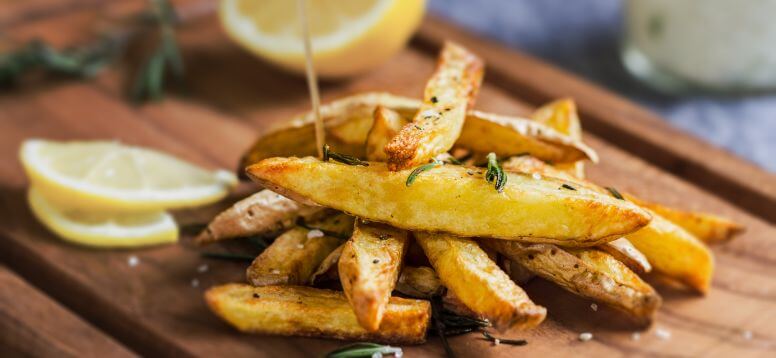 This dish is great for a wonderful Sunday family dinner. It is crisp on the surface, fluffy on the inside, and bursting with a delicious lemon taste. Greek potatoes with lemon also is a great side dish with moussaka, roast lamb, chicken, pork chops, a juicy burger or steak, and the list goes on. You can also pair
13- Soutzoukakia - Greek Meatball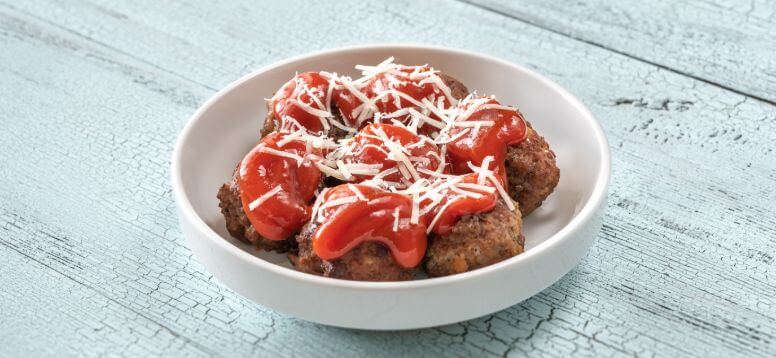 Soutzoukakia is another popular Greek food which is a meatball-based meal. Soutzoukakia is a type of sausage prepared with ground pig and beef, cumin, and olive oil and cooked in a red wine sauce. The distinction is that they are smothered with tomato sauce throughout the baking process. Cumin is the key element that enhances the taste. Several typical additions include olive oil, garlic, milk, and eggs. These Greek meatballs are accompanied by rice. Soutzoukakia is a hearty soup that is ideal for cold winter days.
• If you Google the Greek restaurant near me, you can also make a stop with your private transportation before going to your hotel and try one of these Greek foods.
• A private shuttle service is the quickest and most reliable method to go from any Greek airport such as the Athens International Airport to your hotel.
• Following your flight, we guarantee a %100 refund and a secure transfer. Airporttransfer.com may assist you in arranging private transportation. If you are interested, you should review this article before leaving the page: Benefits of Using Private Airport Transfers 🙂
You might be interested
Browse Airports for Airport Transfers